Chargers receiver Mike Williams aims to make most of injury plagued rookie season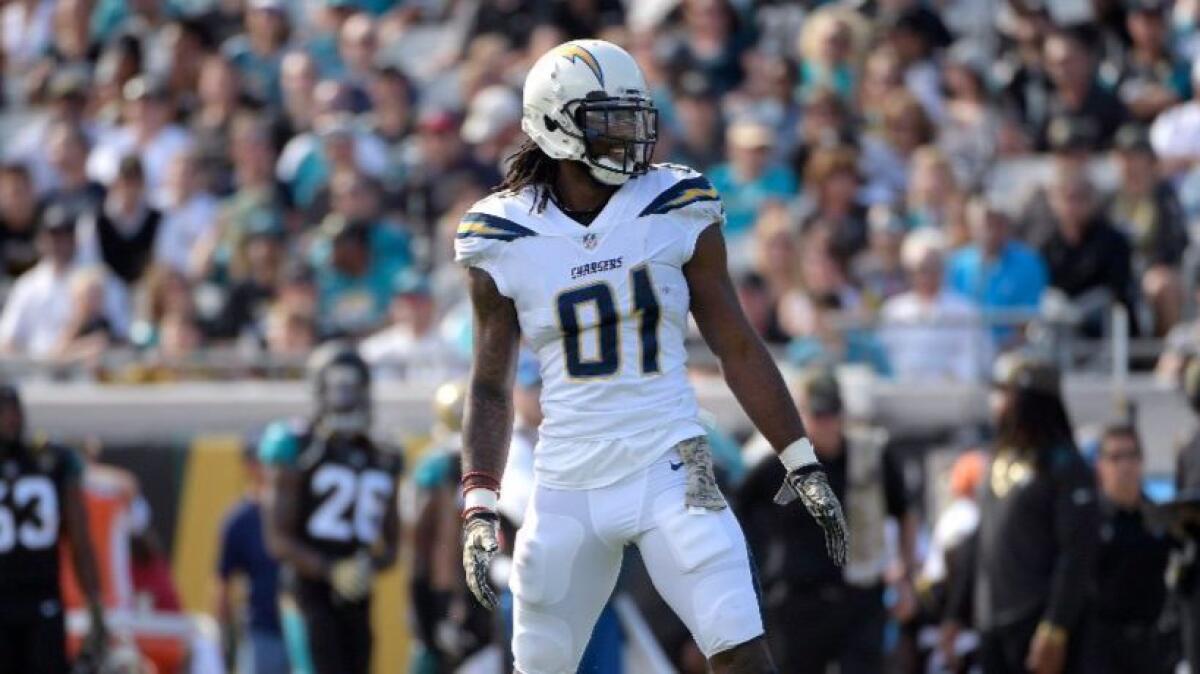 There are no redshirt years in the NFL, so Mike Williams won't gain another season of eligibility for what seems like a lost rookie year with the Chargers, who chose the 6-foot-4, 220-pound receiver with the seventh pick of last April's draft.
Williams, 23, has no choice but to marinate in the frustration of an injury-plagued season (in which he hasn't been on the field enough to make an impact) and wait for a chance to show off the skills that helped Clemson win a national championship last season.
Of course, patience and youth are not a good mix: "Not at this level," Williams said. "Not if that quarterback already has playmakers around him who he can count on. It's kind of hard to miss a lot of games and then come back and try to get the ball."
Williams won't stop trying. After missing all of training camp and the first five games of the season because of a herniated disk in his lower back, Williams saw minimal action in the next five games. He has caught nine passes for 84 yards, five of them for 38 yards in the second half of a blowout win over Buffalo on Nov. 19.
On his first snap of a Thanksgiving Day game in Dallas, Williams' right knee gave out and he was carted off the field. He missed the rest of that game and last Sunday's win over Cleveland because of what he said is a bone bruise.
But Williams practiced this week with a knee brace and hopes to return for Sunday's game against the Washington Redskins in StubHub Center.
"I got a good week of practice in, I got back in the groove," Williams said. "I'm just focused on finishing the season, just continue to give it my all, make the playoffs and have fun in those games."
An MRI test ruled out ligament damage in the knee. With four regular-season games left and Williams well behind Keenan Allen, Tyrell Williams and Travis Benjamin on the depth chart, could Williams be exposing himself to a more serious knee injury that could hamper him next season?
"I don't think so," Williams said. "I feel good. I don't feel anything when I'm running or cutting. There's no reason to feel like I'm at risk for any reason."
The allure of catching his first NFL touchdown pass — and celebrating afterward — is too powerful for Williams to give up on this season.
"I've had that in my mind since I got back," Williams said. "Maybe if I stop thinking about it, I'd get a touchdown."
Etc.
Defensive tackle Corey Liuget, who missed last week's game because of a toe injury, was limited in practice for the third straight day Friday and is listed as questionable for Sunday's game. Cornerback Casey Hayward (hamstring), center Spencer Pulley (knee) and safety Adrian Phillips (hamstring) were full practice participants and were removed from the injury list. … Redskins tight end Jordan Reed has been ruled out of Sunday's game because of a hamstring injury. Offensive tackle Trent Williams (knee) was limited in practice Friday and is listed as questionable. … The Chargers have nominated Hayward for the Walter Payton Man of the Year Award, which recognizes a player's philanthropy and on-field excellence.
Follow Mike DiGiovanna on Twitter @MikeDiGiovanna
Get the latest on L.A.'s teams in the daily Sports Report newsletter.
You may occasionally receive promotional content from the Los Angeles Times.