Casey Hayward gives Chargers an injury scare as hamstrung secondary limps along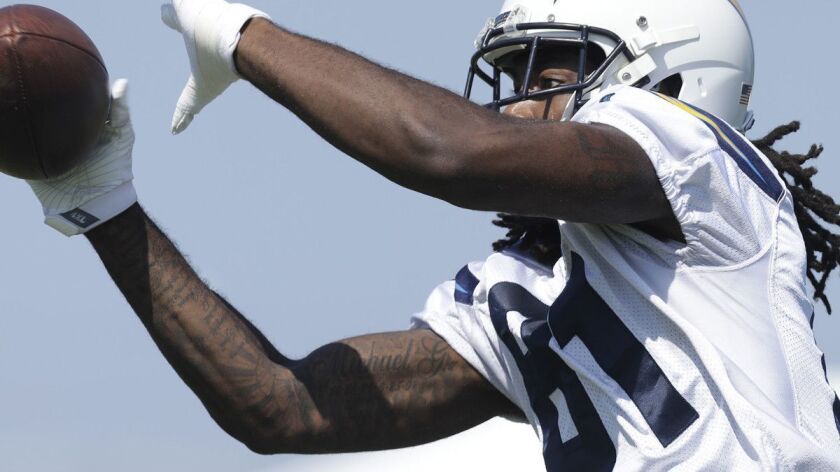 Chargers wide receiver Mike Williams streaked into the end zone, a deep ball from Philip Rivers floating into his hands near the end of the practice Tuesday.
It was a moment Chargers fans and coaches have been waiting for, the team's top quarterback connecting with its top pick from a year ago for a picture-perfect touchdown.
And no one could spend more than a blink reveling in it.
Because as Williams kept running through the back of the end zone with the ball, the player he beat in coverage, cornerback Casey Hayward, had started to limp toward the injury tent.
Hayward, one of the best cornerbacks in the NFL, appeared to grab at his hamstring while in coverage.
"I asked him right away how he felt, and he said he thought he'd be fine," Chargers coach Anthony Lynn said. "I think he just kind of felt it a little bit."
Any extended amount of time without Hayward would be a major problem for the Chargers secondary. A two-time Pro Bowler, Hayward anchored a group that already has lost Jason Verrett to a season-ending Achilles' injury.
Cornerback Trevor Williams, who starts opposite of Hayward, did return Tuesday from an ankle injury, though he didn't participate in team drills.
Defensive end Joey Bosa remains sidelined with a sore foot, though indications are he could return to practice soon.
Trevor Williams, who has been out since early in camp with an ankle injury — coincidentally, that also occurred while covering Mike Williams — might not play this weekend against the New Orleans Saints.
"I don't like to put timetables on those injuries and I definitely don't want to put a player on the field before they're ready," Lynn said. "We'll just have to wait and see."
Hayward, who has dealt with hamstring injuries in the past, both with the Chargers and earlier in his career with Green Bay, agreed to a three-year, $36 million contract extension this offseason.
Saints come marching in
The Chargers will host the Saints for practices on Wednesday and Thursday at the Jack Hammett Sports Complex to close out training camp before moving a couple of miles back to their headquarters in Costa Mesa for the final week of preseason.
"It's just something different with [us] going against our guys every day," wide receiver Keenan Allen said. "Now we get to go against another defense and go out to compete to see where we are."
Allen, who said he hoped the workouts would come earlier in training camp instead of the homestretch, said he expected the competition levels to be high.
"It gets physical — so you just need to be able to take it," Allen said.
The teams practiced last year without incident.
"Last year, we had good, clean, physical practices against this group; I expect the same thing," Lynn said. "I've known [Saints coach] Sean Payton for a long time. I know what he's telling his guys and I know what I'm telling my players, so I don't expect any fights or anything like that tomorrow."
Etc.
Wide receiver Tyrell Williams missed practice Tuesday with foot soreness, Lynn said. "Maybe he had a bone bruise or something like that, but he's going to be OK," Lynn said. "We're just being very cautious with him because he's had a good camp and we don't want any setbacks." Williams possibly will sit out Saturday's game with the Saints, Lynn said. … Starting right tackle Joe Barksdale missed Tuesday practice with an illness. … Rookie defensive tackle Justin Jones, the team's third-round pick, returned to individual drills after being out for an extended stretch with an ankle injury.
Twitter: @DanWoikeSports
---
Get the latest on L.A.'s teams in the daily Sports Report newsletter.
You may occasionally receive promotional content from the Los Angeles Times.