Chargers' Joey Bosa hopes to avoid surgery; aiming for return in November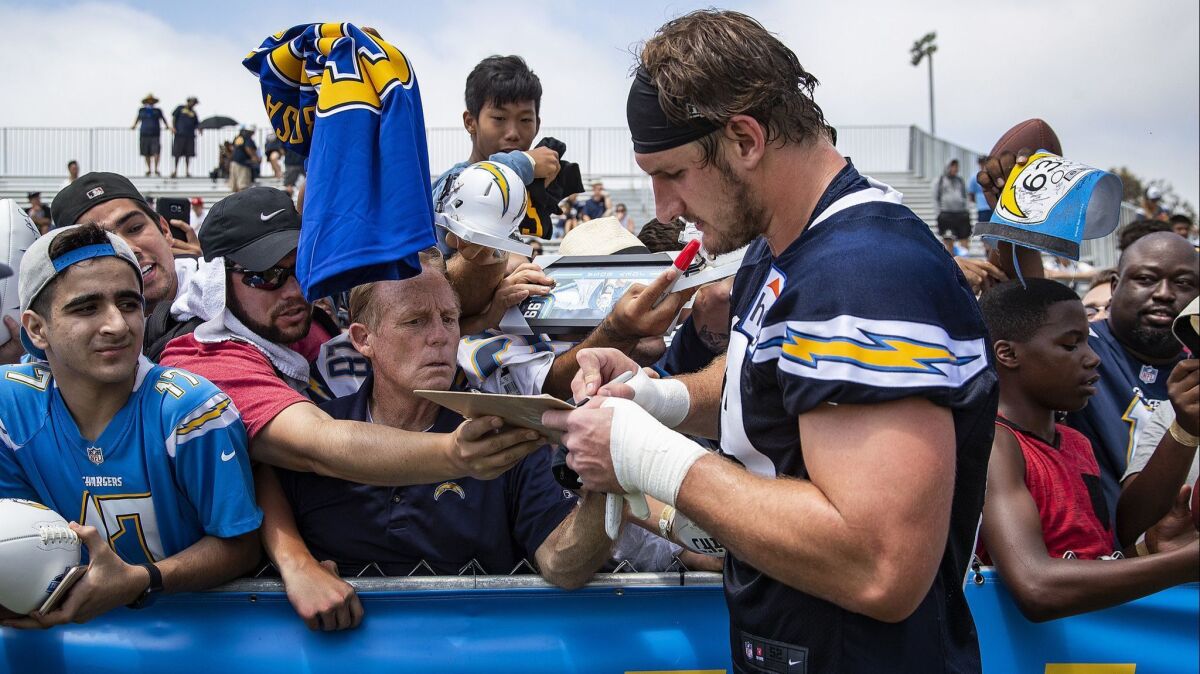 It sounds as if the Chargers won't have Joey Bosa through at least October . Given the alternative — surgery — that's actually good news.
After all, trying to come back too soon is what put the team's Pro Bowl defensive end in this spot.
Bosa, speaking for the first time publicly since he suffered a bone bruise in his left foot, said he is still hoping to avoid surgery and, if he does, could resume playing sometime around the Chargers' bye week.
"I'm past the grieving," Bosa said. "I'm past the being sorry for myself. I'm just looking at logically how I need to go forward with this. … When the time comes, I'm going to be 100% ready."
The Chargers are off during Week 8 before playing at Seattle on Nov. 4. That means Bosa, who has missed the first three games, likely will miss at least the next four.
He initially hurt his foot in practice Aug. 7 and was out for the preseason. He then attempted to return in preparation for the Chargers' opener but failed to make it through his first practice.
"It was just a reaggravation," Bosa said. "Obviously, I wasn't ready to be out there. … I thought that if I was able to get through that week without pain I maybe could have been ready.
"I was really hard on myself because I could have prevented this, I think, if I wasn't so set on pushing back. … It's a huge learning experience that I've already taken from."
Bosa recently had his cast removed and will remain in a walking boot for at least two more weeks.
He said doctors have told him there's some instability in the tendon in his foot, but the signs right now point to him being able to recover without surgery.
"I think it's honestly a blessing that I got hurt," Bosa said, "because if I would have gone out on game day, I would have destroyed my foot and we wouldn't be having this conversation right now."
He explained Wednesday that the reality of being out hit him before the Chargers' first game, when he walked into the locker room at StubHub Center and saw his teammates prepping to play Kansas City.
Bosa missed the first four games of his rookie season in 2016 in part because of a contract dispute. He started all 16 games last year.
"It's really tough to watch when I know I could have a great impact and could help the [team]," Bosa said. "But, looking at the whole picture, it's a lot more important to have me in this season down the road than to not have me at all."
There are now two prominent football-playing Bosas expected to be out into perhaps November. Joey's brother, Nick, a junior defensive end at Ohio State, recently had core muscle surgery.
Without Joey Bosa, the Chargers have struggled attempting to generate a consistent pass rush. Through three games, they have five sacks, which is tied for 21st in the NFL.
Bosa was a Pro Bowler last season after finishing with 12.5 sacks and four forced fumbles.
He concluded his first interview in several weeks with a message evidently aimed at people who have questioned his absence.
"To anybody out there that is upset that I'm not out there, trust me, I wish I was out there," he said. "But if you want me to be out for the rest of the season, then I can go play next week. But if you want me to actually play one snap this year at least, then let me do what I gotta to do."
Kicking himself
Drew Kaser credited the Rams for having "a great scheme" and linebacker Cory Littleton for making "a great play" Sunday when his punt was blocked leading to a Rams touchdown.
Chargers coach Anthony Lynn said Monday the play broke down in large part because Kaser took too long to punt from the back of the Chargers' end zone. Kaser didn't disagree.
"It was a combination of a lot of things," Kaser said Wednesday. "But, at the end of the day, I'm the one with the ball in my hands. I have to get the ball off faster."
He hadn't had one of his punts blocked since the 2013 Chick-fil-A Bowl, at the end of his sophomore season at Texas A&M.
Injuries
Wide receiver Keenan Allen (knee) did not participate in practice Wednesday. Allen appeared to be in some discomfort toward the end of the Chargers' loss Sunday.
Wide receiver Travis Benjamin (foot) was limited during the workout. He has missed the past two games.
The Chargers' initial injury report also included left tackle Russell Okung (knee) and fullback Derek Watt (thumb) as full participants.
Lynn confirmed that right tackle Joe Barksdale (knee) will not play Sunday against San Francisco. Barksdale has been out since being injured on the Chargers' third possession of the season.
Twitter: @JeffMillerLAT
---
Get the latest on L.A.'s teams in the daily Sports Report newsletter.
You may occasionally receive promotional content from the Los Angeles Times.