With Caleb Sturgis dealing with quadriceps injury, Chargers add 'security blanket' to roster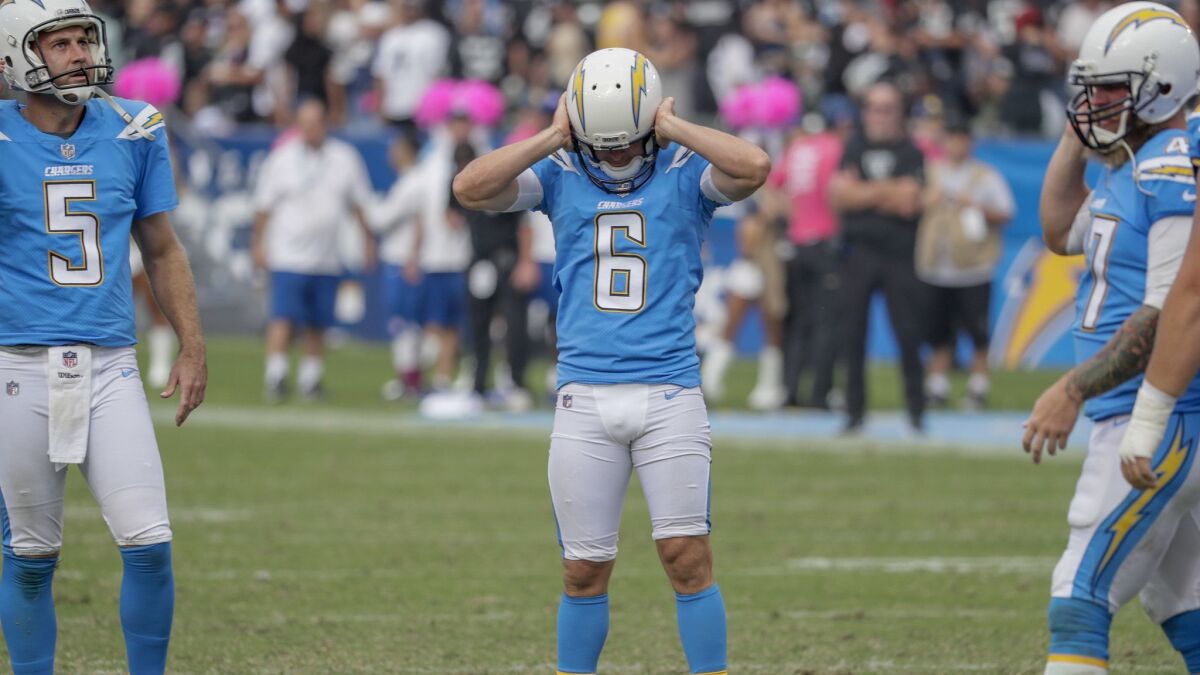 They've staged open competitions, changed personnel repeatedly and even signed one guy to a multi-year deal.
But the Chargers, in a fit of bitter irony, just can't kick their kicking issues.
As Caleb Sturgis deals with a quadriceps injury, they signed rookie Michael Badgley on Thursday, coach Anthony Lynn describing the addition as "a security blanket."
Yet, if there's any uncertainty regarding Sturgis' status for the game Sunday in Cleveland, Lynn indicated he wouldn't hesitate going with Badgley.
"We'll make that decision here real soon," he said. "Mike's going to kick [Thursday] in practice, and he if kicks well … the decision could be made. We'll see."
Sturgis, who signed a two-year contract in March, became the fifth kicker used in a game by the Chargers since the start of last season.
That doesn't include punter Drew Kaser, who was forced to add kicking duties in November against Dallas when lingering back problems sidelined Nick Novak during the game.
That experience did not go well. Kaser failed on two of his three extra-point attempts and, while warming up on the sidelines, missed the practice net with one kick.
Lynn would like to avoid a repeat of that situation against the Browns, meaning he'll have to be convinced Sturgis is 100-percent healthy.
Sturgis was hurt in a 26-10 victory Sunday over Oakland, a game during which he missed a 48-yard field goal and an extra point and had two second-half kickoffs fail to reach the end zone.
He did not alert the team that he was injured until the next day. The Chargers brought in three kickers to try out Wednesday, including Roberto Aguayo, who spent the preseason with the team.
Badgley, the all-time leading scorer at the University of Miami, won the roster spot. After going undrafted in the spring, he signed with Indianapolis and was released just before the season.
"I was hanging out in New Jersey, hanging with my boys in Hoboken," Badgley said. "Watching football and waiting for that next call."
He had a recent tryout with the Raiders after Mike Nugent was injured. Badgley said he spent the past several weeks working out and kicking every other day in hopes of getting another opportunity.
"Mike had a heck of a workout," Lynn said. "Don't have a lot of history with Mike, so wanted to keep him around a little longer just to see. You never know."
Sturgis missed most of last season while with Philadelphia because of a hip injury.
He has sputtered throughout his time with the Chargers, missing four extra points over the past three games.
The team even switched holders last week, replacing Kaser with veteran punter Donnie Jones, who played with Sturgis on the Eagles.
Lynn was asked Thursday if there were any assurances that Sturgis, when healthy, would remain the team's kicker.
"My man," the coach answered, "nobody has assurance in this business."
Browns again
Even though the Browns (2-2-1) struggled mightily before this season, they have played the Chargers tough.
This marks the fourth consecutive season these teams have met with the previous three games being decided by three, three and nine points.
The Chargers won two of those games, both at home, and lost at Cleveland on Christmas Eve of 2016. That was the Browns only victory over the past two seasons.
A year ago, the Chargers beat the Browns 19-10 after trailing late in the first half.
"We knew they were good last year when we played them," Lynn said. "We struggled to get points on the board against that defense. … That was a scary game for us."
Injury updates
Linebacker Jatavis Brown (groin) missed his second consecutive day of practice. Brown has been starting in place of the injured Kyzir White (knee).
Offensive tackles Russell Okung (groin) and Joe Barksdale (knee) were limited again. Both likely will be game-time decisions Sunday.
Center Mike Pouncey (knee) also was limited in practice, but Lynn indicated that he expects the veteran to play against the Browns.
Etc.
To make room on the roster for Badgley, the Chargers waived wide receiver/kick returner JJ Jones. The move likely means defensive back Desmond King will continue to return kicks against Cleveland. … Lynn was asked what he wants to see from Cleveland rookie quarterback Baker Mayfield this weekend. "I want him on his back," he said, laughing.
Twitter: @JeffMillerLAT
---
Get the latest on L.A.'s teams in the daily Sports Report newsletter.
You may occasionally receive promotional content from the Los Angeles Times.