A win in Seattle would make more take notice of 5-2 Chargers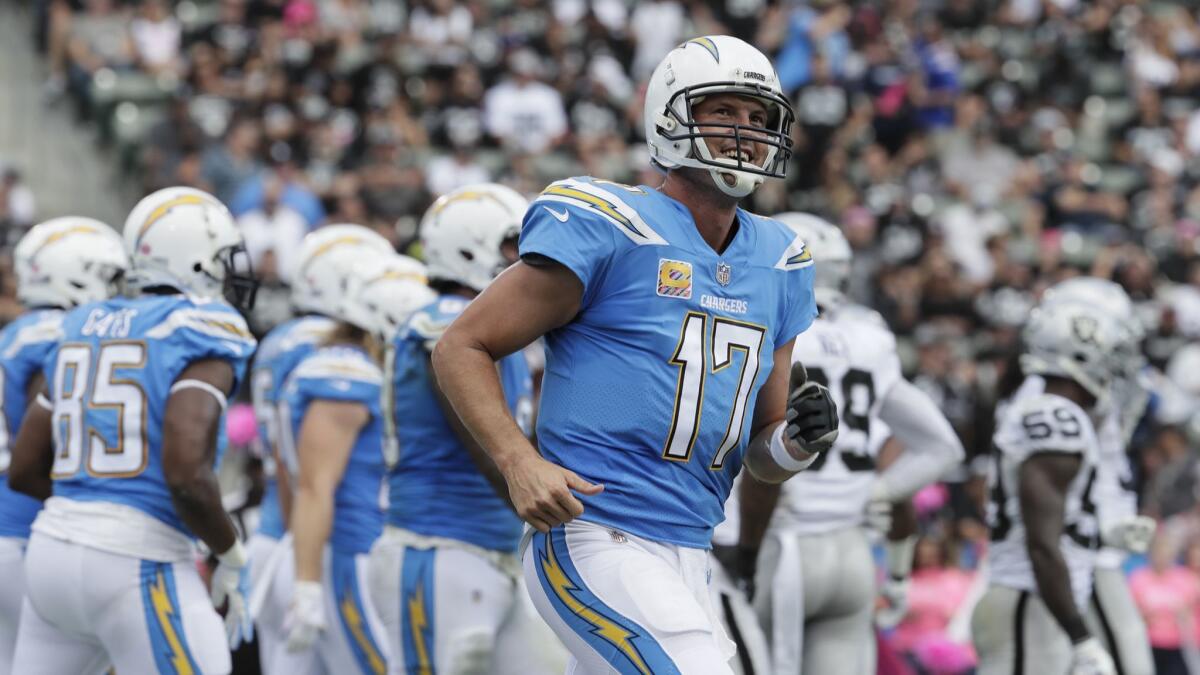 They've won four in a row and 14 of their past 19. They've won against five of the eight NFL divisions. They've won at home, on the road and in London.
But Sunday, the Chargers have the chance to secure a victory unlike any other during this recent run.
A triumph in noisy, distracting Seattle against the surging Seahawks would be a clear statement further legitimizing the Chargers as one of the league's top teams.
It would be a signature win, to be sure.
So far this season, their five victories have come against opponents with a combined record of 9-28. They've lost to the Rams and Kansas City Chiefs, who are a combined 15-1.
Chargers coach Anthony Lynn called Seattle "a tough football team that's pretty hot right now," and he's certainly correct. The Seahawks opened the season with consecutive defeats but since have won four of five.
The Chargers haven't played at Seattle since September 2010. The Seahawks have sold out 133 consecutive home games and proudly advertise their NFL-best 168 opponent false starts there since 2005.
Over its past 50 home games, Seattle is 39-11. Only New England has been better.
Then there's this: Since the start of the 2015 season, the Chargers have won only one road game after Nov. 1 against an opponent with a winning record. That came on Nov. 27, 2016, when they went to Houston and beat a Texans team that was 6-4.
"We definitely have a lot of improvement and things we can focus on and get better at," Lynn said. "Seven games, we're not there yet. But I do feel like the guys are moving in the right direction."
A fifth consecutive victory Sunday — because of the opposition and the venue — would be the most obvious step yet in the right direction.
Sturgis, Pullard return
Veteran kicker Caleb Sturgis appears ready to return after missing two games because of a quadriceps injury.
On Tuesday, the Chargers waived rookie Michael Badgley, who made all three of his field goal tries and went seven for seven on extra points filling in for Sturgis.
Though he was perfect converting his scoring chances, Badgley struggled on kickoffs, with only two of his 12 attempts going for touchbacks.
A short kickoff early in the second half against Tennessee led to a long Titans return, which was further aided by an unnecessary-roughness penalty on Rayshawn Jenkins. Seven plays later, Tennessee scored a touchdown.
Of Sturgis' 29 kickoffs this season, 16 have gone for touchbacks.
The Chargers filled Badgley's roster spot by re-signing linebacker Hayes Pullard, who appeared in 13 games for the team last year but was waived just before the start of this season.
Big penalty
During the Chargers' week off, the NFL fired down judge Hugo Cruz, who missed a key false start on offensive tackle Russell Okung on a scoring play as L.A. beat the Browns in Cleveland.
"I think that's the first time I've seen an official get fired during the season," Lynn said. "Maybe it's happened before [and] I just don't know. They have jobs to do. Coaches get fired during the season. Players get fired during the season. That's accountability. That happens."
Twitter: @JeffMillerLAT
Get the latest on L.A.'s teams in the daily Sports Report newsletter.
You may occasionally receive promotional content from the Los Angeles Times.