Chargers' Keenan Allen got props for his touchdown, and also a penalty of which he was unaware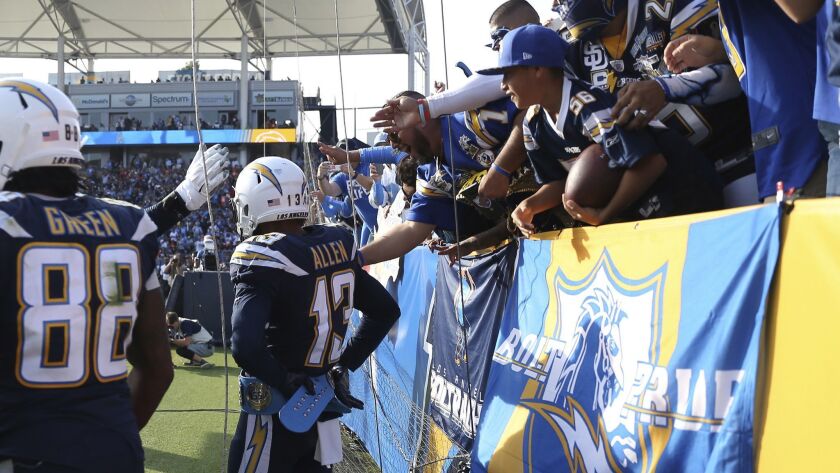 After he scored late in the first half Sunday, Keenan Allen was confused when one of the Chargers was called for unsportsmanlike conduct.
He was even more confused when he realized he was the Charger who had been flagged.
"I didn't know who it was on until they told me," Allen said. "I wasn't sure what they were talking about."
The wide receiver was penalized for grabbing a championship-style belt from a fan seated in the stands and placing it around his waist. The NFL frowns upon players using props during on-field celebrations.
The 15-yard violation was assessed on the next kickoff, helping to give Denver the ball at its 42-yard line.
Any lingering damage from Allen's indiscretion was avoided when the Chargers' defense, after the Broncos picked up one first down and moved across the 50, forced a punt.
The NFL relaxed its rules on touchdown celebrations before the 2017 season, a decision that has led to numerous creative and often humorous collaborations among groups of teammates.
The league, however, discourages the use of props. New Orleans wide receiver Michael Thomas was penalized — and later fined $30,000 — for using a cellphone during a celebration this month.
In his case, Allen said he was unaware of any such guidelines.
"I mean, the belt was in my face," he said. "I took it. I don't see any harm done. I don't see why it's a foul, but I don't really care."
On Thursday, Dallas running back Ezekiel Elliott celebrated a touchdown by placing money — handed to him by a Cowboys staffer — in a giant Salvation Army kettle behind the end zone. He was not penalized.
Later in the game, Elliott picked up Dak Prescott and dropped him into the kettle after the quarterback's touchdown run. That maneuver drew an unsportsmanlike-conduct penalty.
Gordon limited
Running back Melvin Gordon was limited in practice for the second consecutive day because of knee soreness, though the Chargers remain optimistic about his availability for Sunday.
"He's practiced all week," coach Anthony Lynn said. "Took some of the load off of him today. Tomorrow, we'll see how he runs around … Most starting runners this time of year, they're sore, something's wrong with them."
Like Gordon, wide receiver Tyrell Williams (quadriceps) is listed as questionable for Sunday. Lynn said Williams likely will be a game-time decision.
Defensive tackle Brandon Mebane's status also remains uncertain. He has been away from the team this week because of a family matter.
Kicking themselves
The Chargers have a chance to set what might be an NFL record Sunday. They hope, however, to avoid forcing someone to research whether a team has been beaten by fake punts three weeks in a row.
"We have to do a better job of having awareness in that situation, No. 1," Lynn said. "And when you're playing a team that's 3-6 that can happen."
Early in the second quarter last week, Denver punter Colby Wadman passed to fullback Andy Janovich for a 12-yard gain to convert fourth and five near midfield.
In Oakland on Nov. 11, punter Johnny Townsend took the long snap and ran 42 yards for a first down.
"We gotta do a better job in that area," Lynn said. "That starts with the coaches."
On Sunday, the Chargers face an Arizona team that is 2-8 and figures to be playing as loosely as any NFL team will this weekend.
Time killer
Chief among the flustering plays Sunday in the Chargers' 23-22 loss to Denver was the one that resulted in quarterback Philip Rivers intentionally killing the clock in the final two minutes.
By taking a sack, Rivers would have kept the time running and made it tougher on the Broncos to put together their game-winning field-goal drive.
"It just happened," offensive coordinator Ken Whisenhunt said. "He does a great job of managing those. Whenever something like that happens, you have a tendency to focus on that and you don't think about some of the plays that were tremendous that were made.
"Those were overlooked because they're not talked about. When you talk about a balance between those things, he's a tremendous player and one of the best in the league and makes it easy. Sometimes, things are not going to go exactly the way you want."
Etc.
Arizona's leader in interceptions this season is Tre Boston with three. The defensive back started 15 games last year for the Chargers. … Over the last seven games, the Chargers are giving up an average of 16.6 points. That's tops in the NFL and at least two points better than every other team.
Twitter: @JeffMillerLAT
---
Get the latest on L.A.'s teams in the daily Sports Report newsletter.
You may occasionally receive promotional content from the Los Angeles Times.