Brandon Mebane back with the Chargers after death of infant daughter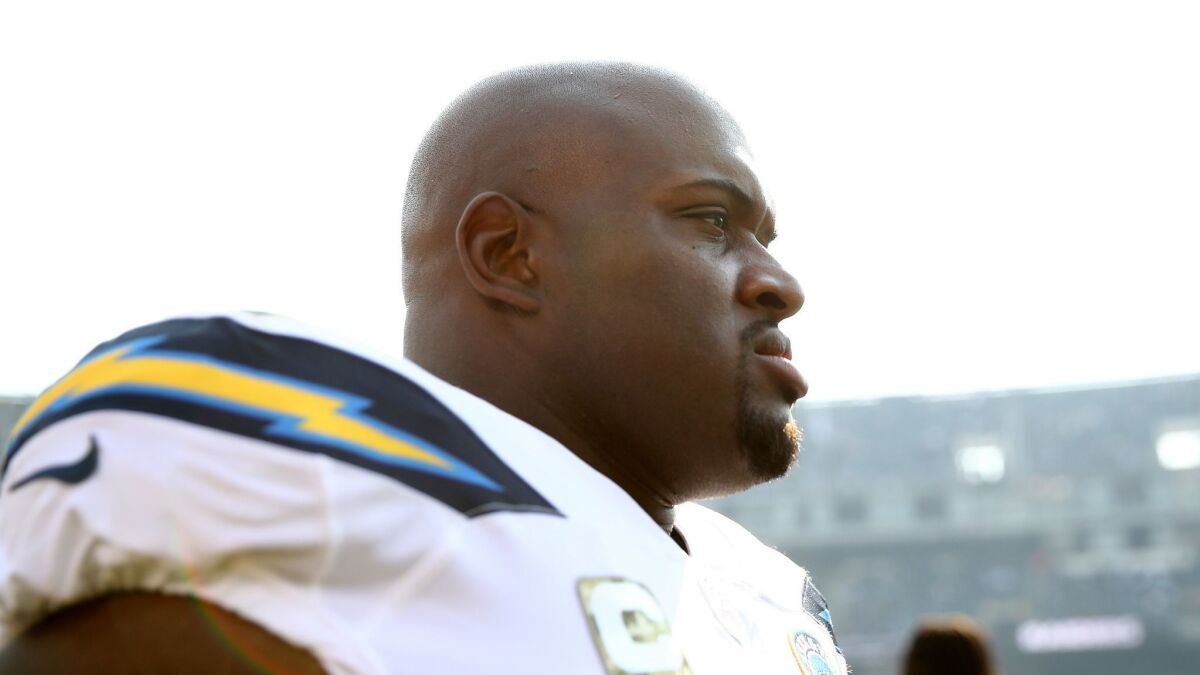 Brandon Mebane pulled his No. 92 jersey over his head, laced up his cleats, grabbed his helmet and headed for the Chargers practice field Wednesday, the return to the rhythm and routine of game-week preparations under a warm January sun providing something of a balm for the defensive tackle's pain.
Mebane's seven-week-old daughter, Makenna, who was born with a rare chromosome disorder, died on Jan. 3 after spending all of her short life in the neonatal intensive care unit of an Omaha, Neb., medical center.
Mebane missed four games in late November and December to be with his wife, Amena, and their two other children, Mahailey and Makai, in Nebraska. He played the final two regular-season games, traveling between Omaha and Southern California. He missed Sunday's playoff win in Baltimore but plans to play this Sunday at New England.
"You know, it's been a tough year, period, but she would want me to be here doing my job," Mebane, 33, said. "No matter where I am, I still think about her. I'm just happy I'm still able to play this game."
Makenna was born Nov. 12 with Trisomy 13, a chromosomal condition that affected her heart. Two weeks after she was born, she developed a stomach infection and had surgery in mid-December to remove the infected part of her small intestine. Last week, her conditioned worsened.
"She just kept bleeding from her stomach, and when they tried to feed her, it wasn't good for her liver," Mebane said. "She wasn't doing much better, and they had to make a decision."
Mebane said it was somewhat therapeutic to return to the team.
"I'm doing pretty good," he said. "I'm just trying to take one day at a time. It's still painful. I thank God every day and still pray."
His teammates were glad to have Mebane back.
"I understand how tough it is for him because I don't understand that situation," defensive lineman Damion Square said. "The fact that he's back in this locker room willing to contribute to this team says a lot about that guy. My hat's off to him. I know he'll be effective for us this week on the field."
Cold front
The football gods have shined on the Chargers, giving them temperatures of 57 degrees for a Dec. 2 night game at Pittsburgh, 39 degrees for a Dec. 13 night game at Kansas City and 51 degrees for a Dec. 30 afternoon game at Denver.
But the team is expected to get its first dose of harsh winter weather this weekend, with Sunday's forecast for Foxborough, Mass., calling for a high of 29 degrees and a low of 16. It is not expected to snow.
"You can't really prepare for that in California," Chargers coach Anthony Lynn said. "You know, 29, 30 degrees, whatever it's supposed to be, to me, that's good football weather. Last time I checked, it wasn't supposed to snow. So it might be cold, breezy, but we'll be fine."
Child's play
Philip Rivers is 37 and in his 15th NFL season, but the Chargers quarterback is still capable of some youthful exuberance.
After scrambling on third and eight for nine yards — his longest run of the season — and absorbing a punishing hit from Ravens linebacker C.J. Mosley in the fourth quarter Sunday, Rivers stood up, posed with his hands on his hips for two seconds and thrust his left arm toward the end zone to indicate first down.
"In my house, that was my favorite play of the day," Rivers said. "Yeah, the little 15-year-old boy came out in me. It was good. It was the first thing my wife said, 'I was just so happy to see you had so much fun.' It was a good day."
Injury updates
Tight end Hunter Henry, who returned to the active roster Monday after missing the entire season because of knee surgery, was a full participant in Wednesday's practice, boosting hopes that he will play on Sunday.
Running back Melvin Gordon, who injured his right knee on Sunday, and center Mike Pouncey (thumb) did not practice, but both are expected to play against the Patriots. Fullback Derek Watt (shoulder) and special-teams player Brandon Facyson (concussion) were limited.
Follow Mike DiGiovanna on Twitter @MikeDiGiovanna
Get the latest on L.A.'s teams in the daily Sports Report newsletter.
You may occasionally receive promotional content from the Los Angeles Times.