Playing second fiddle pays off for Chargers receiver Tyrell Williams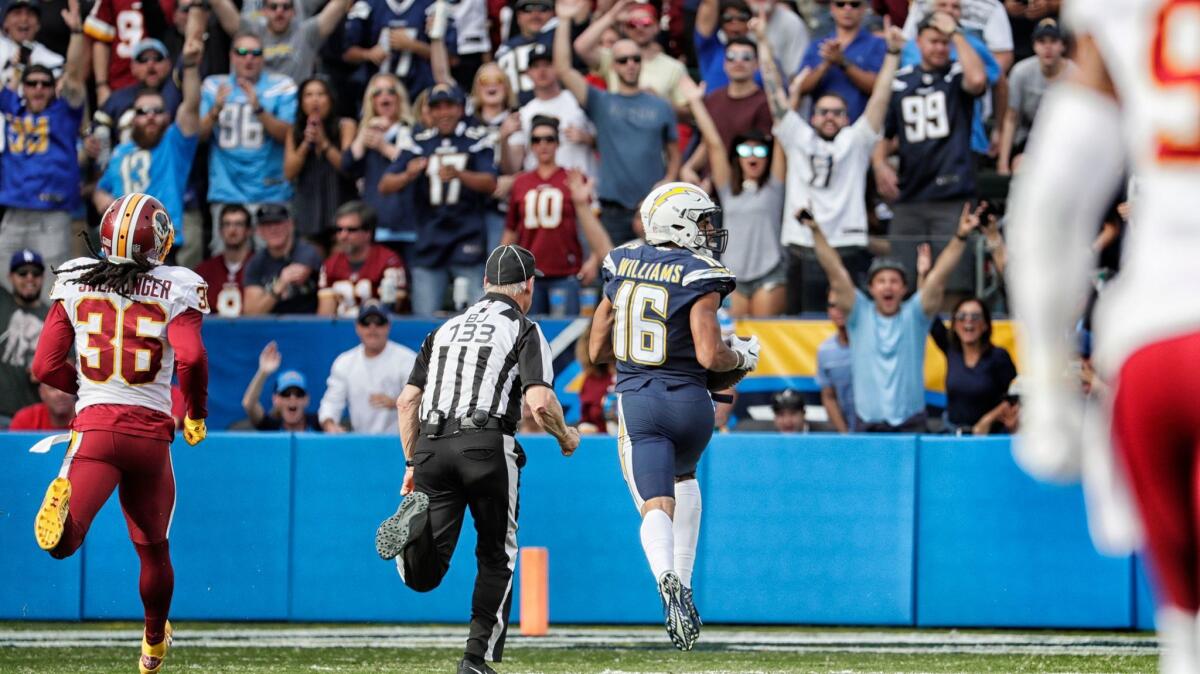 Keenan Allen's three-week demolition of NFL defenses paid huge dividends on Sunday … for fellow Chargers receiver Tyrell Williams.
With Allen drawing three Washington defenders on a simple 10-yard out-pattern in the second quarter, Williams burned cornerback Josh Norman for a 75-yard touchdown pass that was probably the decisive play in the Chargers' 30-13 victory over the Redskins in StubHub Center.
"When you have Keenan on your team, they're definitely going to be focusing on him," said Williams, who caught four passes for 132 yards, all in the first half, to help the Chargers win for the seventh time in nine games. "That opens things up for me and Travis [Benjamin], and we can make plays."
Allen had been quarterback Philip Rivers' primary target in the previous three games, catching 33 passes for 436 yards and four touchdowns. He became the first player in NFL history with at least 10 catches, 100 yards receiving and a receiving touchdown in three straight games.
Williams, who stepped in for the injured Allen last season and caught 69 passes for 1,059 yards and seven touchdowns, has been more of an afterthought. After catching five passes for 115 yards in a Week 4 loss to Philadelphia, Williams had 12 catches for 210 yards and one score in the previous eight games.
But on the first play Sunday, Williams found a seam on a crossing route and caught at 34-yard pass over the middle. That sparked a drive that ended with Travis Coons' 33-yard field goal and a 3-0 lead, the first time this season the Chargers have scored on their first possession of the game.
"I didn't know that — that's crazy," Williams said. "We wanted to come in and set the tone early and get a big play. We had planned on that."
Rivers got Hunter Henry involved on the Chargers' next possession, connecting with the big tight end three times for 42 yards on a 10-play, 92-yard scoring drive that was capped by an eight-yard scoring pass to Henry for a 10-0 lead. Coons' 21-yard field goal at the end of the first period made the score 13-0.
The Redskins began to stir when quarterback Niles Paul made a leaping catch of a Kirk Cousins 15-yard pass to convert a fourth-and-two from the Chargers 37, and Cousins hit Vernon Davis with a 23-yard scoring strike to help pull Washington to within 13-6 with 10:13 left in the second quarter.
But any hopes the Redskins had were dashed on the Chargers' next play from scrimmage.
From his own 25, Rivers faked a handoff to Melvin Gordon and took a deep drop. Williams, split wide to the right, drew man-to-man coverage from Norman. Allen, in the left slot, was jammed at the line by cornerback Quinton Dunbar.
Redskins linebacker Ryan Kerrigan dropped into coverage and blocked Allen from the front, and free safety D.J. Swearinger provided backside help on Allen.
Williams, meanwhile, ran a deep post pattern, giving Norman a little head fake to his right at the 50-yard line and bolting up the middle.
Rivers' high-arching pass was nearly perfect. Williams beat Norman by several steps, sped up to catch the ball in stride at the Redskins 30 and easily traversed the final yards to the end zone to give the Chargers a 20-6 lead with 10:02 left in the first half.
"I didn't see the safety in the middle of the field, so I knew I had a lot of room, and I just used my speed," Williams said. "It was a great ball. I was able to speed up to it and get it and pull away from everybody."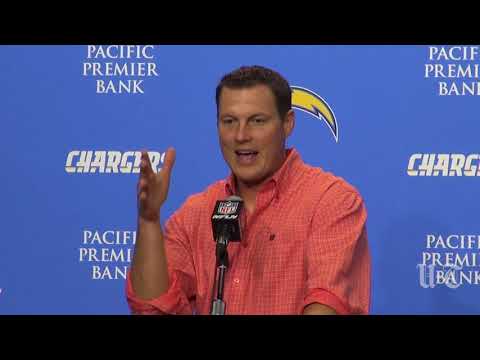 Hear from head coach Anthony Lynn and quarterback Philip Rivers after the Chargers beat the Redskins, 30-13, at the StubHub Center.
The play brought a smile to Allen's face, not only because Williams scored, but because of how it might help him — and the Chargers — in the future.
"I told 'T' that was big for us," Allen said. "Him exploding through the offense like that puts pressure on the defense. Now, they can't focus on me and Hunter so much."
Rivers spread the ball around to five different receivers on Sunday, with Allen catching six passes for 111 yards and Henry catching four for 50 yards. Allen and Henry have excelled on short and medium routes. Williams and the speedy Benjamin can stretch the defenses, creating more space for Allen and Henry.
"We're going to take shots down the field," coach Anthony Lynn said. "Tyrell has speed, so he's part of that shot package. We tried to get him the ball early."
Williams has only 32 catches for 580 yards and three touchdowns on the season, but he doesn't feel left out.
"We're winning, so I'm happy, I'm good," he said. "As long as we're winning, we're doing something right."
Follow Mike DiGiovanna on Twitter @MikeDiGiovanna
Get the latest on L.A.'s teams in the daily Sports Report newsletter.
You may occasionally receive promotional content from the Los Angeles Times.