Tyrell Williams reaches another high point in Chargers' win over Browns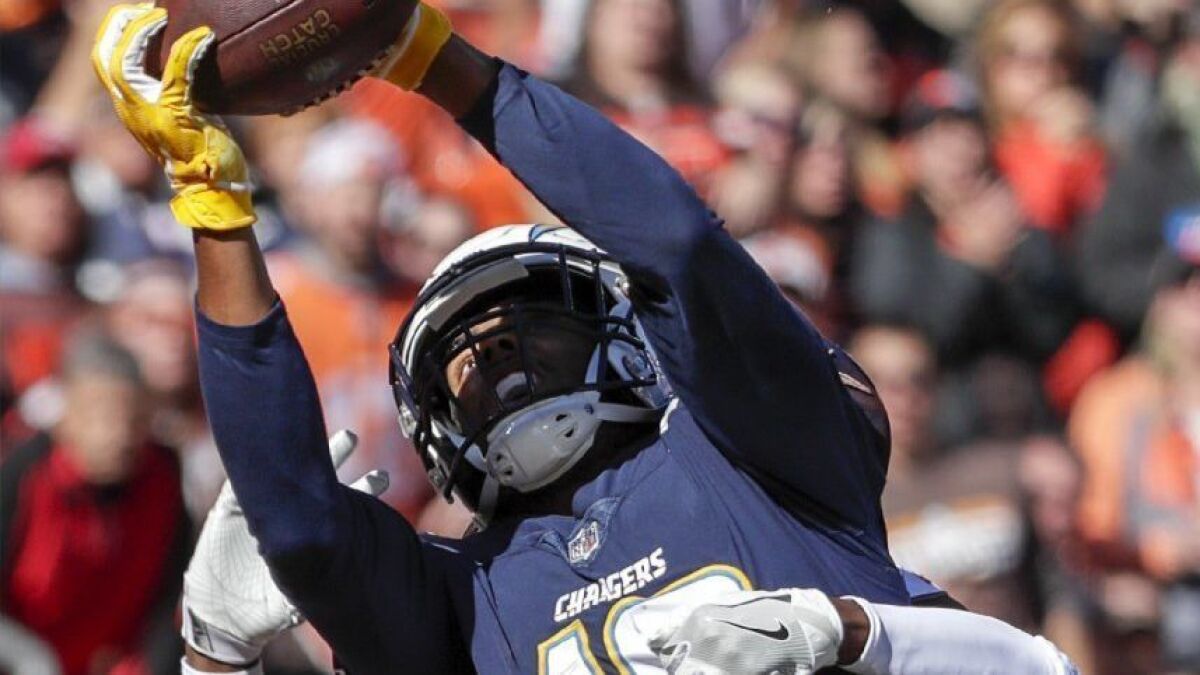 Reporting from cleveland —
It's easy to overlook Chargers receiver Tyrell Williams, who is no longer the primary target of quarterback Philip Rivers now that Keenan Allen has returned to stardom after his 2016 knee surgery and Melvin Gordon has emerged as a lethal pass-catching threat out of the backfield.
Heck, Williams, who led the team with 69 catches for 1,059 yards and seven touchdowns in 2016, isn't even the most heralded Williams on the receiving corps. That honor belongs to Mike Williams, the 2017 first-round pick who entered Sunday with more catches, yards and touchdowns than Tyrell.
But Williams emerged from the shadows with three spotlight-grabbing receptions in Sunday's 38-14 win over the Cleveland Browns, all of them — including a spectacular 45-yard leaping catch between three defenders in the end zone — coming in a seven-minute stretch of the second quarter.
Williams caught three passes for 118 yards and two touchdowns, accounting for all 89 yards of a two-play scoring drive — both deep post routes — and catching a 29-yard touchdown pass for a 21-3 lead just before halftime.
"He's patient, and when his moment comes, he takes full advantage of it," fellow receiver Geremy Davis said. "I was happy for him, because he kind of spoke it into existence. He was like, 'Man, I just want to have a two-touchdown game.' And it happened. When he scored, I sprinted down the sideline to celebrate."
It was fitting that Davis reveled in Williams' glory because the two have spent so much time practicing the highlight-reel play that helped catapult the Chargers to their third straight victory.
Every day in practice, the receivers do a drill in which they jog side by side, a ball is thrown high and into the hands of one and the other will have to high-point the ball and snatch it away.
In another drill, the receivers sit on the ground, at an angle toward each other. A ball is thrown, and one receiver will have to snatch it off the other's helmet.
"It's a lot of repetition, and we have to put a lot of work and faith into it," Davis said. "I was happy to see it come to fruition on the field."
The Chargers were leading 7-3 when Allen recovered a punt that he bobbled at their 11-yard line with seven minutes and 46 seconds left in the second quarter. Rivers dropped back on first down and had enough time for Williams to create some separation from the Browns' secondary.
Rivers fired a perfect, high-arching pass, splitting Browns linebacker Joe Schobert and defensive back E.J. Gaines. Williams made the catch in stride for a 44-yard gain.
"It was right where it needed to be," Williams said of the pass. "I just had to make the catch."
On the next play, from the Cleveland 45-yard line, Williams ran the same route but from a different formation. Rivers, with ample protection, drifted toward his left, stepped up and fired long, this pass seeming more like a Hail Mary because it was thrown into triple coverage.
Williams leaped between Schobert and defensive backs Derrick Kindred and Damarious Randall in the end zone. He got his hands on the ball and wrestled enough of it away from Kindred and Randall to be rewarded with a touchdown that gave the Chargers a 14-3 lead 6:34 before halftime.
Under NFL rules, a pass caught simultaneously and retained by players from both teams belongs to the passing team, much like a tie goes to the runner in baseball.
"I saw it hanging, I thought the guy in front of me mistimed it so I tried to elevate as much as I could," Williams said of the pass. "I got a hand on it and I knew if it was going to be a tie, it would be me in the end zone. So I just had to try to make a play."
On the sideline, Chargers coach Anthony Lynn had flashbacks of similar plays at the team's training facility in Costa Mesa.
"I see him working at it every day outside my office on the field — high-pointing balls, high-pointing balls," Lynn said. "Today he went up and got a very important one, so there's improvement with him.
"It's something that didn't come natural to him. It's something that one year ago, you wouldn't have seen from him. This guy is developing into a complete receiver, and his work ethic is as good as anybody's on this team."
Later in the period, on third and six from the Browns' 29, left tackle Russell Okung came out of his stance well before the snap, but a false start wasn't called. Rivers threw into the end zone for Williams, who scored on another post pattern, this time outjumping Denzel Ward for a 21-3 lead 57 seconds before halftime.
A chorus of boos rang down from the crowd when Okung's infraction was replayed on the video board. Cleveland coach Hue Jackson said after the game that one official admitted to him that the crew had missed the call.
"I didn't see Russell move, I just saw the snap and was trying to get there as fast as I can," Williams said. "He didn't call it, so it couldn't have been a false start."
Follow Mike DiGiovanna on Twitter @MikeDiGiovanna
Get the latest on L.A.'s teams in the daily Sports Report newsletter.
You may occasionally receive promotional content from the Los Angeles Times.