Brotherly love will be set aside as two families are divided in key AFC matchup between Chargers and Steelers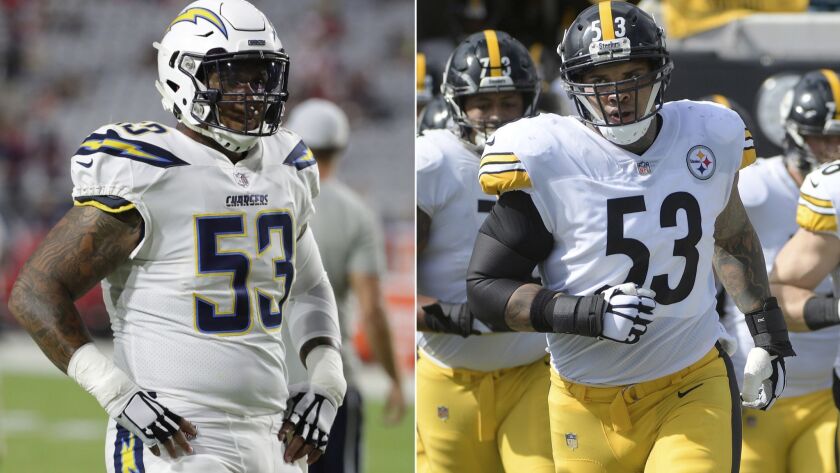 Reporting from pittsburgh —
If the NFL wants to gin up Sunday night's game between the Chargers and Pittsburgh Steelers even more, it should invite game-show host Steve Harvey to the coin toss or air some old Richard Dawson clips on NBC's pregame show.
A subplot of the nationally televised, prime-time showdown between AFC title contenders and probable Hall-of-Fame quarterbacks is a "Family Feud" episode featuring the Pouncey and Watt brothers, who will square off against each other on Heinz Field.
Mike Pouncey, 29, is the starting center for the Chargers, and his twin brother, Maurkice — born one minute after Mike on July 24, 1989 — is the starting center for the Steelers.
Derek Watt, 26, is the starting fullback for the Chargers, and his younger brother, T.J., 24, is a second-year starting linebacker for the Steelers. Their older brother, J.J. Watt, is the Houston Texans star end who is a two-time NFL defensive player of the year.
There are 348 documented sets of brothers who have played in the NFL — with and against each other — dating to "Red" and Garland Grange in 1929, according to the Pro Football Hall of Fame.
This will be the first time two sets of brothers will play against each other since Dec. 28, 2014, when Tampa Bay, with quarterback Josh McCown and cornerback Brandon Dixon, faced New Orleans, with quarterback Luke McCown and cornerback Brian Dixon.
"It doesn't happen all the time," Derek Watt said, "so to have this opportunity is special."
T.J. Watt, a first-round pick of the Steelers in 2017, and Derek Watt, a sixth-round pick of the Chargers in 2016, were teammates at Wisconsin's Pewaukee High School and the University of Wisconsin. This will be the first time they will oppose each other in a competitive football game at any level.
T.J., at 6-foot-4 and 252 pounds, is a budding star who leads the Steelers with 10 sacks for losses of 68 yards — he had three-sack games against the Browns and Falcons — and four forced fumbles.
Described by Derek as "relentless" in his pursuit of quarterbacks and ball-carriers, T.J. ranks fourth on the team this season with 50 tackles.
The 6-2, 234-pound Derek Watt is more of a role player who averages 9.5 offensive snaps a game. His primary job is to block for running backs Melvin Gordon and Austin Ekeler and protect quarterback Philip Rivers. But Derek is pretty sure he will cross paths with T.J. at some point Sunday night.
"It could be clean, where he knows I'm coming and I know he's coming, or it could be where I'm going around the corner, he comes through and I have to pick him up," Derek said. "It could happen in a variety of different ways, but I'm sure one way or another it will happen, and it will be good."
Watt's parents, Connie and John, will attend the game, and the family planned to gather at T.J.'s Pittsburgh-area home on Saturday. J.J. plans to watch the game on television after his Texans play the Browns on Sunday afternoon.
The Watt brothers chat via group text several times a week and regularly FaceTime with each other. While Derek said there wasn't any "smack talk" between the brothers during the week, the anticipation leading up to this game was palpable.
"We were just talking about it in the group text the other day and I basically just said, no cut-blocks," J.J. Watt told reporters in Houston. "That's the only thing. Just don't go at his knees. Otherwise, everything's fair."
T.J. Watt has no intention of turning Pittsburgh into the city of brotherly love.
"It's a football game to me, nothing's going to change," he told reporters in Pittsburgh. "I don't think in that split second you can determine who's who."
All this talk of brothers crashing into each other had Mike Pouncey, an eight-year veteran who has been a difference-maker on the Chargers line after signing a two-year deal last spring, feeling a bit envious.
"It's better for Derek because he gets to go against his brother," Pouncey said. "For us, I want [Maurkice] to have his best game, and I want our defense to stop everything they do, and he's wishing the same thing for me. Our family is stuck in between. They just want both of us to come out of this game healthy."
Like the Watt brothers, Mike and Maurkice played together in high school (Lakeland, Fla.) and college (Florida), helping their teams win three straight Florida Class 5A state titles and a BCS national championship in 2008.
Maurkice played center and Mike played guard for most of those teams. Maurkice, now 6-4 and 304 pounds, entered the NFL draft after his junior season at Florida and was a first-round pick (18th overall) of the Steelers in 2010. He is a two-time first-team All-Pro selection and a six-time Pro Bowl selection.
Mike Pouncey, on the advice of NFL scouts who wanted to see him play center, remained in college for one more season and switched positions his senior year.
The 6-5, 299-pounder was drafted in the first round (15th overall) by the Miami Dolphins in 2011 and has been selected to the Pro Bowl three times. The brothers have already combined for $99 million in career earnings.
"Without football, I don't know where our family would be," Mike Pouncey said. "It's changed our family's life for the better, took us out of poverty, and we're very appreciative for it."
Mike's Dolphins have played Maurkice's Steelers four times, with the Dolphins winning three of those games.
"But the time he beat us was in the playoffs," Mike Pouncey said of the 2016 game, "so that was more important."
Like the Watts, the Pounceys planned to gather at Maurkice's Pittsburgh-area home Saturday. Unlike the Watts, there was a little trash-talk from one of the Pounceys, with Maurkice saying that if he and Mike switched uniforms at halftime Sunday, "I'd take that team to the next level baby. They'd definitely notice."
Oh, brother.
"With us playing the same position, the competition is more who gets in the Pro Bowl and who doesn't," Mike Pouncey said. "Outside of that, it's pretty friendly."
Follow Mike DiGiovanna on Twitter @MikeDiGiovanna
---
Get the latest on L.A.'s teams in the daily Sports Report newsletter.
You may occasionally receive promotional content from the Los Angeles Times.