Attendance for Chargers preseason debut in the NFL's smallest stadium falls far short of capacity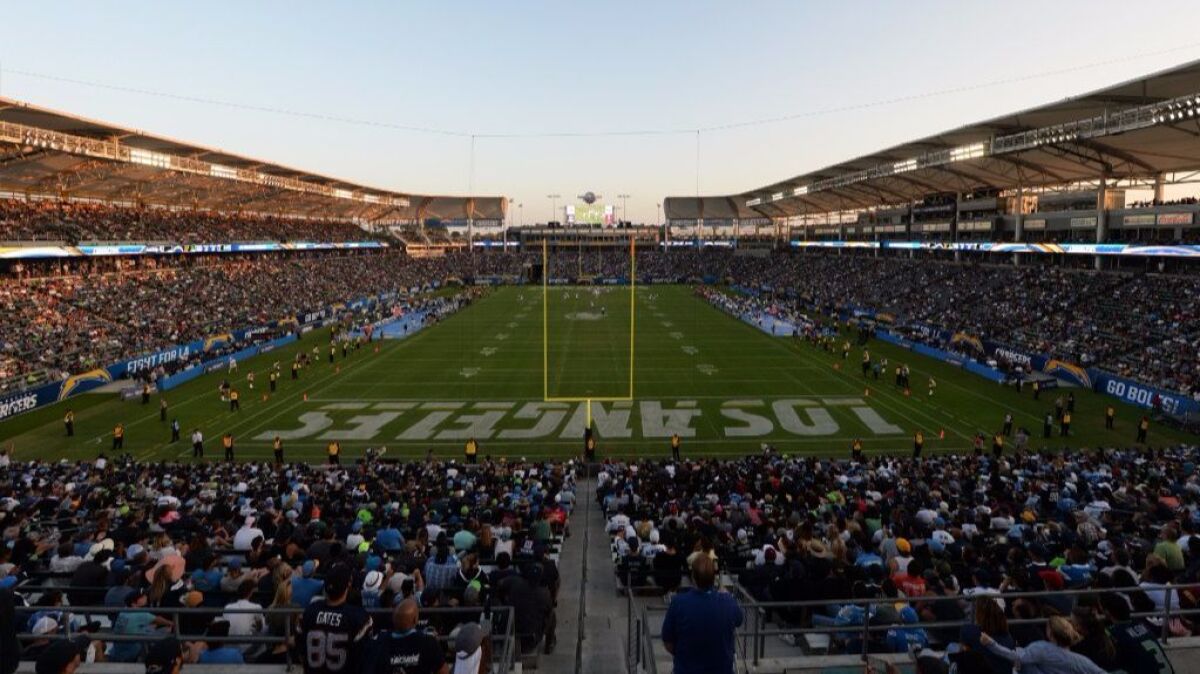 While several Chargers raved about the atmosphere in StubHub Center for Sunday night's preseason opener against the Seattle Seahawks, attendance for the Chargers' Los Angeles debut did not reflect great enthusiasm for the team.
The announced crowd of 21,054 was about 6,000 shy of the stadium's 27,000-seat capacity and more than 4,500 less than the Galaxy drew Saturday night for a Major League Soccer game against New York City FC.
"It was a lot of fun — there was a lot of energy here today," guard Matt Slauson said after the Chargers' 48-17 loss. "The players were excited, and we could feel it from the fans."
That the Carson facility was only 78% full was not out of line with NFL preseason games, many of which have a fair percentage of no-shows. The Rams announced a crowd of 62,888 for Saturday night's game against the Dallas Cowboys, but there were large swaths of empty seats in the Coliseum.
But the number of no-shows Sunday night seemed stark considering that StubHub is less than half the size of every other NFL stadium and the Chargers, with a high-powered offense, were playing their first game in a new city after moving from San Diego.
The smallest crowd the Chargers drew in Qualcomm Stadium last season was 52,165 for their home opener against the Jacksonville Jaguars. They drew 46,524 and 47,407 for preseason home games against the Arizona Cardinals and San Francisco 49ers.
A Chargers spokesman said Monday that the attendance reflected the actual number of fans in the stadium — not the number of tickets sold — but declined to comment further about the crowd size. All but a few dozen tickets for the Chargers-Seahawks game were sold.
NFL season-ticket packages include eight home games and two preseason games, with fans forced to pay full price for less attractive exhibition games, in which starters rarely play more than a quarter. Chargers quarterback Philip Rivers and most of the other offensive starters played only one series Sunday night.
The Chargers are in the process of selling the remainder of their premium seats, including almost 400 field-level seats in three corners of the stadium.
"I really wasn't expecting a full house," veteran tight end Antonio Gates said. "I assumed Seattle would bring their fans, and we'd have some Los Angeles fans here to support us. Still, I thought the atmosphere was great."
Follow Mike DiGiovanna on Twitter @MikeDiGiovanna
---
Get the latest on L.A.'s teams in the daily Sports Report newsletter.
You may occasionally receive promotional content from the Los Angeles Times.