Chargers announce season ticket prices for new Inglewood stadium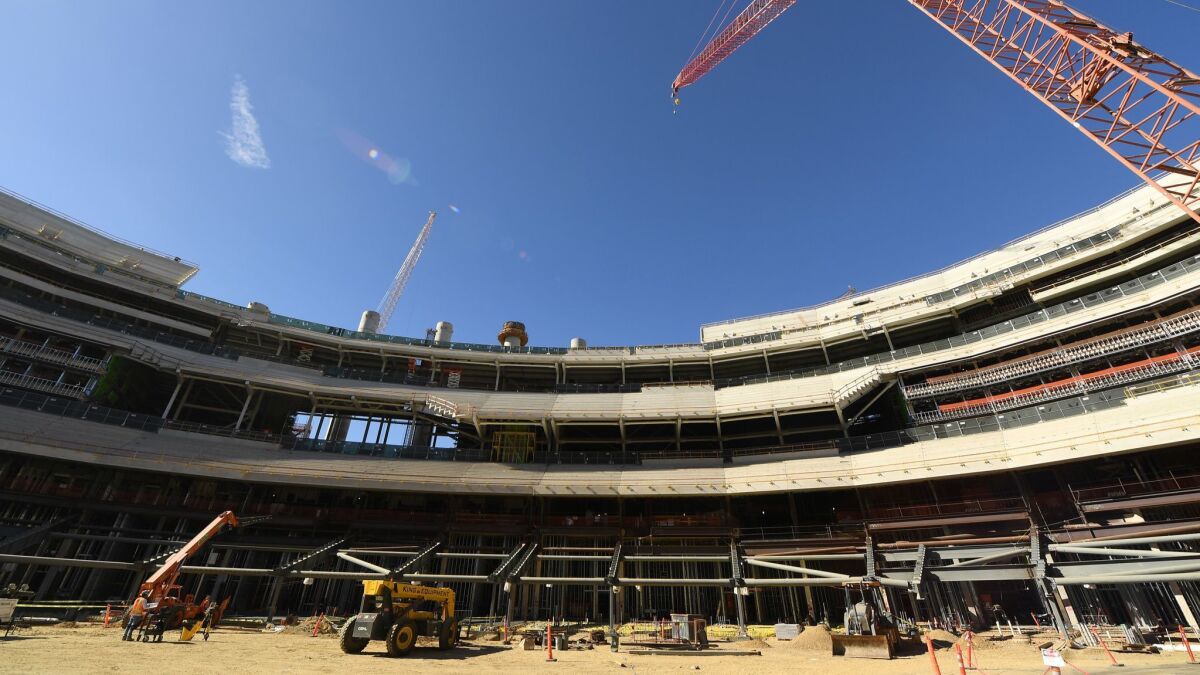 The Chargers have struggled to fill their current stadium with their fans.
In their next home, they believe they've priced season tickets in a way that will change that.
"We want the building filled with Chargers fans," A.G. Spanos, the team's director of business operations, said Wednesday. "We had to price accordingly."
The least-expensive general seating season ticket in the new Inglewood stadium will cost $50 per game and require a one-time personal seat license fee of $100.
The tickets go on sale first to current Chargers season-ticket holders next week and then to those on the waiting list.
The Chargers will share the new facility with the Rams, who last month announced their season tickets will start at $60 a game, with personal seat licenses beginning at $1,000.
Spanos said the Chargers "priced independently of the Rams" and emphasized that their goal was to appeal to as many fans as possible.
"We're excited that it's so affordable," he said. "When you look at the pricing, there's an opportunity for just about everyone."
The new stadium is set to open in 2020. Until then, the Chargers will continue playing in Carson's StubHub Center, which is by far the NFL's smallest venue, resulting in higher ticket prices. The facility considers 27,000 to be capacity for Chargers games.
Because of the cost, turnouts suggest it has become a regular occurrence for season-seat holders to sell their tickets to fans of opposing teams as a way to recoup some of their investment.
"We know in the building we're in … there aren't many opportunities," Spanos said. "It is priced high. There's not very many affordable seats, not many under $100."
The Chargers announced their new home will feature more than 26,000 seats priced between $50 and $90 per ticket, plus the $100 seat license fee. Other prices for general seating: some $70 seats, $500 license fee; $80, $1,000; some $90, $2,000; $100, $3,000; $125, $3,000; $150, $3,000.
Capacity in the stadium will start at 70,000 and can be expanded up to 100,000 for major events.
In their second season in Los Angeles, the team is still trying to establish itself with the community.
"It's going to take a while for us to share memories and build relationships with fans here," Spanos said. "We still have a great base, a passionate base of fans. As we have continued success, that's going to continue to grow."
Twitter: @JeffMillerLAT
---
Get the latest on L.A.'s teams in the daily Sports Report newsletter.
You may occasionally receive promotional content from the Los Angeles Times.