Chargers great LaDainian Tomlinson sees opportunity to bring people together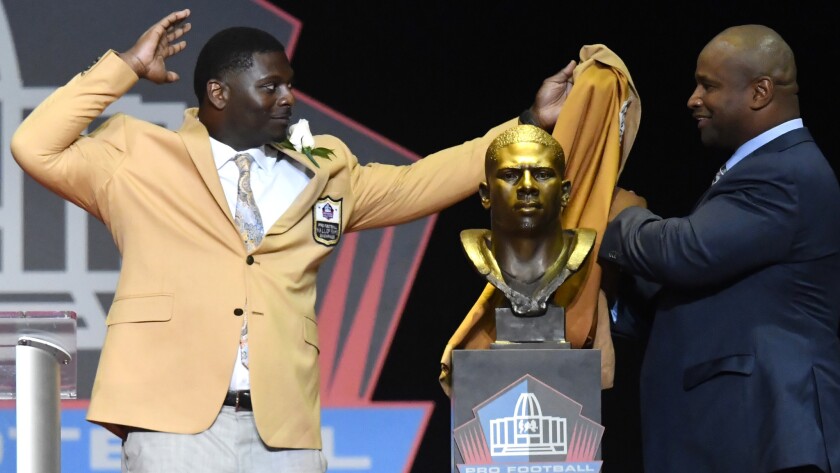 LaDainian Tomlinson's moving Aug. 5 Hall of Fame induction speech, in which the former Chargers star running back used the story of his great-great-great grandfather, George, who inherited the Tomlinson name from the slaveholder who owned him, to unite his audience, was a little too prescient.
"I firmly believe God chose me to help bring two races together under one last name," Tomlinson said in his speech. "I pray we dedicate ourselves to be the best team we can be, working and living together, representing the highest ideals of mankind, leading the way for all nations to follow."
A week after the speech, violent clashes between white supremacists and counter-protesters in Charlottesville, Va., further divided the country and resulted in the death of a 32-year-old woman who was hit by a car that plowed into a crowd on Saturday.
"That's why I think it was even more needed," Tomlinson said before the Chargers' preseason opener against the Seattle Seahawks at StubHub Center on Sunday.
"People need to search within themselves to see what we all can do better. It's gonna take more conversations. The way I feel, there is no time for division among our own countrymen."
Tomlinson, who is serving as a special assistant to Chargers owner Dean Spanos, said in his Hall-of-Fame speech that football is a microcosm of America, that "all races, religions and creeds" are living, playing and competing side by side. Tomlinson believes that approach can be broadened well beyond football.
"I was really trying to challenge the country — I was basically saying that my story is America's story, and if it's America's story, it's all of our stories," Tomlinson said on Sunday.
"At the end of the day, all of us have different backgrounds, cultures, and the next generation … this country truly has to come together, because we're competing against other nations now, you can see that starting to happen."
Tomlinson will also try to carry a message of unity in his new role with the Chargers. Part of his job will be to soothe the anger and frustration of San Diego-area fans who were jilted by the team's move to Los Angeles in January and have vowed never to support the Los Angeles Chargers.
"Look, I understand it's gonna take some time — people don't get over being hurt in a week or two, or a month, two months," Tomlinson said. "It's a process, and hopefully over time, they will be able to get over it, because at the end of the day it's that lightning bolt we all care about, we want to see that lightning bolt win."
Tomlinson will be involved with community outreach programs and fan engagement, facilitating events for Chargers fans to get to know the players. He will also interact with sponsors — he planned to spend a portion of Sunday night's game mingling with fans in luxury suites.
"I'll be doing whatever Dean asks me to do," Tomlinson said. "At the end of the day, I want to help build the Chargers brand in Los Angeles. That will be my job, to help sell tickets, jersey sales, all those kinds of things."
That doesn't mean the team will abandon its San Diego fan base. Tomlinson said the team will continue to do community outreach events in San Diego.
"My hope is we don't forget about them," Tomlinson said. "I want to still touch people in San Diego, have events where they still feel like they're very much a part of the organization. That's my hope."
---
Get the latest on L.A.'s teams in the daily Sports Report newsletter.
You may occasionally receive promotional content from the Los Angeles Times.