Keenan Allen, other Chargers wideouts outshining DBs — in trash-talk battles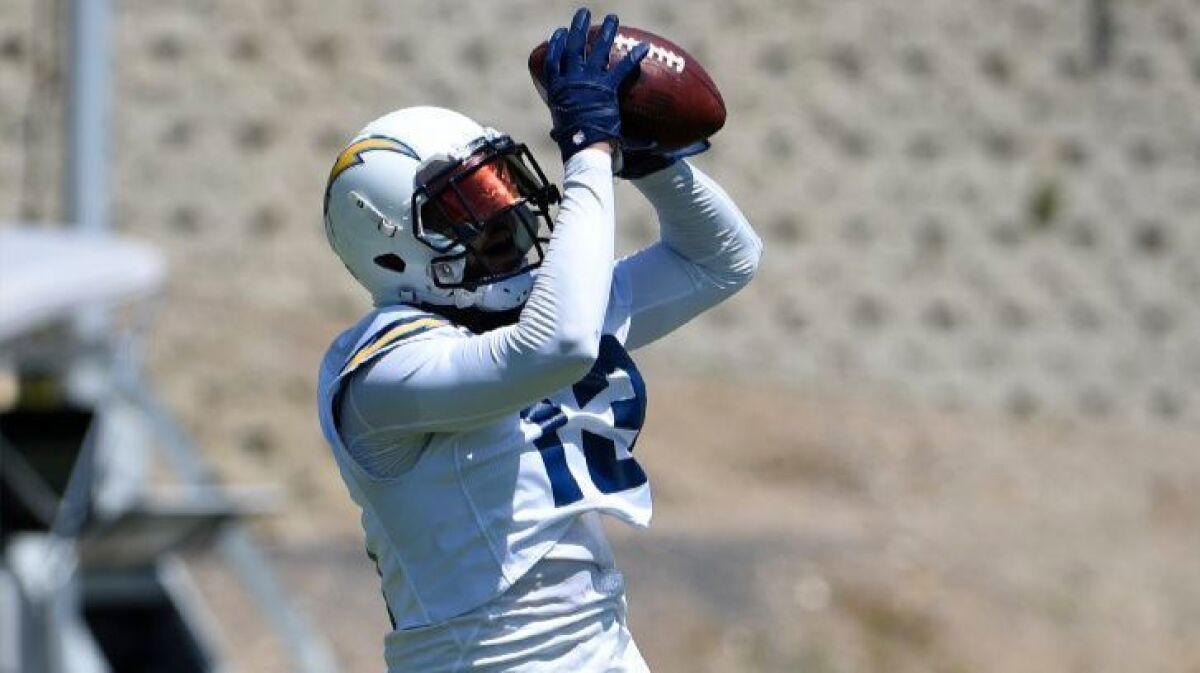 Reporting from costa mesa —
The rap music that bumps through the speakers surrounding the Chargers' practice field at the Jack Hammett Sports Complex has been edited for content.
The Chargers' cornerbacks and the receivers have not.
The jawing between some of the team's best trash talkers continued to ramp up Monday with Keenan Allen and the rest of the wideouts outperforming the Chargers' defensive backs. In the camp's first practice, the cornerbacks and safeties outperformed the offense.
"We're all so competitive," cornerback Casey Hayward said. "The wide receivers and the DBs, we're probably the two most competitive groups on the field. When we're going one-on-one, we want to win bad.
"And, if we win, we trash talk the rest of the day."
It's easiest to be enamored with the Allen-Hayward, Tyrell Williams-Craig Mager and the other cornerback-wideout battles. With the team not wearing pads until Tuesday's practice, the best and truest evaluations can be made on the outside in those one-on-ones.
"It doesn't change for us — pads or no pads," wide receiver Travis Benjamin said.
The competitions will get even tougher when cornerback Jason Verrett comes off the physically unable to perform list, giving the Chargers receivers a pair of Pro Bowl corners (Hayward made the Pro Bowl last season) to test themselves against. Coach Anthony Lynn said Sunday that Verrett, who is recovering from a knee surgery, could come off the PUP list in a couple of weeks.
While the team waits for Verrett to return, competition everywhere else is scheduled to pick up. The pads will be on Tuesday, and Lynn said he expects to have to try to dial back his players' intensity after an offseason of waiting for contact.
"We'll have to temper that," Lynn said. "I read a stat before I became a head coach that new head coaches have a 20% higher injury rate. I think a lot of that is because guys are trying to impress the new coaches."
That extra aggression, at least between the offensive and defensive lines, will be welcome. Lynn has frequently admitted that it's almost impossible to evaluate those players when the team practices in shirts and shorts.
Still, even with the music playing and the pads and helmets cracking, you'll be able to hear Hayward and Allen jawing at each other, trying to win bragging rights for the day.
"I embrace it," Hayward said of the trash talk. "We're going to be back out here tomorrow with pads on. They're going to have to embrace it tomorrow because we're going to come ready to play."
OK with watching LT?
Before practice began Monday, the Sporting News, citing unnamed sources, reported that Lynn was blocking Charger veterans Philip Rivers and Antonio Gates from attending LaDainian Tomlinson's entrance to the Pro Football Hall of Fame on Saturday.
Lynn denied the report, though he said any decision whether to attend would be made jointly.
"I've talked to Philip. I've talked to Antonio. I even talked to LT," Lynn said. "We're all on the same page. At the end of the day, we're going to make the best decision for our football team, and that's it."
The Chargers have a practice scheduled with the Los Angeles Rams on Saturday at 4:30 p.m. at the StubHub Center in Carson. Rivers told NFL Network's Alex Flannigan that he wouldn't be attending Tomlinson's induction.
Rivers said he wasn't blocked by Lynn, though the coach was "adamant" about wanting Rivers at practice, Flannigan reported.
Lynn said no final decisions have been made.
"We've talked about it," he said. "And trust me, I have a personal friend [former teammate Terrell Davis] who's going into the Hall of Fame, and I coached LT… I'd love to be there, and I know how important that is, and how big of an accomplishment that is. So I get it. I get it.
"Those guys are torn a little bit because we're having our first practice in StubHub with the Rams, and they want to be there with their teammates. We'll see. I'm sure they'll make the best decision."
Notes
For the second practice in a row, Forrest Lamp and Dan Feeney both took reps with the first-team offensive line, though never at the same time. Feeney's reps came at center and Lamp's came at right guard, though the two never lined up with the starters together. … Undrafted rookie linebacker James Onwualu, a teammate of seventh-round pick Isaac Rochelle at Notre Dame, also got first-team reps in passing situations. Onwualu covered Allen on a route and forced an incompletion, causing the defensive sideline to cheer. …Running back Melvin Gordon broke through the line and ran away for the defense for what looked like an easy score, but undrafted cornerback Michael Davis chased him down from behind, stripping the ball. …Undrafted linebacker Nigel Harris intercepted newly acquired quarterback Cardale Jones during seven-on-seven drills and broke up another pass during 11-on-11 drills.
Twitter: @DanWoikeSports
Get the latest on L.A.'s teams in the daily Sports Report newsletter.
You may occasionally receive promotional content from the Los Angeles Times.