After mini-controversy, Antonio Gates set to attend LaDainian Tomlinson's Hall of Fame ceremony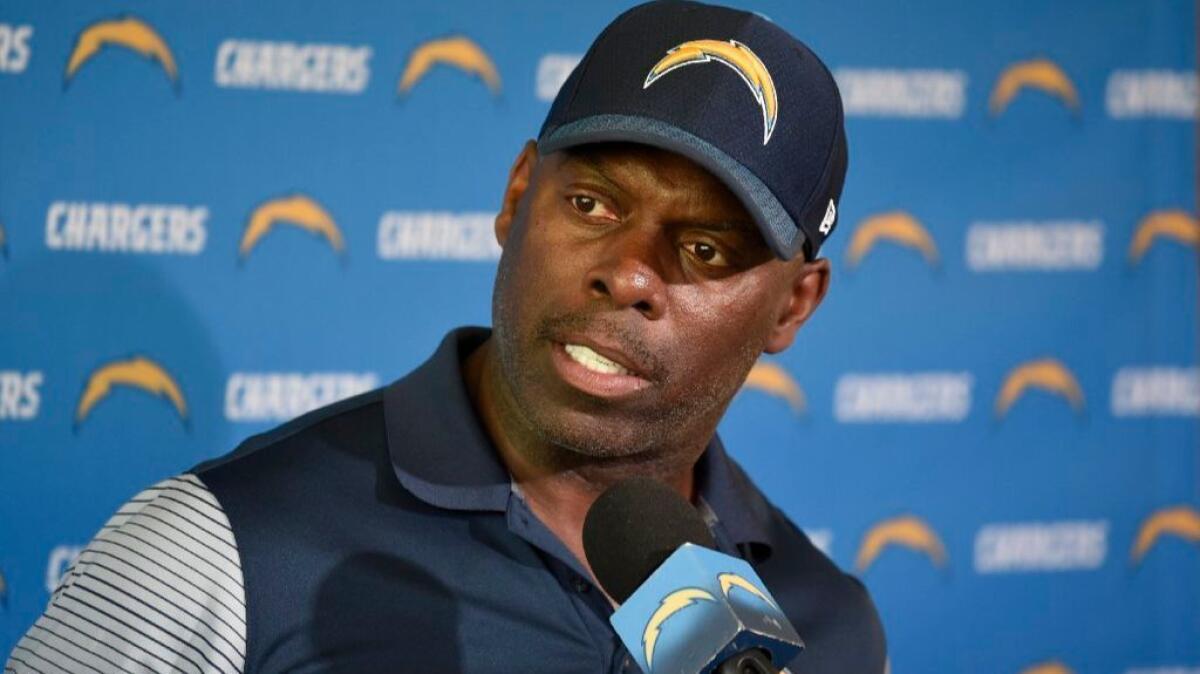 Reporting from COSTA MESA —
Antonio Gates will someday end up in Canton, Ohio, where the Pro Football Hall of Fame is located. It's not a question of "if" but "when."
But because of Anthony Lynn's first mini-controversy as the Chargers' new coach, there all of a sudden was a question of "if" Gates would get to Canton … this weekend.
A report earlier in the week indicated Lynn was blocking Gates and quarterback Philip Rivers from attending Saturday's induction of their former teammate, LaDainian Tomlinson.
Lynn said Tuesday that Gates would be attending the ceremony — doing so with team permission to miss a joint practice with the Rams at StubHub Center. Rivers will not attend the ceremony and will be at practice.
"Some things, you feel like, you'll never get back," Gates said. "Opportunities like this one, in terms, come once in a lifetime. You're talking about a guy I played with here. He was the wheels on the tank, if you will. He was a staple of what we did here, and I was a big part of that as well.
"When you have a guy that you played with between the lines and battled with, you always want to be there to support him for a special event like this."
Gates said Lynn was supportive of his decision.
"We had a good talk; fortunately he was understanding," Gates said. "It's hard because you have something going on here. You want to be in both places. Then you've just got to try figure out and pick what could you not get back. And that's what I had to come up with.
"…Coach was very, very understanding — unbelievable in how he understands. And, he's played in this league so you wouldn't expect less than a guy like that who understands how to run a team and understands players. And that's what's important. He really understands people. He was able to say, fine, you can go."
While Gates will be there to support Tomlinson, his mind will certainly wander to the one day when he'll be the one being enshrined and his current teammates will be begging their coach to miss a practice.
"Absolutely. Going there, it's obviously his day and it's not about me, but that's a goal," Gates said. "When you play sports, since you were a kid, the ultimate individual goal … is going into Canton and getting a statue of your face for your kids and grandkids [to see]."
Chargers finally get to hit
Eight-year veterans such as offensive tackle Joe Barksdale and defensive tackle Corey Liuget have gone through practices like Tuesday's throughout their careers.
They've gone months without pads on, working on hand placement, footwork, and drilling techniques. And, when it's time to finally go live and hit, they know to greet the change with a measured reaction.
"You can't just jump off the line of scrimmage and forget all your tools," Barksdale said.
But for a rookie such as third-round pick Dan Feeney, keeping cool was a bigger challenge.
"This is real football," Feeney said. "You're coming out here playing with some Pro Bowlers. … Some of the greatest football players ever. You don't want to be that guy jumping up and being too giddy."
Feeney was able to keep it together, he said, though he did enjoy finally going full contact.
"Our job," Feeney said, "is to hit people and move people."
Notes
Lynn said former Pro Bowl cornerback Jason Verrett, who missed most of last season with a torn knee ligament, could come off the physically unable to perform list by the end of the week. …With Verrett out, Craig Mager had been getting the first-team reps at cornerback opposite Casey Hayward, but Trevor Williams replaced Mager with the top defensive lineup Tuesday. Williams earned a defensive holding penalty during 11-on-11 drills. … Receiver Tyrell Williams blew past Mager in team drills for a long catch from Rivers. … Former USC center Max Tuerk, the Chargers' third-round pick in 2016, took his first reps of the day as the second-team left guard. Feeney worked as the second-string center. … Undrafted rookie kicker Younghoe Koo hit all seven of his kick attempts while incumbent kicker Josh Lambo hit six, missing left from 43 yards. … Defensive end Joey Bosa was a constant presence in the offensive backfield during team periods. … Receiver Geremy Davis didn't participate in practice because of an undisclosed injury.
Twitter: @DanWoikeSports
Get the latest on L.A.'s teams in the daily Sports Report newsletter.
You may occasionally receive promotional content from the Los Angeles Times.