Chargers rookie guard Forrest Lamp suffers torn knee ligament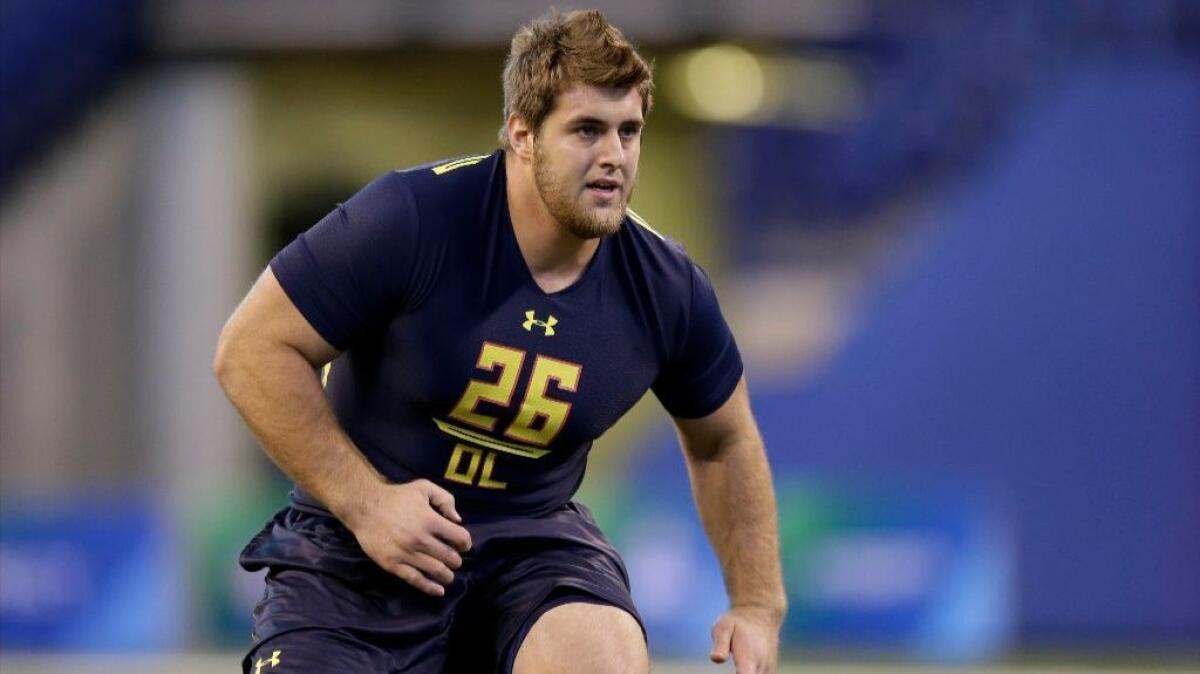 Chargers guard Forrest Lamp was the player carted off the field Wednesday, but it was linebacker Denzel Perryman who was wincing.
Perryman was doing his job, trying to shed a block on a running play off the right side of the hash marks. When the whistles blew, signaling the play was over, he looked back over his shoulder and saw Lamp, the team's second-round pick, lying on the grass.
That's when Perryman winced.
"I just hope it's something minor," Perryman said. "I hope he's able to come back."
Lamp might be able to come back — it just won't be during this season.
The Chargers' string of rotten luck traveled with them from San Diego, as the team announced Lamp suffered a torn ligament in his right knee. The injury typically requires season-ending surgery.
Lamp was injured on an 11-on-11 period during the Chargers' second practice in full pads. He tried to stand before collapsing to the ground.
"He was playing so well," coach Anthony Lynn said. "He was really coming along at that right guard position."
Lamp had been rotating in with the starting offensive line, getting reps along with Kenny Wiggins at right guard. Third-round pick Dan Feeney now could see more time at right guard. Most of Feeney's reps have come at center.
Projected by some to be a first-round selection out of Western Kentucky, Lamp fell to the Chargers at No. 38 overall. Lamp and Feeney were pegged as key pieces to the Chargers' rebuilt offensive line that had three starters from last year's team released.
Before Lamp made it onto the cart, veteran Russell Okung and Perryman went to check on him.
Perryman said Lamp told him he was "good," but that your mind quickly flashes to more serious scenarios. In this case, those thoughts came to fruition.
"First year, you go down like that, that's the first thing," Perryman said on what crosses your mind. "You don't want to get injured. But at the same time, it's football."
And injuries are a part of football — something of which the Chargers are keenly aware.
Last season, receiver Keenan Allen, running backs Danny Woodhead and Branden Oliver, cornerback Jason Verrett, defensive tackle Brandon Mebane and linebacker Manti Te'o had their seasons cut short because of injuries. And although Verrett is expected back from knee surgery, perhaps as soon as this weekend, the Chargers have ruled out first-round pick Mike Williams for all of training camp because of a lower-back injury.
Lynn said he had hoped for good news with the injury, but losing Lamp for any extended period of time is a blow. In addition to the immediate effect on the team, Lamp won't be gaining valuable experience on the field during his rookie season.
"We'll be OK and we have depth, but Forrest was really playing well," Lynn said.
Talking gets louder
While the defensive backs and receivers have been going back and forth in drills since camp opened, the competitiveness — and chatter — escalated during seven-on-seven drills.
Pro Bowl cornerback Casey Hayward, unsurprisingly, was in the middle of it.
"I was mic'd up today," he said, jokingly.
Before going to seven-on-seven drills, Philip Rivers hit Travis Benjamin with a perfectly thrown pass leading to a huge gain. And in seven on seven, Rivers hit Allen, who continued his strong play in camp, for a touchdown.
After the touchdown, Rivers and the offense chirped back at Hayward and the secondary. The talking continued throughout practice between the offensive and defensive units.
"We were out here competing today," Perryman said.
Etc.
Near the end of practice, Rivers found second-year tight end Hunter Henry for a red-zone touchdown. Henry caught 36 passes for eight touchdowns last season and should be a bigger part of the offense this year. "He's a star in the making," Lynn said. "He's done a really good job from day one." … Rookie Desmond King showcased the ball skills that helped him get picked in the fifth round, winning a couple of one-on-one battles with receivers by deflecting passes. … Cornerback Trovon Reed intercepted a pass by Rivers in 11-on-11 drills. … Cornerback Craig Mager, who had been working with the starting defense across from Hayward, was playing with the second unit for the second consecutive day.
Twitter: @DanWoikeSports
Get the latest on L.A.'s teams in the daily Sports Report newsletter.
You may occasionally receive promotional content from the Los Angeles Times.