Zack Golditch, a victim of the 2012 Aurora movie theater shooting, hopes to make Chargers as undrafted free agent
Zack Golditch spent the final day before checking into Chargers rookie minicamp at his old high school in Aurora, Colo., meeting with his former teachers and school staff members.
It took longer than anticipated — everyone had kind words — and the school roped him into staying for a spring signing-day ceremony.
Since the 6-foot-5, 295-pound offensive lineman signed with the Chargers as an undrafted free agent following the NFL draft, friends, family and acquaintances all have expressed support and pride for the person their community produced.
"I've been talking to these people and they were like, 'You've made it. I'm going to go get a Chargers hat and I'm going to do all that stuff,' " Golditch said. "I'm like, 'Wait. Wait. I appreciate the support but wait.' "
He is one of 21 undrafted free agents the team targeted in the aftermath of the draft. Seven other rookies who will attend this week's minicamp were drafted.
There's not room for all of them.
If it happens with the Chargers, great. But Golditch understands it might not. His world won't end either way.
"Everyone who has a near-death experience has a different perspective on life," Golditch said. "When you go through something as hard as what me and my community went through, it shows a lot about who you are. And you go through something else bad, and it doesn't seem so bad anymore."
When Golditch was 17, days after he committed to play football at Colorado State, he and some friends went to see a midnight showing of "The Dark Knight Rises" at the Century 16 movie theater a mile down the road from Gateway High, where he was a star.
Thirty minutes into the film, James Holmes entered Theater 9 in tactical clothing, heavily armed with a shotgun, a semi-automatic rifle and a handgun.
He pulled the trigger 76 times, killing 12 people inside of Theater No. 9. One of those bullets passed through the wall into Theater No. 8, hitting Golditch in the neck, and just missed his carotid artery.
Twelve people died. Golditch was one of 70 injured.
Although the mass shooting happened nearly six years ago, it's never far from Golditch's thoughts.
When people talk about him as a football player, they usually talk about him as a victim too.
"Every story has it in there because it's a part of my story," Golditch told The Times in a phone interview. "It's a story that nobody has — that very few people have. It makes sense. When I talk about it, when I read the articles or see the videos published, it brings back the memories.
"But, really, the memories are there every day."
General manager Tom Telesco said he knew about Golditch's story early in the player-evaluation process, but had forgotten about it until the Chargers signed him.
"He was a really reliable football player," Telesco said, calling him "smart, tough and athletic."
He'll get a chance to play either guard or tackle for the Chargers — most likely guard — and hopes that versatility will help in his quest to make the roster.
The rookies reported Thursday and will hit the practice field Friday.
No decisions will be made about the rookies — from first-round pick Derwin James to undrafted rookies such as Golditch — during the minicamp or offseason practices that follow, Telesco said. That time is all about getting adjusted to a new system and pro football lifestyle.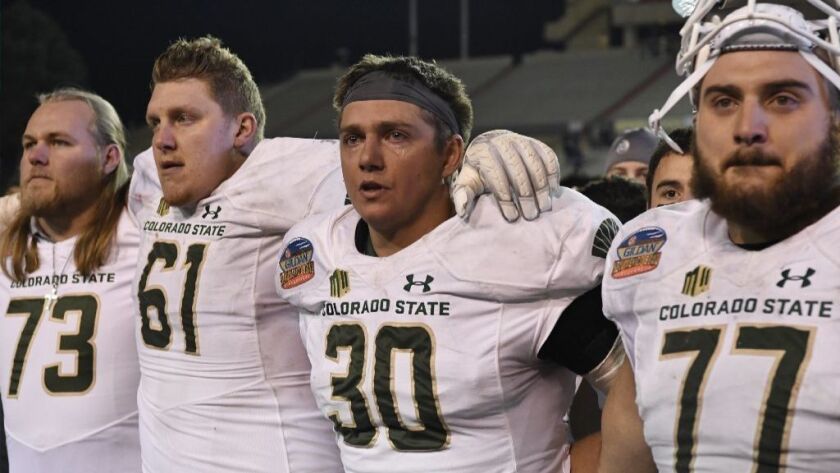 Last season's first-round pick, wide receiver Mike Williams, missed all but one day of rookie minicamp and the offseason activities to follow because of a back injury and never caught up.
While no one will be keeping score in the early days of minicamp, Golditch is optimistic he'll be able to show he belongs.
"I realized the position I was in. I told myself whether I get drafted or not, either way, you're getting your foot in the door," he said. "I've heard stories of fifth- or seventh-round guys getting cut just like free-agent guys. I feel like as long as I can get my foot in the door, I know my work ethic, what type of person I am."
Maybe that's why the people who know him best already have put their eyes on Chargers gear. They believe, whatever the situation.
But Golditch knows as well as anyone how quickly things can change.
"It's not a job at this point yet," he said. "It's a job once you make the 53-man roster. That's the goal. ...
"I tell them, 'I just got my foot in the door. Now, I've got to make my way to the table. The table's where you want to be at. You don't want to be standing at the door when everyone is in the other room eating.' "
Twitter: @DanWoikeSports
---
Get the latest on L.A.'s teams in the daily Sports Report newsletter.
You may occasionally receive promotional content from the Los Angeles Times.