Coach Anthony Lynn acknowledges Colin Kaepernick is on the Chargers' radar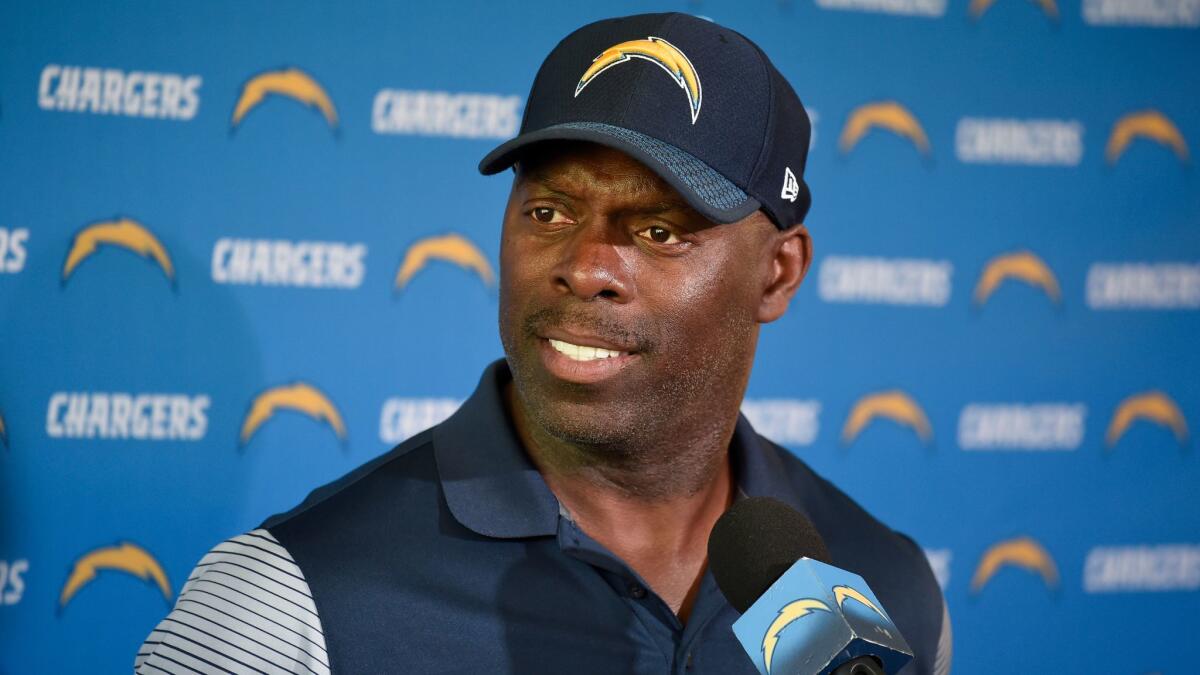 The Chargers plan to enter training camp next month with Tyrod Taylor as their starting quarterback.
Behind him, they'll have rookie Justin Herbert — the No. 6 overall pick in the 2020 draft — and second-year pro Easton Stick.
Should something happen to disrupt that trio, coach Anthony Lynn said Wednesday that Colin Kaepernick could be an option.
Kaepernick has been out of the NFL since 2017, the season after he began protesting police brutality and racial injustice by kneeling during the national anthem.
Roger Goodell, the league's commissioner, came out in support of Kaepernick this week and encouraged teams to pursue the former Super Bowl quarterback.
Lynn became the first head coach to publicly acknowledge interest in Kaepernick when he said the former San Francisco 49er is "probably on the workout list" for the Chargers.
After George Floyd's death, the NFL apologized for not doing enough to fight racial injustice, but it needs to restore what it stole from Colin Kaepernick.
"I'm very confident with the three quarterbacks that I have," Lynn said. "But you can never have too many people waiting on the runway."
Lynn said the Chargers have not been in contact with Kaepernick's representatives and have no plans to work him out at this point.
But, given the uncertainty of injury and during a time when the COVID-19 pandemic has made so much in sports tentative, he explained that the situation could change.
"I do like Kaep," Lynn said. "He fits what we're doing. So he definitely would be someone that, if something would happen, maybe we bring him in. I don't know."
Lynn added, "He was a starting quarterback, a Super Bowl quarterback in this league. I think it would be crazy to not have him on your workout list."
After 14 seasons with drop-back passer Philip Rivers as their starter, the Chargers are transitioning to an offense that will rely on more mobility at quarterback, one of Kaepernick's strengths.
He helped the 49ers reach consecutive NFC title games — after the 2012 and 2013 seasons — by rushing for nearly 1,000 yards while throwing for 31 touchdowns with 11 interceptions.
Kaepenick's success then began to fade as San Francisco struggled to find victories. The 49ers won only three of his final 19 starts.
"I know he's got a high IQ at the position," Lynn said. "I think it just comes down to physical shape and his ability to do what he does. I believe you can figure out real quick where he's at in his career after an intense workout."
Kaepernick, 32, led the 49ers to Super Bowl XLVII in February 2013. He completed 16 of 28 passes for 302 yards and ran for 62 yards in a 34-31 loss to Baltimore.
His most recent NFL appearance came on Jan. 1, 2017, in a season-ending loss to Seattle.
Lynn said the time away from football could play in Kaepernick's favor, at least physically.
"That's three years of not getting hit," Lynn said. "He was a pretty good quarterback. … It really would be nice to see him back in the league."
During a protest outside SoFi Stadium, Hall of Fame wide receiver Terrell Owens demands NFL commissioner Roger Goodell apologize to Colin Kaepernick.
Like the rest of the NFL, the Chargers remain unsure when their training camp will open. Teams typically report in late July, but the offseason schedule has been impacted by COVID-19.
Lynn said daily coronavirus testing could be vital in terms to keeping the situation as normal as possible. He also said roster expansion and flexibility will be keys.
"Let's say we don't have a vaccine and let's say, on Saturday, three of my wide receivers test positive," Lynn said. "Where the hell am I going to get those players [to replace them]? Am I going to bring three guys off the street … to play tomorrow? That's going to happen, probably. If you have a surplus of players that you can reach out to that's just going to help the situation."
The fear of COVID-19 prompted Lynn to talk to his players — particularly those with young children — about the dangers of not social distancing, especially while attending crowded social justice protests.
Several Chargers have participated in such events throughout the country in recent weeks. Lynn attended a demonstration in Huntington Beach last month.
The Chargers coach shares his thoughts on George Floyd's death, his relationship and experience with law enforcement and Colin Kaepernick.
He said he has been meeting with local government officials and corporate leaders in an attempt to lead change. One of the Chargers' team Zoom calls included a local judge, who was brought in to answer questions from players.
"I'm encouraging our players to use their platform so their voices can be heard," Lynn said. "We need real change this time around."
He added that the goal is to advance the movement Kaepernick began four years ago.
"Everyone should know right now why Colin Kaepernick took a knee," Lynn said. "Colin Kaepernick took a knee to bring awareness to a situation. Well, I don't think you can bring any more awareness to the situation right now. So now it's time to do something. It's not time to [just] take a knee. It's time to do something."
Get the latest on L.A.'s teams in the daily Sports Report newsletter.
You may occasionally receive promotional content from the Los Angeles Times.