Justin Herbert has fractured rib cartilage: Chargers takeaways from loss to Chiefs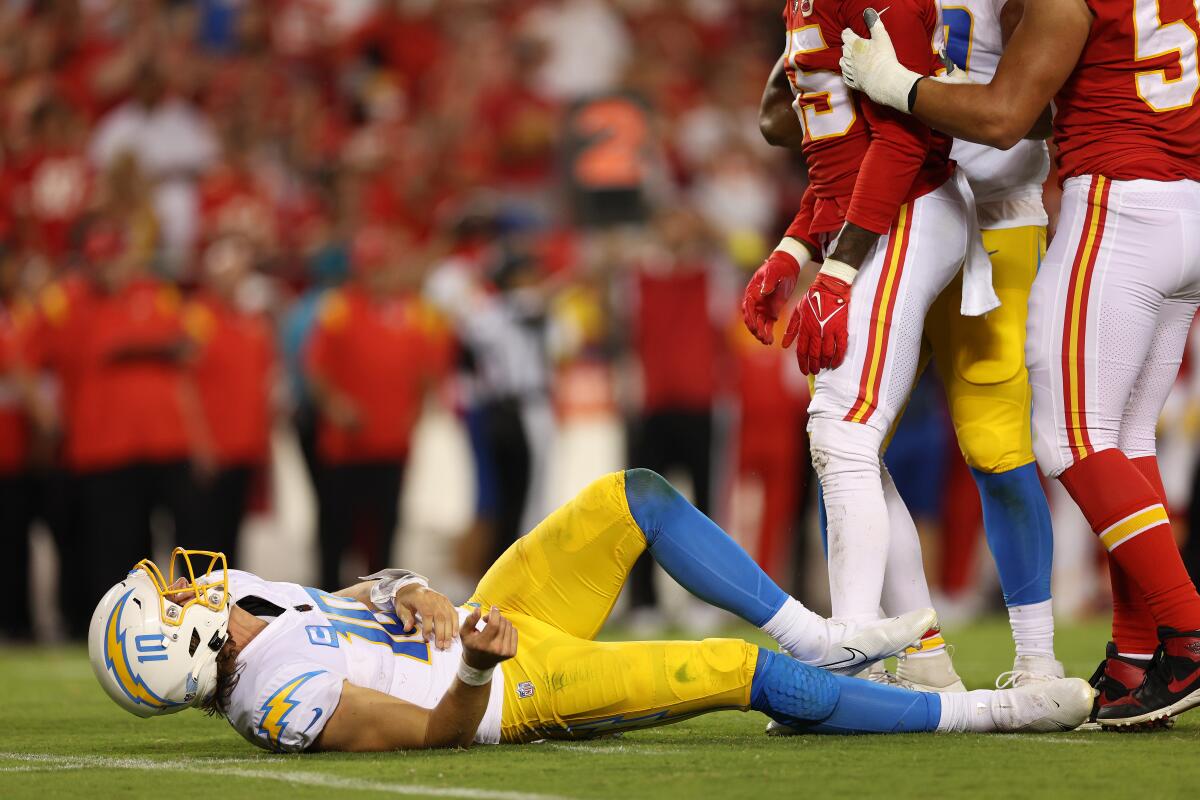 KANSAS CITY —
The Chargers received encouraging news on quarterback Justin Herbert when tests Friday revealed only fractured rib cartilage, according to coach Brandon Staley.
Terming Herbert day to day, Staley noted that the injury is better than if Herbert had suffered fractured ribs.
"I think we'll know a lot more about practice and stuff like that on Wednesday," Staley said.
Herbert was not made available to the media after getting hurt Thursday in the Chargers' 27-24 loss at Kansas City.
The team will take the weekend to monitor Herbert's progress. Staley wouldn't speculate on Herbert's availability for the Chargers' next game — Sept. 25 at home against Jacksonville.
But saying "we got good news," he sounded optimistic about the prognosis and said the ultimate decision will come down to Herbert being comfortable enough to play.
The San Francisco 49ers, Denver Broncos, Green Bay Packers and Las Vegas Raiders fell flat in their NFL openers. Here is why they must avoid going 0-2.
With about five minutes to go, the Pro Bowl quarterback remained down after being hit by Chiefs defensive end Mike Danna. The injury came as Herbert was throwing to tight end Gerald Everett for what would be a 12-yard gain.
Herbert left for one play, with Chase Daniel entering and handing off to Sony Michel for a four-yard run.
Despite being in obvious pain, Herbert returned and remained in the game. Staley said that decision was made by the team's medical personnel and Herbert.
"We have full trust in one another," Staley said. "He's going to tell me. He's going to show me and the medical people are going to tell me if this isn't something that should happen.
"But, as you guys saw, he's as tough as they get and showed a lot of fight. Really proud of how he battled and gave a real chance in that game at the end."
Herbert led the Chargers on a nine-play, 73-yard scoring drive that cut their deficit to three points with just over a minute to go. He completed two fourth-down passes on the series, including a seven-yarder to Joshua Palmer for the touchdown.
Justin Herbert tried to stage a comeback despite a rib injury during the Chargers' 27-24 loss to the Chiefs. Could the injury jeopardize his next start?
Herbert's physical struggle was most evident shortly after he was hurt and, appearing to have room to scramble for a first down, instead gingerly threw the ball away.
"It's football, and you're going to have some moments where you're feeling like that," Staley said. "That's not just exclusive to the quarterback position. Yeah, I'm out there. There's nobody who cares more about Justin than I do, than we do.
"You know that's part of the game. It's a tough game. As long as he feels like he can go in that moment then that's what we're going to roll with. I think he did a good job of protecting himself. I think that that's what you saw.
"He's a really smart player. He's not going to put himself at risk. In that moment, [he's] not going to take one more extra hit than he needs to. That's what he did [Thursday] night."
In other injury news, Staley said Pro Bowl center Corey Linsley "should be ready to practice at some point next week" after he missed the second half because of an injury to his knee/quadriceps area. Staley said Linsley received an injection.
Right tackle Trey Pipkins III also is considered day to day after he left the game in the third quarter because of what Staley called a foot sprain.
Some other observations from the Chargers' loss to fall to 1-1. They are also 1-1 in the AFC West:
Behind the crushing interception
Everett explained that he was trying to leave the game about four minutes into the fourth quarter because of a sore ankle suffered in the Chargers' season-opening victory over Las Vegas.
He had caught passes on the previous two plays as the Chargers moved to the Chiefs' three-yard line looking to break a 17-17 tie.
"Just injured, playing injured," he said. "It happens in the game. Trying to let one of my guys come in and get me instead of me being out there hurt. But that's how the game goes."
With the Chargers deciding to go up-tempo, Everett was unable to leave the field. Herbert then threw in Everett's direction near the goal line, where Kansas City's Jaylen Watson picked off the pass and ran 99 yards for a stunning touchdown.
"I guess Justin thought I was going to box the guy out," Everett said. "But the DB played it pretty well. He just kind of sat on it. I tried to stutter him and get to the pylon, but the ball was in the air by the time we realized we weren't on the same page."
Bucking the stat trend
In the second quarter, Staley twice opted to punt on fourth and two — at the Kansas City 47 and 48 — when the Next Gen Stats model recommended going for it.
Each time JK Scott left the Chiefs inside their own 15-yard line and the Chargers defense forced a punt.
It makes sense Jaylen Watson once worked in fast food. The former Wendy's worker and seventh-round draft pick played a huge role in the Chiefs' victory.
Still, the decisions were notable coming from a coach whose fourth-down aggressiveness last season became an almost weekly theme.
"Just wanted to give our defense a chance to compete," Staley said. "I loved the way we were playing. I felt like that was the formula, to flip the field there."
Perfect on fourth-down conversions
The Chargers did convert all four fourth downs they did go for. Herbert executed a quarterback sneak to pick up fourth and one at the Kansas City 49 in the first quarter and Austin Ekeler rushed for three yards to pick up fourth and one at the Chiefs' 18 in the third quarter.
Both those drives ended in touchdowns.
The other two conversions came on the Chargers' final possession, Herbert hitting DeAndre Carter for a 35-yard gain on fourth and one from the Kansas City 43 and Joshua Palmer for a seven-yard touchdown on fourth and goal.
The pass to Carter was particularly impressive as Herbert threaded the ball along the seam while he was clearly hurting.
"That throw," Staley said, "was as good of a throw under the circumstances as you're going to see in pro sports."
Ask the L.A. Times' football team your questions about Los Angeles' local teams and we will try to answer them.
Two interceptions nullified
After Asante Samuel Jr.'s apparent interception five minutes into the third quarter, the Chargers were looking at first and 10 at the Kansas City 35 with a 17-7 lead.
But the play was overturned after video review.
"I thought they were going to let it stand because they ruled it a catch," James said. "There was a little [ball] movement. But he had his hand under the ball, so I thought it was a pick."
Walt Anderson, the NFL's senior vice president of officiating, told a pool reporter that the ball hit the ground.
"That was a big turning point, but there were a lot of plays in that game that I felt like changed things," James said. "We just gotta play better as a defense and make our plays on the ball within the rules."
The Chargers had two interceptions, one by James and the other by Nasir Adderley, nullified by penalties.
Staley took exception to the call on the Adderley play when Chargers corner Bryce Callahan was flagged for illegal contact. Staley said it was "an obvious offensive pass interference."
"I mean, I'm not out there officiating," James said. "My job is to play football.… I'm not trying to get into a reffing game."
The Times' Sam Farmer analyzes each matchup and predicts the winners of Week 2 of the 2022 NFL season.
Rust or a great play?
J.C. Jackson made his Chargers debut after missing the opener while he recovered from an Aug. 23 surgical procedure on his right ankle. He said he felt fine throughout the game, finishing with six tackles.
But Jackson did get beat by Justin Watson for a 41-yard touchdown midway through the third quarter.
"Just bad technique by me," Jackson said. "He didn't do anything. He didn't beat me. I beat myself. Just poor technique."
Jackson acknowledged that the misplay might have been the result of "just rust." He later softened his assessment.
"It was a great play by him," Jackson said. "Great offensive call by the Chiefs."
Williams comes up big
Williams finished with eight catches for 113 yards and one touchdown. The touchdown was his seventh at Arrowhead Stadium, the most by any visiting player.
Williams also became the first visiting player to have three consecutive games with 100-plus yards receiving and a touchdown.
His performance came on a night when the Chargers were without Keenan Allen, who missed the game because of a hamstring injury.
"We gave him a bunch of opportunities," Staley said. "We were trying to be aggressive to get him the football, get him off to a good start. I really like the way we featured him tonight. I thought he played a whale of a game."
Get the latest on L.A.'s teams in the daily Sports Report newsletter.
You may occasionally receive promotional content from the Los Angeles Times.