Free agent Darren Collison is Clippers' No. 1 priority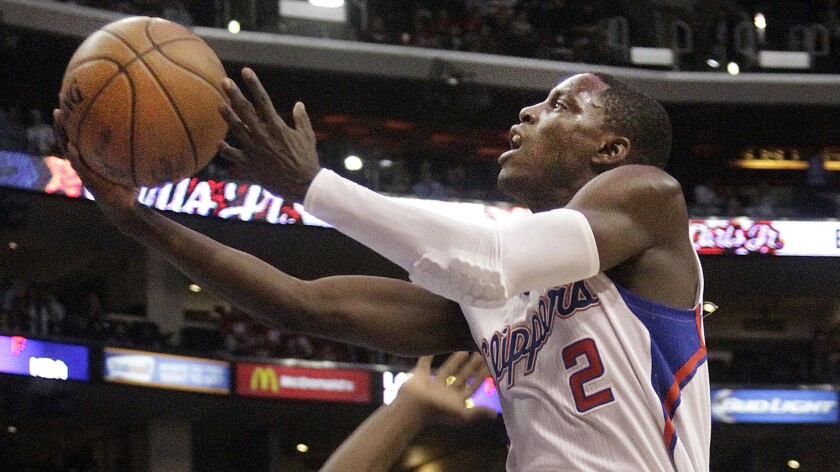 Doc Rivers paused for a few seconds and smiled before he began talking about the Clippers' needs as the free-agency period begins.
The Clippers coach and president of basketball operations will make the final decision on all things Clippers and is the one who, without mentioning Darren Collison by name, made it known that his free-agent point guard is priority No. 1.
Collison, who opted out of the contract that would have paid him $1.985 million next season, probably will learn that his representatives were the first people Rivers called when the NBA's free-agency period started at 9:01 p.m. Pacific time Monday.
"You know our first guy, I'll be honest, is one of our guys that opted out," Rivers said. "He's a little guy. That's very important for us."
Free agents LeBron James and Carmelo Anthony have been linked to the Clippers.
It's no secret Rivers wants to upgrade his small forward position and that he has been trying to trade starting small forward Matt Barnes.
James, who opted out his contract with Miami, is expected to re-sign with the Heat. But until he does, the Clippers will see if they can make a pitch for him. And, reportedly, so will Phoenix, Houston, Cleveland and Chicago.
Anthony, who opted out of his contract with New York, is expected to visit other teams, such as Chicago, Houston and the Lakers, according to reports.
But the Clippers haven't ruled themselves out of the running for Anthony, according to NBA executives not authorized to speak publicly on the matter.
Anthony can sign a maximum deal with the Knicks that would pay him $129 million over five years. He can get a $96-million deal over four years with teams that are under the salary cap.
Any chance the Clippers would have at acquiring James or Anthony would have to be through a sign-and-trade agreement.
The Clippers need help in the front court.
They would like to get a "Stretch 4 or 5" to back up power forward Blake Griffin and center DeAndre Jordan.
Free-agent center Spencer Hawes, who has three-point range, is interested in playing for the Clippers. But he made $6.5 million last season in Cleveland and may have to take a pay cut to join the Clippers.
The Clippers will probably look at free-agent small forward Trevor Ariza, who played with Chris Paul in New Orleans, if the team can't land James or Anthony. But Ariza also might have to take a pay cut to join the Clippers; he made $7.7 million last year in Washington.
"You look at needs first, unless there's somebody out there that's so talented that they trump all your needs and you go for that," Rivers said. "But most of the time that is too expensive."
Bringing Collison back will cost the Clippers more than the $1.985 million the point guard was due to earn next season.
The Clippers will most likely have to use part or all of their midlevel exception that starts at $5.305 million to re-sign Collison.
Forwards Danny Granger and Glen Davis opted out of their contracts and aren't expected back with the Clippers.
The Clippers didn't pick up the option on Willie Green's non-guaranteed contract of $1.4 million for next season, but they want him back.
Besides the midlevel exception the Clippers can use to try and lure players, they can also use the biannual exception that is a maximum two-year deal for about $4.2 million, acquire a player via sign and trade and use the veteran's minimum.
The Clippers, who will pay luxury tax bill of about $1.4 million, will start making calls Monday, but can't officially sign players until July 10, when the NBA lifts its moratorium on free-agent signings.
---
Get the latest on L.A.'s teams in the daily Sports Report newsletter.
You may occasionally receive promotional content from the Los Angeles Times.