What we learned from the Clippers' 104-101 loss to the Miami Heat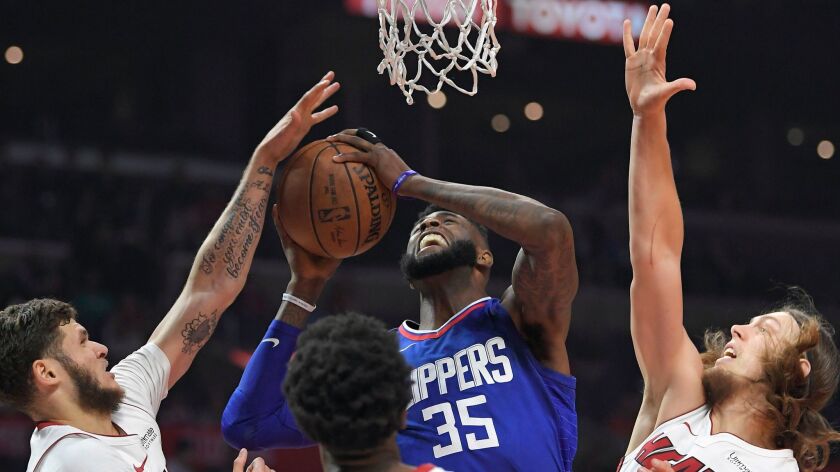 The Clippers battled back from a 25-point third-quarter deficit only to lose Sunday to the Miami Heat, 104-101, at Staples Center. Here are three things the game may have shown us:
1. Be it ever so humble, Staples Center is no place like home
Sunday's loss was the second straight and fourth in five games at home. The Clippers didn't lose their fourth game at home last season until December. Coach Doc Rivers, who is trying to integrate nine new players into the team, has hinted that a lack of chemistry may be behind the slow start and said the team's upcoming three-city road trip may help draw the players closer together.
"The road sometimes can be very mean. And sometimes it can be great," he said. "I've always found early road trips to be not bad for your team because you're kind of forced together. You spend more time together on the road. You just try to build."
2. Nine games into the season the Clippers still don't have an identity
Is Rivers' team the one that gave up a basket seemingly every time Miami came down the floor while allowing up 62 first-half points? Or is it the one that gave up just four field goals in the fourth quarter, when it roared back from a 23-point deficit at the start of the period to take a one-point lead with 2:55 left?
"I like the way we've been playing overall. I still don't like the way we play in stretches," Rivers said. "We don't put a full game together. And that's what we have to do."
3. The Clippers miss Chris Paul and J.J. Redick
The team's inconsistent three-point shooting – it was 13 of 57 from behind the arc in its last two games, both losses – shows the team misses Redick, and the Clippers' lack of options with the game on the line in the final seconds Sunday show they miss Paul's ability to take over in clutch situations. Austin Rivers had two big steals in the final 28 seconds but he also missed two free throws that would have given the Clippers a three-point lead with 17 seconds left. Blake Griffin still had a chance to win it on the team's final possession but he missed an open 17-footer.
"This is our ninth game. Twenty games from now, we've got to make sure these games don't matter," Austin Rivers said. "That's why I've got to keep my head up. I've got to learn from it. We've got to learn from it. And we've got to make sure these games don't matter in the long run."
Follow Kevin Baxter on Twitter @kbaxter11
---
Get the latest on L.A.'s teams in the daily Sports Report newsletter.
You may occasionally receive promotional content from the Los Angeles Times.