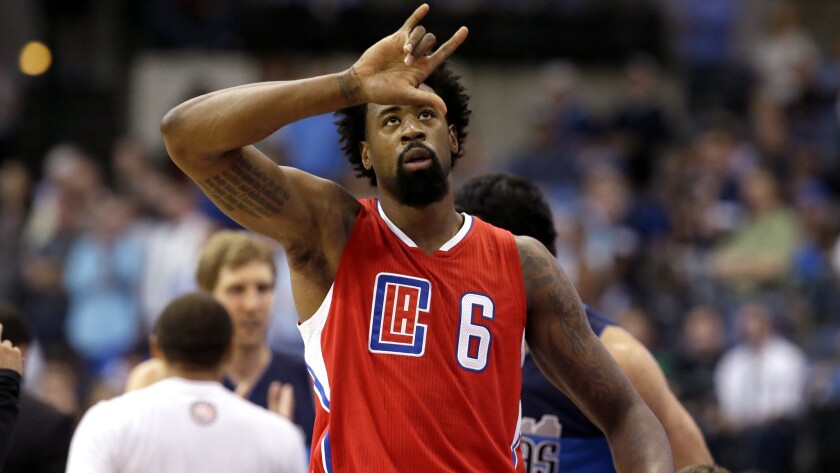 Reporting from Dallas —
The first boo DeAndre Jordan heard came from a familiar voice.
Longtime Clippers broadcaster Ralph Lawler made the sound as Jordan boarded the team bus Wednesday, preparing the center for the onslaught of fan angst he was sure to hear a few hours later.
"Thank God he laughed," Lawler said later after initiating what might have been the only good-natured exchange Jordan experienced all evening.
Dallas Mavericks fans booed Jordan when he was introduced, stepped to the free throw line, touched the ball, grabbed a rebound, took a lob for a dunk, conducted a halftime interview and, finally, disappeared into a tunnel after it was all over.
There were equally impassioned cheers for the team Jordan famously spurned in free agency after the Mavericks completed a 118-108 victory over the defensively challenged Clippers at American Airlines Center.
Jordan didn't seem to mind the vitriol of a sellout crowd wielding signs that read "42% FT shooter 100% coward" and "Hey DeAndre, my word is my bond," or reverberating chants of "DeAndre sucks!" in the final minute.
"They're obviously going to boo and heckle a little bit," Jordan said of fans angry after he backed out of a five-day commitment to their team this summer, "but I thought it was going to be a lot worse."
Jordan finished the game with nine points and 11 rebounds, his statistics a push with the player the Mavericks plugged into their starting lineup to replace him. Zaza Pachulia collected 10 points and 10 rebounds, including a rebound with 2 minutes 7 seconds left and Jordan on the bench after Clippers Coach Doc Rivers elected to keep Jordan there for nearly three minutes because the Mavericks were intentionally fouling him.
Pachulia was fouled on the rebound that would have been much harder to grab with Jordan on the court and made two free throws to break a 106-106 tie. The Mavericks led the rest of the game.
"So I made a mistake" Rivers said of his removal of Jordan, who made two of six free throws in the fourth quarter while being intentionally fouled. "I took him out."
Clippers forward Blake Griffin protects the ball from Mavericks center Zaza Pachulia in the second half.
(Ronald Martinez / Getty Images)
Clippers center DeAndre Jordan tries to stop a drive by Mavericks forward Charlie Villanueva in the second half.
(Paul Moseley / TNS)
Clippers guard J.J. Redick tries to block a shot by Mavericks guard Devin Harris during their game Wednesday.
(LARRY W. SMITH / EPA)
Mavericks forward Dirk Nowitzki looks to pass as he drives against Clippers center DeAndre Jordan (6) and point guard Chris Paul (3) in the second half.
(LM Otero / Associated Press)
Clippers forward Blake Griffin and Mavericks forward Dirk Nowitzki reach for a loose ball during a Nov. 11 game in Dallas.
(LM Otero / Associated Press)
Clippers guard Austin Rivers steals the ball from Mavericks center Zaza Pachulia (27) in the first half.
(LM Otero / Associated Press)
Mavericks guard Devin Harris drives for a layup between Clippers center DeAndre Jordan and guard J.J. Redick in the first half.
(Ronald Martinez / Getty Images)
Clippers center DeAndre Jordan reacts to Mavericks fans booing him during the game on Nov. 11, 2015, in Dallas.
(Ronald Martinez / Getty Images)
Clippers guard Jamal Crawford shoots a fadeaway jumper over a pair of Mavericks defenders in the first half.
(Ronald Martinez / Getty Images)
Mavericks forward Dirk Nowitzki (41) catches a pass in the post against Clippers forward Lance Stephenson in the first half.
(LM Otero / AP)
The Clippers' issues transcended a late-game coaching decision. They allowed the Mavericks to shoot 55.3% and gave up big runs to start the first and third quarters, necessitating multiple comebacks.
Dallas star Dirk Nowtizki scored 31 points on 11-for-14 shooting, including a banked-in three-pointer with 65 seconds left, and Wesley Matthews added a season-high 25 points, their way of showing Jordan that maybe the Mavericks will be just fine without him.
The Clippers (5-3) have lost three of their last four games, failing to hold 10-point leads in each of the defeats. Clippers forward Blake Griffin said the excuse of integrating eight new players can no longer be used amid continued lackadaisical efforts.
"You can always play hard, play with a sense of urgency whether you're new or we have a mixed group of guys," said Griffin, who had 21 points and nine rebounds. "We have to find that somewhere."
They woke up to some possible motivation when the Dallas Morning News ran a picture of Jordan with devil horns that fans could cut out and place over their faces.
The Clippers did not hold a customary morning shoot-around, though Rivers contended it was because his team was playing the first game of a back-to-back situation with a two-hour time change and not to protect Jordan from prying media.
There was nothing they could do about the Mavericks' official Twitter account, which took a playful swipe at the Clippers after the game. Along with the same travel emojis the Clippers tweeted on the day they converged in Houston to re-sign Jordan were the words "Hey @LAClippers! Good game! Have a safe trip home!"
It would not amount to the final word as far as Jordan was concerned.
"We play these guys four times, so we'll see them again," Jordan said. "It's not something I'm going to go home and cry about."
Twitter: @latbbolch
---