Clippers' C.J. Williams to have MRI exam on sprained ankle, return uncertain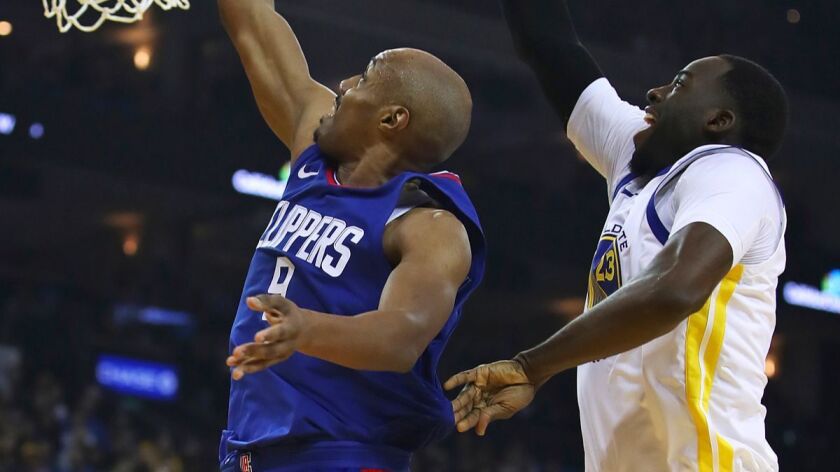 Reporting from SACRAMENTO —
C.J. Williams was relaxed, his sprained right ankle in a walking boot and his crutches by his side.
Williams had suffered the injury in the third quarter Wednesday night at Golden State, his foot landing on DeAndre Jordan's foot after Williams had scored on a layup.
The X-rays were negative for a broken ankle, which was a relief for Williams.
He will get an MRI exam Friday when the Clippers return home from Thursday night's games against the Sacramento Kings.
"I was happy about that," Williams said. "That was the thing I was concerned with. I hadn't had a sprain like this. I've sprained my ankle before, but I hadn't had a sprain like this one. I was praying that there was no bone damage or fracture."
Williams' return is uncertain.
But when he does return, the clock will be ticking on his time with the Clippers.
He had signed a two-way contract to spend most of his time with the Clippers' development league team, the Agua Caliente Clippers of Ontario.
Under the rules, players who sign those contracts can spend up to 45 days with their NBA team.
Williams has been with the Clippers for 43 days.
The Clippers are looking hard for ways to keep Williams.
But that's not something Williams said he is concerned about.
In fact, Williams said he was more worried about the Clippers as a whole more than his injury.
"The first thing I felt was frustration," Williams said. "I know the team needs me right now. I was thinking more about the team than myself. It's bad timing all around as far as me personally and as well as the team. We've got a lot of injuries right now. I was hoping I wouldn't have to add on to it. But it happens and I know I've had injuries before so I know that's how it goes. It's part of the game."
Lou Williams is having the best season of his 13-year career, putting up outstanding numbers.
Does that merit him being an All-Star this season?
"Yes, is the answer," Clippers coach Doc Rivers said.
After Williams' career-high 50-point explosion against the Warriors on Wednesday night, the subject of his being an All-Star was broached.
Williams has been perhaps the best sixth man in the league, and he has been a starter.
He is averaging career highs in points (22.9), assists (4.9), minutes (31.5), three-point shooting (41.2%) and free-throw shooting (90.7%).
The All-Star starters are voted on by the fans, but the reserves are chosen by the coaches.
If Williams is to be selected, it'll have to be by the coaches.
The All-Star game will be held at Staples Center on Feb. 18.
"You're throwing up 40s and 50s [point games] and you probably should be on the All-Star team, especially the way the All-Star game is played," Rivers said.
Twitter: @BA_Turner
---
Get the latest on L.A.'s teams in the daily Sports Report newsletter.
You may occasionally receive promotional content from the Los Angeles Times.