Clippers trying to fix a flaw in their defense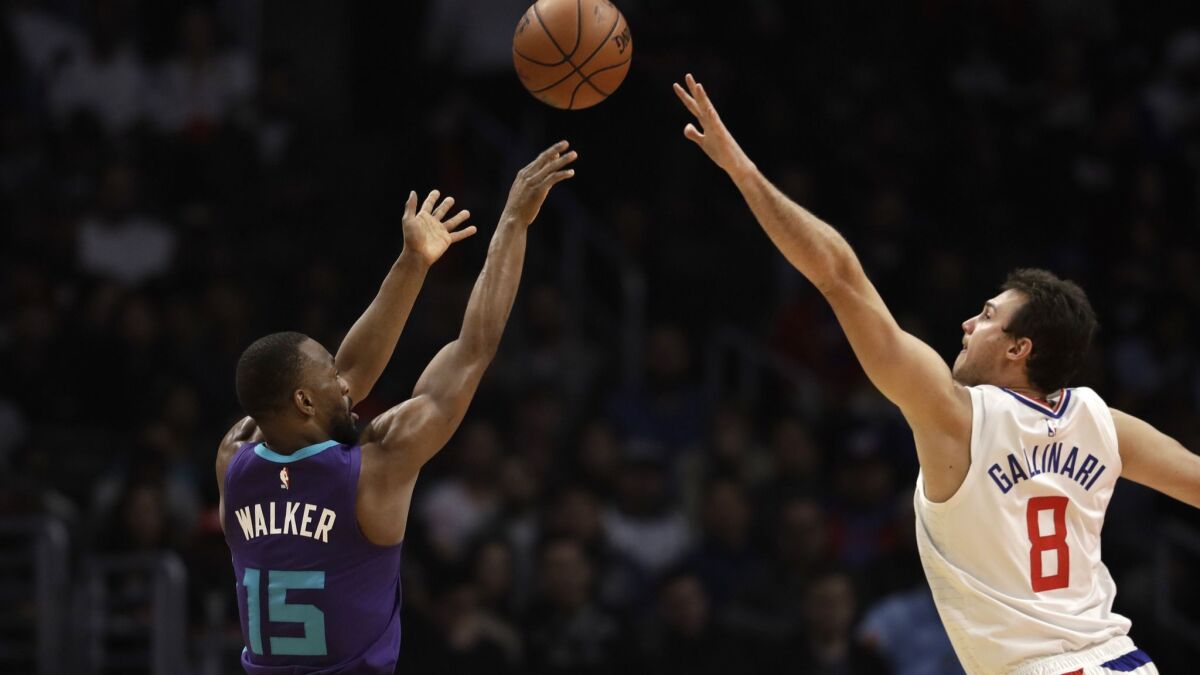 With half a minute to play in Tuesday's first half at Staples Center, Charlotte forward Willy Hernangomez dove on a loose ball and rolled over, looking for a teammate. His pass never reached one. Instead, it was intercepted by Clippers forward Montrezl Harrell, who barrelled to the basket.
What seemed like an ordinary play was, in fact, extremely rare.
Entering Tuesday, Clippers opponents had turned the ball over on just 10.5% of their possessions, tied for the NBA's lowest percentage since the 1946-47 season, according to Basketball Reference. Portland, Cleveland, Philadelphia and Golden State also have forced historically low turnover percentages this season.
That's no solace for the Clippers, who can afford fewer mistakes when opponents commit so few of their own.
The team has been more or less pleased with its first-shot defense, but opponents' offensive rebounds can feel like back-breakers — the Clippers rank 21st in defensive rebounding percentage. The Clippers' turnovers, which often lead to transition opportunities, can become devastating.
"What we can't do is turn the ball over any time," coach Doc Rivers said. "I actually think it hurts us more offensively. We're too good offensively to turn the ball over. Being frank, there are some bad offensive teams. They can turn the ball over and it actually doesn't hurt them. When we turn the ball over we absolutely are taking at least one point away from our team. The better offensively you are, the more turnovers hurt your team, and to me that's where we have to be better."
Clippers opponents entered Tuesday committing 12.2 turnovers per 100 possessions, the fewest in the league. That translated to 12.6 turnovers collected a game, the third-lowest rate in the league and within a hair of last-place Cleveland (12.3).
Those statistics aren't entirely alarming to the Clippers. For one, they forced few turnovers during their first 20 games and still ranked eighth in defensive rating. Also, this defense wasn't designed to live or die with the amount of turnovers created. The Clippers didn't want their defense to gamble so much as rely on its length and experience.
"Every good defensive team, by the way, is designed not to gamble," Rivers said. "Some teams are longer; they get their hands on the ball. Oklahoma is a great example. Oklahoma doesn't gamble. They're just long and athletic and I don't know where they're at, but I would guess they're in the top five at least in creating steals. They just are. That's just not who we are."
Still, the inability to force turnovers hasn't helped a defense that has struggled since December, and in the past week, the Clippers made changes designed to do a better job. Tweaks have included sagging off poor shooters and telling 6-foot-6 rookie guard Shai Gilgeous-Alexander to raise his hands more often while defending the ball, the better to take advantage of his nearly seven-foot wingspan.
In their last three games entering Tuesday, the tweaks elicited more turnovers: 16.3 a game.
Parker in purple 'wrong'
It felt "wrong" to watch Tony Parker play Tuesday in a Charlotte uniform, Rivers said.
A San Antonio Spur during his first 17 seasons, Parker joined Charlotte in the offseason and reunited with former Spurs assistant and new Hornets coach James Borrego. Seeing Parker in purple and teal instead of black and silver has taken getting used to for some.
"It's just strange," Rivers said. "I don't know, looking at Tony Parker in another uniform is just outright wrong. It's strange; he's a Spur. There are certain guys that are where they are from in their career. He's still a very good NBA player and you see that but it's still unusual to see him play for another NBA team."
Parker had 12 points in 15 minutes off the bench.
Clippers will catch Cousins
Golden State center DeMarcus Cousins plans to make his season debut Jan. 18 against the Clippers during their nationally televised matchup at Staples Center, according to reports.
Cousins is recovering from a torn left Achilles tendon that sidelined him for the latter half of last season and the first three months this season, his first with the Warriors. Coach Steve Kerr wouldn't commit to a return date for Cousins when asked Tuesday, but felt Cousins had recently "gotten through a barrier, conditioning-wise" in his recovery.
Twitter: @andrewgreif
---
Get our high school sports newsletter
Prep Rally is devoted to the SoCal high school sports experience, bringing you scores, stories and a behind-the-scenes look at what makes prep sports so popular.
You may occasionally receive promotional content from the Los Angeles Times.