Doc Rivers had a problem with Patrick Beverley's play, and it led to a turning point for Clippers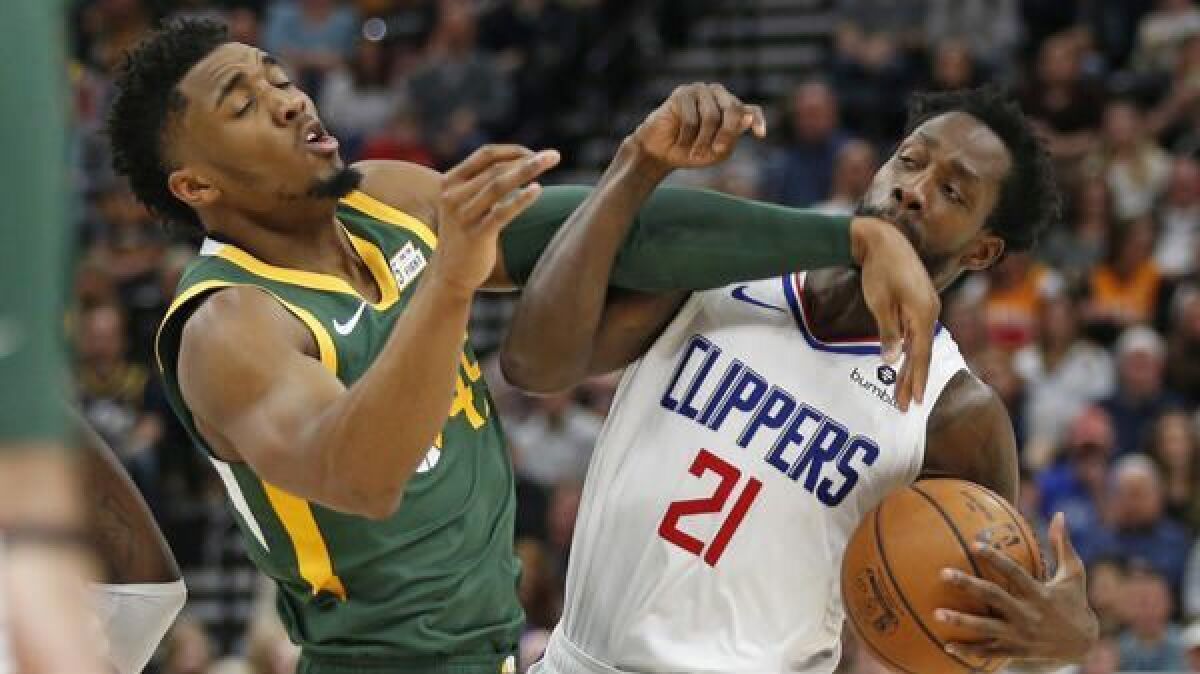 It was late February, inside the visiting locker room of Denver's Pepsi Center, and Clippers reserve Sindarius Thornwell listened carefully.
Starting guard Patrick Beverley was discussing a favorite topic: how to stay valued in the NBA.
For young Clippers such as Thornwell, a second-year guard searching for a foothold in the league, the 30-year-old Beverley can seem like a wise uncle. Beverley has collected plenty of stories and advice during his winding route to becoming an NBA veteran: Drafted in the second round by the Lakers in 2009, he was traded to Miami, waived by the Heat and played in Ukraine, Greece and Russia before earning another chance with Houston in 2013.
He's stayed in the NBA since then because as a young player himself, Beverley listened to a key piece of advice passed down to him. Will Bynum, a fellow Chicago native and guard who played eight NBA seasons, implored Beverley — known as a scorer in high school and college — to carve his niche on defense. To play hard, even in garbage time. To embrace whatever role created opportunity.
In Denver, Beverley shared that with Thornwell. Yet only months earlier, Beverley had to remind himself of the very same lesson.
"Early in the year we struggled with Pat," Clippers coach Doc Rivers said, "because he was struggling buying in."
By rejecting screens on pick-and-roll plays, Beverley drove Rivers "absolutely insane." By freelancing on defense, fueled by his reputation as one of the NBA's most irritating defenders, he veered away from his team's gameplan.
He and Rivers wanted the same thing — wins. But each had his own ideas about Beverley's role and how he could best help.
It took a November benching and a sit-down chat for Beverley to get back to heeding the advice he's shared with so many. Teammates believe it is no coincidence that they have played some of the best basketball in the league since. Nor are they surprised that the team's three-game losing streak heading into the regular-season finale has overlapped with Beverley's absence because of a hip pointer.
His value has becoming overwhelmingly clear. Beverley, assistant coach J.P. Clark said, is the team's "heartbeat."
Sign up for our daily sports newsletter »
"I changed my energy, just started to become more selfless," Beverley said. "Everything else kind of fell in place from there. Put the team first."
Before coming to the Clippers in 2017 in the Chris Paul trade, Beverley had become used to a level of offensive and defensive freedom allowed by Houston coach Mike D'Antoni. Rivers is more structured. Ideally, they would have reached an understanding on Beverley's role right away, but he injured his right knee only weeks into the season. Last summer, Rivers brought in a new defensive coordinator in assistant Rex Kalamian.
When training camp opened in September, Beverley had regained his health and confidence but questioned how he fit on offense and defense. By Nov. 5, the Clippers planned on benching Beverley, but an injury to starting guard Avery Bradley kept Beverley in the starting five. As soon as Bradley returned, two weeks later, Beverley was benched.
A conversation between Rivers and Beverley, a pair of strong-willed guards from Chicago, followed.
"Pat was good," Rivers said. "It's not like an argument or anything, just every vet has his way and we have our way. You've just got to tell them, 'This is the way we're doing it.'"
Rivers told Kevin Garnett, Ray Allen and Paul Pierce something similar when they formed the Boston Celtics' championship core in 2008, and the experience helped assuage Beverley's fears a decade later.
"[Rivers] understands my favorite player is Kevin Garnett growing up," Beverley said. "We use that a lot, talk 'Kevin Garnett didn't do this, Kevin Garnett did this,' and he helped me get out of my shell and understand that there is different ways of doing things. With that mindset, a coach being real with you, a coach being honest with you, you can't do nothing but accept that."
It wasn't the first frank conversation they'd shared. During a phone call with Rivers shortly after being traded, Beverley recalls feeling "excited about the opportunity." Rivers remembers an edge.
"Pat takes everything personal," Rivers said. "The fact that [Houston] wanted Chris Paul and not Pat pissed Pat off."
Beverley channeled that edge into his play after his conversation with Rivers last fall, declaring to coaches he "was never … going back to the bench again." From the time he returned to the starting lineup Jan. 20 until March 31, when he began a three-game absence with a hip injury, Beverley is shoot 43% from the field, averaging 9.1 points, 6.4 rebounds and 4.5 assists. The Clippers won 23 games in that span, third most in the NBA. In his return from injury Wednesday, during the team's victory in its regular-season finale, Beverley made four three-pointers, grabbed six rebounds and dished six assists in 21 minutes.
Center Ivica Zubac couldn't stand Beverley as an opponent because he "always talked … to me on the court." Zubac, who joined the team in a February trade, now calls Beverley a "perfect teammate."
When coaches want to spur the locker room but not come across as heavy-handed, they ask Beverley to spread the message; assistant Sam Cassell calls Beverley "our voice." A young Clippers staffer eating alone during a recent road trip was stunned to hear Beverley call over to him, inviting him to join his table.
"Pat is all about team," Clark said. "He's going to be inclusive and he's going to try to bring everybody into that team concept. And if you're outside of that circle, you're the enemy."
Joy has replaced uncertainty.
"Yeah, it's fun," Beverley said.
Beverley's words always resonated with teammates because he'd scrapped and clawed to keep an NBA job, but the example of embracing his place on the team last fall has lent the guard even more credence.
"Pat is the vet that is going to break it down to you," Thornwell said. "To get you to understand what the coach is trying to get out of you and what you need to do to stay in the league and survive, because he's done all that."
And for the Clippers, it's made Beverley more valuable than ever.
Twitter: @andrewgreif
Get our high school sports newsletter
Prep Rally is devoted to the SoCal high school sports experience, bringing you scores, stories and a behind-the-scenes look at what makes prep sports so popular.
You may occasionally receive promotional content from the Los Angeles Times.