Clippers' playoff run exceeded expectations, and they can live with that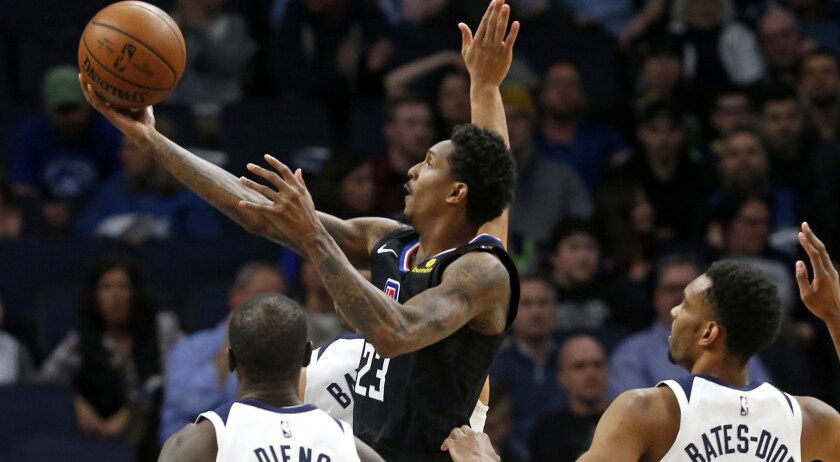 Three of the players who started for the Clippers at the beginning of the season are no longer on the team, yet they pushed forward and landed a spot in the Western Conference playoffs.
The Clippers' leading scorer and top rebounder as well as one of the team's top defenders were shipped out, and yet they didn't falter in the super-competitive West.
The normally reticent Lou Williams spoke up after all the changes were made, imploring his teammates to stay the course and live with the consequences.
So when the Clippers traded forward Tobias Harris, who led them in scoring (20.9) and rebounding (7.9), to Philadelphia, moved Avery Bradley, one of the defensive stalwarts, to Memphis and waived center Marcin Gortat, L.A. kept marching forward.
"My advice was play as hard as you can and live with the results," Williams said late Tuesday night after the Clippers clinched their seventh postseason berth in the last eight years with a victory at Minnesota. "When things like that on the business side go down, as players, the only thing you can control is how you play and what you can contribute.
"So when guys go out, other guys got to step up and it's an opportunity at the same time to show and prove what they have. So, we can look at it one or two ways: We can feel sorry for ourselves or we can look at it as an opportunity to improve, and I think we did the latter."
Sign up for our daily sports newsletter »
The Clippers plugged in Ivica Zubac at center after he was acquired from the Lakers, and the third-year big man has flourished, averaging 8.9 points, 7.9 rebounds and 1.7 assists.
The Clippers added guard Landry Shamet in the starting lineup after he was acquired from the 76ers and the rookie has flourished, averaging 11.2 points during his 18 games with L.A. Shamet, who has been listed as questionable (left ankle impingement) for Thursday night's game at Milwaukee, was shooting 41.7% from the field and 45.7% from three-point range.
The Clippers saw point guard Shai Gilgeous-Alexander shake off the effects of hitting the rookie wall and flourish, averaging 10.4 points, 2.7 rebounds and 3.2 assists.
"Even after the trade deadline, we had some guys that plugged in and bought into what we had going on here and it worked out," said Williams, who leads the team in scoring (20.3) and assists (5.3). "And it's showing. The proof is in the pudding. We always felt like we were a good team if healthy, and it's showing."
The Clippers have won six consecutive games and 11 of their last 12 games to improve to 45-30. They are two games out of third place, behind Portland and Houston, and two games ahead of eighth-place San Antonio.
Of course, no one projected the Clippers to be this good at the beginning of the season.
"I understand that this is a name-game business and you tend to migrate to the names," Williams said. "We just do it the old fashion way. It's team basketball. We don't care who gets the credit. We go out and play. So, we could care less what people think or what they get wrong. You know what I mean?"
Patrick Beverley, the Clippers' heartbeat, praised his teammates for not buying into the hype about how bad they would be.
"To be on this team, man, not one superstar and no one on the All-Star team," said Beverley, who is questionable for the Bucks game because of a right hip pointer. "Everybody enjoys their role. We play the right way. We turn down good shots for great shots and it's been one of the best experiences for basketball that I've ever played with."
UP NEXT
AT MILWAUKEE
When: 5 p.m. PDT, Thursday.
On Air: TV: Prime Ticket; Radio: 570, 1330.
Update: The Bucks have the best record in the NBA at 56-19. They have an MVP candidate in do-it-all Giannis Antetokounmpo, who is fifth in the league in scoring (27.3) and double-doubles (52) and tied for fifth in rebounds (12.6). The Bucks lead the league in scoring, averaging 117.4 points per game, and are tied for seventh in points allowed, giving up 107.9 per game.
Twitter: @BA_Turner
---
Get our high school sports newsletter
Prep Rally is devoted to the SoCal high school sports experience, bringing you scores, stories and a behind-the-scenes look at what makes prep sports so popular.
You may occasionally receive promotional content from the Los Angeles Times.