Column: Clippers broadcaster Ralph Lawler is the voice of Los Angeles resiliency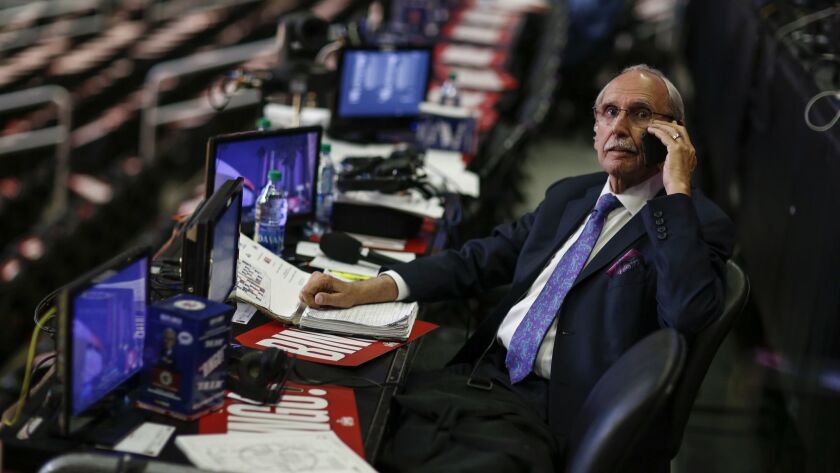 We've all seen the famous photo of Vin Scully, Chick Hearn and Bob Miller standing side by side, holding their Fox Sports microphones.
Ralph Lawler remembers it well. The longtime Clippers announcer was there when the photo was taken and is still looking for another version he has never seen.
"Somewhere there is a photo of Vin, Chick, Bob and me," Lawler said. "I've seen the photo of Chick, Vin and Bob but somewhere out there is a photo of the four of us because we were all there that day and all of our games were on Fox in those days. I'd give anything to find that photograph."
When Lawler calls his final game at Staples Center — which could happen as early as next week unless the Clippers pull off one of the biggest upsets in NBA playoff history against the Golden State Warriors — it will mark the end of a golden era of sports broadcasting in Los Angeles. Hearn passed away in 2002 after being the voice of the Lakers for 42 seasons, Scully retired in 2016 after 67 seasons as the voice of the Dodgers and Miller retired in 2017 after being the voice of the Kings for 44 seasons.
Lawler, who has called Clippers games for 40 seasons, often got lost in the mix in Los Angeles. The Dodgers changed the address of Dodger Stadium to 1000 Vin Scully Ave. and retired his microphone in their ring of honor. Hearn and Miller both have statues outside of Staples Center and banners hanging inside the arena. Lawler, meanwhile, recently got the media entrance at the arena named after him. He would be honored like his peers in almost any other city but he has no regrets as he calls the final games of his Hall of Fame career.
"I just felt lucky to be on the periphery of that trio," Lawler said. "This city is really good to its broadcasters. Here I was with those three and at that point I had been in the city for 25 years or something and I was the junior to Vin, Chick and Bob. I mean how can that be? I'm in my 60s and 70s and those guys were older and had been doing their jobs longer. But I wouldn't trade it for anything.
"I had inquiries from other teams a couple times but I'm a loyalist. This team gave me the opportunity in 1978 to fulfill my dream of working for a professional basketball team and I've never wavered from that loyalty. I love this franchise. I have red, white and blue blood flowing through my veins. I'm a Clipper for life."
As Lawler, 80, prepared for the start of the Clippers' seventh playoff run in the last eight seasons, he just wished this era had happened a decade earlier so he could be behind the microphone when the Clippers potentially win their first championship. Before this run of eight straight winning seasons, the Clippers had only been to the playoffs four times and had three winning seasons from 1977 to 2011.
"It has been interesting to see it rise from the ashes," Lawler said. "I remember one year we had T-shirts that had a big 3-0 on it. The goal was to win 30 games. I mean that was our goal. If you win 30 games that means you lose 52 games. That's what we have risen from, which is pretty remarkable. Going through this year I just wish I was 10 years younger because I want to be here for the next 10 years because I believe they're going to win multiple championships. Not just one but multiple."
::
When Kofi Kingston became the first African-born WWE champion and just the fourth black heavyweight champion in the company's history at WrestleMania last Sunday, he didn't realize the impact it would have, with videos of fellow wrestlers and fans crying after his victory flooded social media. He is still overwhelmed one week later.
"I think a lot of people were living vicariously through me," Kingston said. "I think my struggle has been one that is relatable. I think so many people that have fought so hard to get what they want or have been told no or have been really good at something but not get their due can relate to me. The fact that I was able to go through all of those struggles and get my due, people identify with that."
Sign up for our daily sports newsletter »
WrestleMania not only featured Kingston's historic win but the first female main event in its history. Some might argue that it shouldn't have taken this long for these milestones to occur in the scripted world of the WWE, but Kingston said "it's a new day" for the company, playing off the name of his popular tag team.
"Representation is important whether you're black, white, Asian, male, female, whatever," Kingston said. "It's important for us to be inclusive. It's a very special time in WWE right now."
::
WBA and WBO lightweight Vasiliy Lomachenko made quick work of Anthony Crolla on Friday night at Staples Center and didn't waste any time challenging WBC lightweight champion Mikey Garcia immediately after recording a fourth-round knockout.
"I want Mikey Garcia," Lomachenko said. "I want to unify titles. That's my goal. I want historic fights."
The fight makes too much sense not to happen, which of course puts it in jeopardy of not happening in the crazy world of boxing. Lomachenko and Garcia both need each other, not just to unify the titles but to draw a big crowd and get a big payday. Both fighters have drawn crowds of more than 10,000 at Staples Center and it's not out of the realm of possibility that a fight between the two could sell out the arena later this year.
---
Get our high school sports newsletter
Prep Rally is devoted to the SoCal high school sports experience, bringing you scores, stories and a behind-the-scenes look at what makes prep sports so popular.
You may occasionally receive promotional content from the Los Angeles Times.