Suns end Clippers season with 130-103 victory
Patrick Beverley walked up the tunnel and took off his jersey as Chris Paul took a technical free throw.
There were still more than five minutes left in the Clippers' season, but no one was under any illusion that there would be a comeback Wednesday night at Staples Center. The Suns led by more than 20 points, and would go on to win 130-103, earning their first NBA Finals berth since 1993 and ending the Clippers' season in the Western Conference finals.
"Extremely proud of this team," Reggie Jackson told reporters. "Sucks that it's cut short, short of our ultimate goal this year to win a championship. I couldn't be prouder."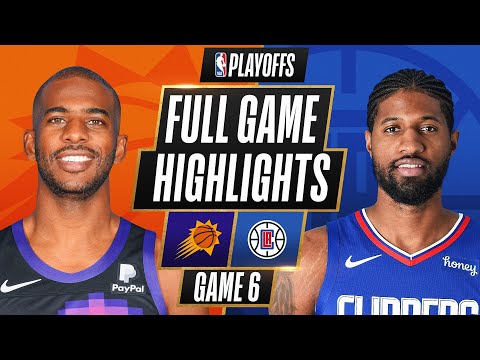 Video highlights from the Phoenix Suns' 130-103 victory over the Los Angeles Clippers in Game 6 of the Western Conference finals on June 30, 2021, at Staples Center.
That Paul did so in the building where he experienced heartbreak as a member of the team he just beat will undoubtedly make it all the better for him. Paul finished with 41 points, leading the Suns with a personal 8-0 run in the second half once the Clippers cut a commanding lead down to seven and only getting better from there.
Paul's career, which has long lacked the luster of an NBA Finals berth, now has a signature playoff moment and he'll have the chance to win his first title against a diminished Eastern Conference opponent.
"To do it here in L.A. with the Clippers, this is my family too," Paul said on the ESPN broadcast. "I gave six hard years to the Clippers. We fought hard. … To do it here for the team I got the utmost respect for, I'll always be a Clipper. I love these fans."
Devin Booker followed Paul with 22 points on 10-of-26 shooting for the Suns. Jae Crowder contributed 19 points on 6-of-11 shooting. As a team, the Suns shot 56.4% from the field and more than 50% from 3-point range, making 17 of 31.
For the Clippers, who went through the series without Kawhi Leonard, Marcus Morris led with 26 points. Paul George followed him with 21 on 6-of-15 shooting — a performance that will yet again open him to questions about his ability to perform on a big stage.
The Clippers shot 41.8% from the field and struggled from range, shooting 12 of 39 on 3-pointer. Ultimately, though, it was their defense that did them in.
Though they made the conference finals for the first time in franchise history, the Clippers ultimately ended this season in a familiar fashion — walking off their home court as an opponent celebrated.
"We gonna enjoy tonight," Paul said. "We're gonna enjoy it."