Kawhi Leonard overcomes injury scare, powers Clippers to blowout of Bulls
It took only 101 seconds for the Clippers' first scare.
Gingerly running back after scoring his first points on a layup, Clippers star Kawhi Leonard grimaced Friday while reaching for his groin. His pace soon slowed to a walk — off the court, down a tunnel to the locker room inside Chicago's empty United Center.
The second scare arrived two minutes later. Serge Ibaka's bright yellow sneaker on his right foot flexed at an angle not conducive to playing basketball, and before the veteran center could stand on his right ankle again, he stayed down on his hands and knees. A second starter was now gone for a team already down another in Paul George.
Neither moment was serious. Leonard was back in two minutes and Ibaka eight. Crises averted — and with it any chance of further scares on the last night of their two-game trip.
On their way to a 125-106 win over the Bulls, Leonard, Lou Williams and Marcus Morris took turns putting on a second-half offensive showcase to help the Clippers outscore Chicago by 15 points after halftime.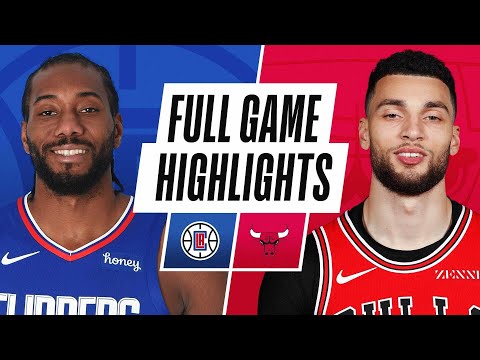 Highlights from the Clippers' 125-106 road win over the Chicago Bulls on Friday night.
Leonard scored 33, Morris 20 and Williams 17. The output was no small thing for a team that has, at times, struggled to fill the offensive void left by the absence of George, who missed his fourth consecutive game because of a foot injury.
Clippers coach Tyronn Lue said before tipoff that the Clippers' identity shouldn't change with their second-leading scorer and best distributor out — "we still want to play the same way" — yet it has added an extra burden on his teammates. George has averaged 24 points and produced this season's eighth-highest wins above replacement, per the analytics website FiveThirtyEight.
Lue texted with George hours before tipoff and described the star as "in a good place, you know, good spirits."
And even while making just 13 of 30 three-pointers, the Clippers (19-8) blew through Chicago thanks to one of the NBA's worst defenses and its second-most turnover-prone offense.
The Clippers have struggled guarding the pick and roll more than almost any NBA team. The return of Patrick Beverley from injury should help, coach Tyronn Lue hopes.
Concerned with Bulls rookie Patrick Williams' ability to fight through screens, Lue fixated on finding ways to get Leonard the ball with a dribble rather than stationary beyond the three-point line. The result was midrange mastery.
Just one for six from three-point range on the night, Leonard was able to face up toward the basket, determine his plan of attack and make all 10 of his shots between six and 18 feet.
He scored 16 of his 33 points in the third quarter. This season, his 9.6 points in the quarter rank third most in the NBA.
"He has to be more aggressive on the offensive end when Paul is not out there, especially with how this team is built," Lou Williams said. "We have some primary scorers, we understand our roles, and once the second-leading scorer goes out, for you to be the first-leading scorer, you got to close that gap. I think he understands that."
When Leonard sat to rest to begin the fourth quarter, the Clippers (19-8) led by 12, a margin that was hardly the cushion it seemed against a quick-strike offense led by Coby White and Zach LaVine, who had each made at least eight three-pointers in their last game. Yet White didn't even attempt a shot for nearly the first seven minutes of the final quarter, and LaVine — who'd scored 45 against the Clippers one month ago and 46 in his most recent outing — was held in check by the defense of reserve Terance Mann, along with a variety of switches on pick and rolls that neutralized his ability to get into the paint quickly.
LaVine finished with 26 points, nine rebounds and six assists, but only two points came in the third quarter — unable to match Leonard's outburst at a critical juncture.
As Chicago (10-15) turned the ball over 13 times — which turned into 24 points for the Clippers — Lou Williams scored 11 points in the first four minutes of the final quarter. He has scored 15 or more in five consecutive games, his best stretch this season.
"A lot of teams can have success sending me right, but they were opening up the lane and I was able to make one going left with my patented fadeaway," Williams said. "After that, I got about three layups in a row after that; the rim gets this big once you start making shots you are comfortable with."
Where he left off, Morris picked up, drilling five three-pointers in the final quarter to finish with 20 points and six rebounds. The Clippers led by as many as 22 in the final minutes and soon were on a plane back to Los Angeles.
A six-game homestand awaits.
"I'm ready," Lue said. "I can't wait."
Get our high school sports newsletter
Prep Rally is devoted to the SoCal high school sports experience, bringing you scores, stories and a behind-the-scenes look at what makes prep sports so popular.
You may occasionally receive promotional content from the Los Angeles Times.