Dodgers: Matt Kemp benched for day, not bound for disabled list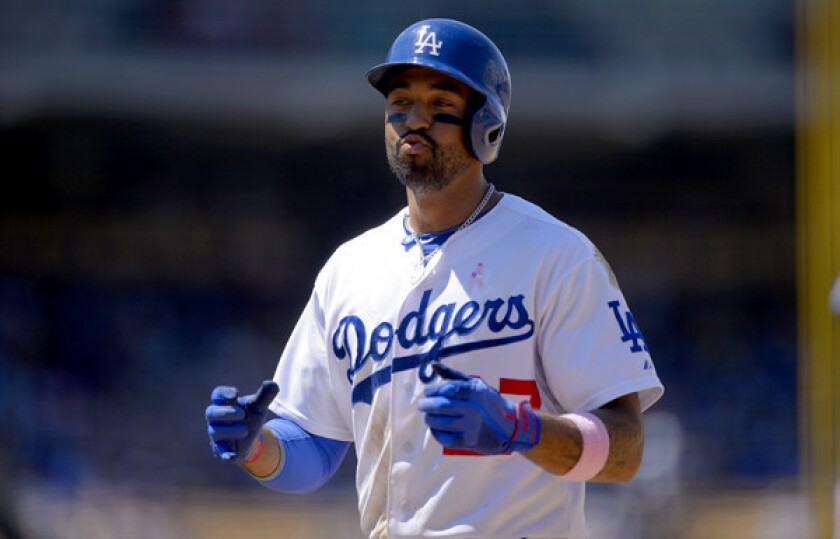 Matt Kemp was not in the Dodgers' starting lineup Sunday, one day after expressing his anger about being removed from Saturday's game as part of a double-switch.
Manager Don Mattingly called the move "a baseball decision" and said the benching was not disciplinary. Skip Schumaker started in center field Sunday, and Mattingly said he expected Kemp would return to the lineup Monday.
The Dodgers did not announce theiir lineup until after the clubhouse was closed to reporters. Mattingly said he met with Kemp to discuss the move but declined to discuss how Kemp reacted. The manager said he could not say whether his relationship with Kemp was as strong as ever.
"I don't know," Mattingly said. "I don't worry about that part of it. I'm trying to make baseball decisions that are the best for the team. For me, Matt not playing is the best thing for him and the best thing for us."
Kemp was hitless in six at-bats Friday and Saturday while striking out four times. He is batting .261 with two home runs. His .344 slugging percentage ranks as the lowest among Dodgers regulars.
He also has appeared to wince after some swings.
"He's not injured, or anything like that," Mattingly said.
Mattingly said Kemp has not told the team about any discomfort in his surgically repaired shoulder and said he has heard "zero" from the team's medical staff about the possibility of putting Kemp on the disabled list so he could strengthen the shoulder.
"I wouldn't really think Matt would want that," Mattingly said.
However, Mattingly said he was told Saturday that the team's medical staff is about to clear Kemp to increase his weight-training regimen.
"They've held him back for sure," Mattingly said.
If the Dodgers were to put Kemp on the disabled list, they would have to find a replacement in center field. They do not consider any of their current outfielders appropriate for that role, and neither of their triple-A center fielders -- Matt Angle and Tony Gwynn Jr. -- is on the 40-man roster.
Joc Pederson and Yasiel Puig, the Dodgers' top outfield prospects and teammates at double-A Chattanooga, are considered corner outfielders. However, Pederson has primarily played center field this season.
Mattingly said he considered three factors in benching Kemp on Sunday: the day game after a night game, the success of St. Louis Cardinals starter Shelby Miller against right-handed batters, and Kemp's growing frustration.
On Friday, Kemp shattered a bat and flung the pieces into a trash can after taking extra batting practice. On Saturday, he appeared to yell at Mattingly when the manager made the double-switch, then flipped his glove against the dugout wall and resumed yelling.
"I don't mind guys getting mad at me," Mattingly said.
Mattingly said Kemp has not lost confidence, even amid his frustration. While less-established players might wonder if an extended slump or power outage might be permanent, Mattingly said Kemp need not worry.
"Matt knows he's going to come out of it," Mattingly said.
---
Get our Dodgers Dugout newsletter for insights, news and much more.
You may occasionally receive promotional content from the Los Angeles Times.