Could Dustin Pedroia sway Red Sox to pursue Dodgers' Andre Ethier?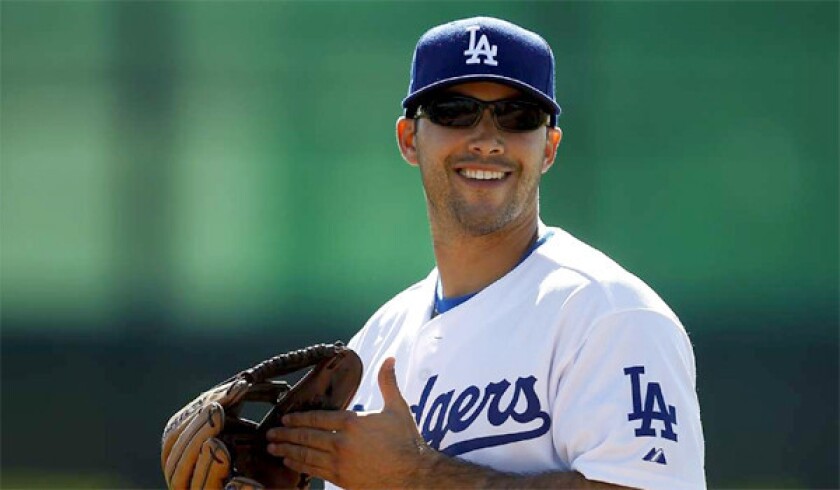 Dustin Pedroia and Andre Ethier were teammates in college, at Arizona State. The two have discussed the idea of playing together in the major leagues.
Could the time be right? As the Dodgers consider whether to trade Ethier or Matt Kemp because they supposedly have one too many outfielders, the Boston Red Sox suddenly have one too few.
Jacoby Ellsbury, the center fielder for the World Series champion Red Sox, agreed Tuesday to a seven-year, $153-million contract with the New York Yankees.
Pedroia is respected among Boston management, and an endorsement for Ethier might go a long way. The Red Sox could acquire Ethier for right field and shift Shane Victorino to center field, although Ethier played a solid center field for the Dodgers last season.
The Red Sox could also replace Ellsbury with one of their minor league products, 23-year-old Jackie Bradley Jr. They have considered Kemp as well. However, the Red Sox have expressed a preference for shorter contracts, with Kemp owed $128 million through 2019 and Ethier $71.5 million through 2017.
The Dodgers almost certainly would have to cover part of the cost of the Ethier or Kemp contracts. If they pay enough, they logically would hope to get the Red Sox to include third baseman Will Middlebrooks, 25, to fill the Dodgers' only current vacancy in the starting lineup. For now -- and perhaps until the Red Sox see if free-agent shortstop Stephen Drew will return -- the Red Sox say they would prefer to keep Middlebrooks.
---
Get our Dodgers Dugout newsletter for insights, news and much more.
You may occasionally receive promotional content from the Los Angeles Times.