Dodgers are reaching: sign Jonathan Sanchez to minor league deal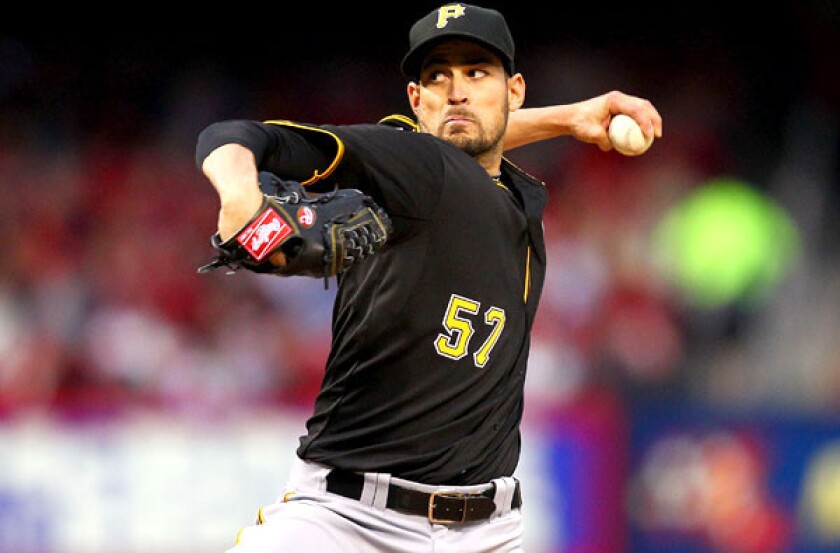 Ugh, it's come to this. The Dodgers, rich with starting pitching when the season began, are now so decimated they're fishing in the baseball scrap heap.
Brace yourself: The Dodgers have signed Jonathan Sanchez.
Apparently Jamie Moyer, Randy Wolf or Connie Marrero (age 102) were unavailable. We know Aaron Harang wasn't, at least not yet.
It's to a minor league contract, with Sanchez headed to triple-A Albuquerque. This would be the Sanchez who was once a star for the Giants, but in his last 18 starts is 0-12. Over the last three seasons, he is 5-19 with a 6.22 ERA.
But when by the middle of May you've placed six different starting pitchers on the disabled list (Ted Lilly, Chad Billingsley, Chris Capuano, Josh Beckett, Stephen Fife and Zack Greinke), you apparently need an emergency stash.
"Obviously with some of the issues we've had, with the injuries to some of our pitchers, it's a guy that's been a quality starter over the past," said Manager Don Mattingly. "He's had a couple of years where he struggled."
Sanchez, 30, cleared waivers and was released by the Pirates a week ago after going 0-3 with an 11.85 ERA in five games (four starts). His first start of the season came against the Dodgers (three runs on six hits, in five innings) April 5, when they were apparently mildly impressed.
"We thought he actually threw the ball pretty good," Mattingly said. "I didn't have anything to do with the decision of bringing him in but I'm sure it's got something to do with depth. You'd like to be able to find a guy that's had major league success."
Mark Saxon of ESPN/LA reported Sanchez has an opt-out clause that he can exercise if he's not on the major league roster by July 1.
"Maybe it's just a matter of him getting healthy or making a tweak here or there mechanically, getting his confidence back and then getting on a roll," Mattingly said. "And being a guy that, all of sudden you need a starter, you're not calling up a kid from double-A that you really don't feel like should be here yet" (read: Matt Magill).
It's a desperate move, one the Dodgers hope they never have to cash in. If they do, you really know the season is over.
---
Get our Dodgers Dugout newsletter for insights, news and much more.
You may occasionally receive promotional content from the Los Angeles Times.