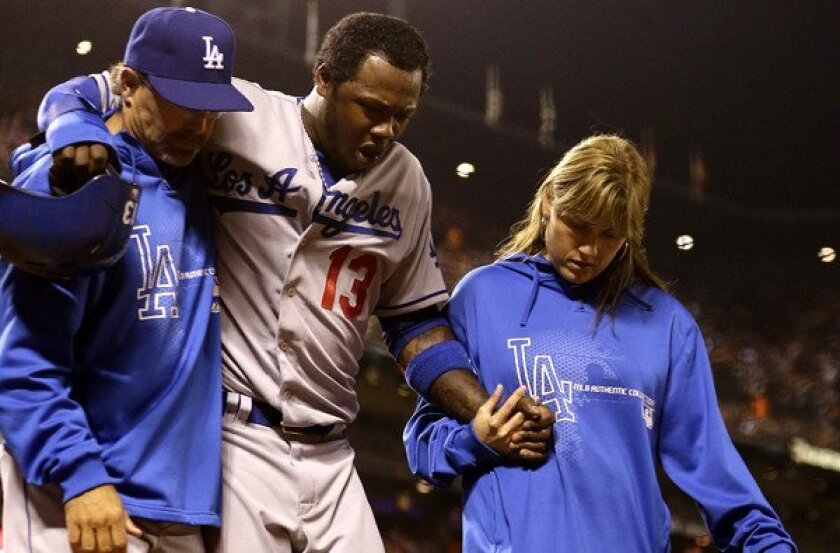 SAN FRANCISCO -- Hanley Ramirez hobbled to his locker. Adrian Gonzalez walked out of the clubhouse clutching a neck brace.
Those were the defining images for the Dodgers on Friday, more so than the shuffle off the field after Buster Posey hit the walk-off home run that gave the San Francisco Giants a 2-1 victory.
Ramirez injured his left hamstring in the sixth inning while racing from first base to third on a single. He said he felt a small tug in his leg after he passed second base, tried to keep going and then felt a more significant tug as he approached third.
The Dodgers did not immediately put Ramirez on the disabled list, but Manager Don Mattingly compared the hamstring injury to the one that sidelined outfielder Matt Kemp last season. Kemp sat out a total of 51 games -- coming back after the minimum 15 days on the disabled list, then aggravating the injury and returning to the disabled list.
Ramirez opened the season on the disabled list after thumb surgery and had played only four games.
"I'm not going to give up," he said. "I'm going to come back [Saturday] and see how it feels.
"I'm going to be fine. I'm going to get back on the field, and soon."
Gonzalez injured his neck when he collided with an umpire while chasing a foul ball in Wednesday's game, although he said he did not experience any soreness until Thursday's off day.
"I can't turn my neck right now," he said. "If I can't turn to see pitches, I can't hit."
Gonzalez said he could not sleep Thursday night because he would inadvertently turn his neck and wake up with "a shooting pain." He said he hoped the combination of medication, treatment and the use of the neck brace would help him get a good night's sleep and get him back in the lineup.
"Hopefully, I wake up [Saturday] feeling great," he said.
Assuming the Dodgers put Ramirez on the disabled list, they will have used the DL 11 times in the opening five weeks of the season. The infield at the end of Friday's game included three injury replacements -- Jerry Hairston Jr. for Gonzalez at first base, Nick Punto for Mark Ellis at second base, and Justin Sellers for Ramirez at shortstop. The third baseman, Luis Cruz, is batting .098.
The Dodgers (13-15) are 3 1/2 games behind the Giants and Colorado Rockies, the teams that share first place in the National League West.
Gonzalez managed a smile when asked if he wonders when the injury siege will end.
"Do you know?" he asked. "We're hanging in there. We're not where we want to be, exactly. If we get over the hump of injuries, we still have most of the season ahead of us."
---