Meanwhile, what's being done about that so-so Dodgers' offense?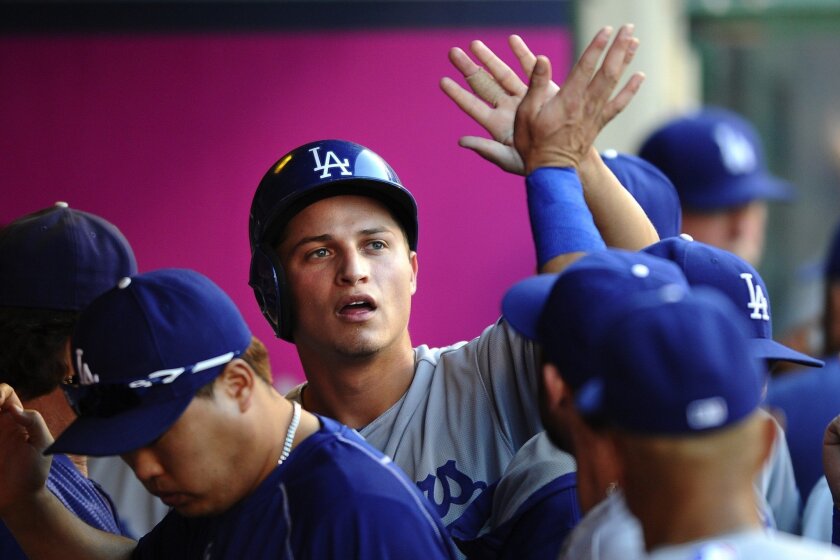 While waiting for the Dodgers to fill out their rotation, there is that other little issue -- the one getting a lot less public scrutiny, somehow hovering just under the radar.
Their weak offense.
That's right, bleeders of blue, their 2015 offense was wholly unimpressive. Calling it mediocre would be an act of holiday kindness.
The Dodgers were 19th in the majors in runs, 19th in batting average (.250), 21st with runners in scoring position, 26th in stolen bases (59 -- one more than Dee Gordon!) and 27th in hits.
Their offensive shortcomings were partially masked by their ability to hit the long ball -- sixth in homers but first in the National League (by one over the Rockies) -- though they still finished an unexceptional 15th in total bases.
And what have they done thus far to address these shortcomings? Zippo. Unless you count letting one of their most productive hitters, Howie Kendrick, enter free agency.
Their current plan to improve the offense is apparently to have the injured guys and the players who went into second-half swoons all come back better. Pixie dust all around. They'd better have a bigger pouch than Tinker Bell. Almost every projected starter returns with some kind of question mark.
Not exactly encouraging.
Their offense is going to be better because Justin Turner, Yasmani Grandal and Enrique Hernandez are all going to return to peak form after off-season surgery? Because Joc Pederson will hit like he did in the first half (.230, 20 home runs, 40 RBIs) and not in the second half (.178, 6, 14)? Because Carl Crawford will actually stay healthy and Andre Ethier will continue his rebirth, both in their age 34 seasons? Because the remarkably consistent Adrian Gonzalez will continue to defy the years (34 in May) and Chase Utley will suddenly play 10 years younger?
That's a lineup riddled with questions, and it's basically the same underwhelming group they had last season. The only place they can hope for a true offensive upgrade is at shortstop, where Corey Seager takes over full time from Jimmy Rollins. Seager was brilliant when called up in September, but hit .188 in the postseason.
Maybe all of that happens, or more likely, some of it. Either way, it's an offensive gamble.
The Dodgers could have added the bat of Todd Frazier (35 homers, 89 RBIs) from the Reds this month, but instead elected to participate in a three-team trade that amounted to a swap of three prospects (none of whom are assured of making the opening-day roster). Me? I grab the bat and worry later about how it fits.
The Dodgers need a bat. They need an offensive jolt. They need a lot of things beyond a pair of starting pitchers.
MORE DODGERS NEWS
Scott Kazmir signs three-year deal with Dodgers
For the Dodgers, moving past Aroldis Chapman was the right move
Will Kenta Maeda offer a partial solution to Dodgers' rotation woes?
---
Get our Dodgers Dugout newsletter for insights, news and much more.
You may occasionally receive promotional content from the Los Angeles Times.