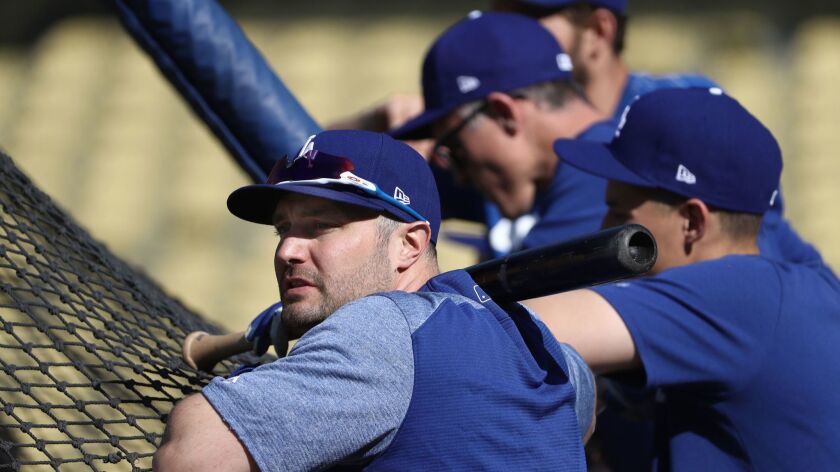 Reporting from SAN FRANCISCO —
Dodgers center fielder A.J. Pollock returned to Los Angeles on Tuesday to undergo an exploratory procedure to determine the severity of an infection in his right elbow and whether a growth plate in the joint needs to be surgically repaired.
Pollock was placed on the 10-day injured list and replaced on the roster by corner infielder and outfielder Matt Beaty, who was called up from triple-A Oklahoma City for the first time.
Pollock, who had surgeries to repair a fractured growth plate in the same elbow in 2010 and 2016, was scheduled to have the procedure Tuesday night. Doctors were expected to flush out any excess fluid and apply a topical antibiotic to the infection.
If there are no issues with the screw that was inserted to fuse a fracture in the growth plate in 2016, Pollock could probably return in a few weeks. If the growth plate needs to be repaired again, Pollock probably would be out for at least six weeks.
"How major is it? We don't know yet," manager Dave Roberts said. "Surgery is an option if they go in there and feel the hardware needs to be addressed. We're just hoping things go well, and it's going to be minimal."
Pollock, who signed a four-year, $55-million deal last winter, fractured his elbow when he dived for a ball in a spring training game in 2010 and missed his first full minor league season with Arizona.
Pollock re-injured the same growth plate early in 2016 and underwent another surgery that, combined with a strained groin, limited him to 12 games for the Diamondbacks that season. Pollock wasn't even sure if his second injury was caused by something he did on a baseball field.
"What I learned about the thing is there's a lot of people who grow up and don't even know they had a growth plate that fused open," Pollock told the Arizona Republic at the time. "You could have fallen on it when you're a kid when everything was growing and just caused a little trauma to it."
Pollock started in Sunday's 7-6 win over Pittsburgh, going hitless in four at-bats to drop his batting average to .223 and his on-base-plus-slugging percentage to .617.Roberts said the flight to San Francisco caused some swelling and discoloration in the elbow.
Pollock's setback will open more playing time in center field for rookie Alex Verdugo, who had already carved out a more prominent role by hitting .333 with four homers, four doubles, two triples and 16 RBIs in 29 games through Monday and providing strong defense at all three outfield spots.
Second baseman Enrique Hernandez, who started in center field Tuesday night, will also play more outfield, Roberts said.
Sign up for our daily sports newsletter »
Welcome wakeup call
Beaty was about to fall asleep at midnight Monday when Oklahoma City manager Travis Barbary called him with news of his promotion. Beaty's first call was to his father, David.
"A lot of things go through your head," said the left-handed-hitting Beaty, who batted .277 (23 for 83) with two homers and 10 RBIs in 22 triple-A games. "Your heart rate spikes. I was thinking about all the work I've put in throughout my life in baseball, the countless hours at the field with my dad throwing batting practice. There are so many thoughts and emotions, it's hard to put into words."
Beaty went to the Oklahoma City stadium at 1 a.m. to pack up his baseball gear, returned home to pack his suitcase and got to sleep around 3 a.m. before a 7:55 a.m. flight to San Francisco. Roberts said Beaty's versatility will open opportunities for him to be used in double-switches.
In his first major league at-bat, he singled to center field as a pinch-hitter in the eighth inning Tuesday against the Giants.
---