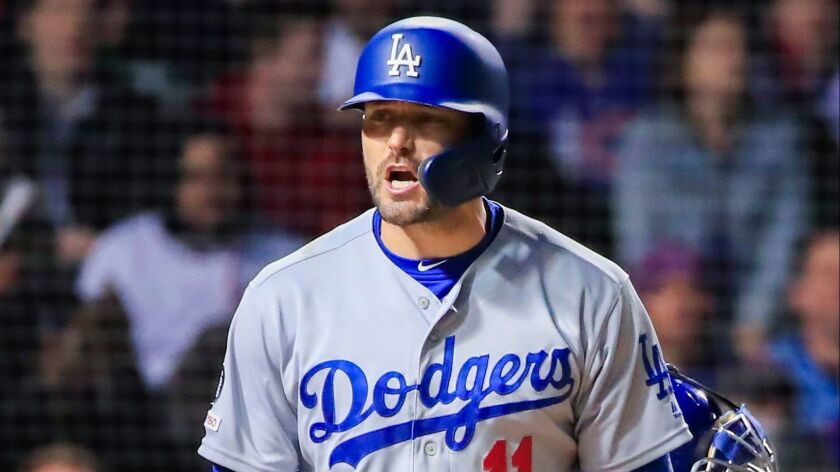 Reporting from SAN FRANCISCO —
Alex Verdugo made his second start in three games in place of struggling Dodgers center fielder A.J. Pollock on Monday night, and manager Dave Roberts revealed after game that Pollock has an infection in his right elbow that flared up over the weekend and probably will force him to the injured list.
"I think it stems from past surgeries he had on his elbow [in 2010 and 2016]," Roberts said. "He has a screw in there. It kind of came up out of nowhere. He was put on antibiotics, but they haven't taken. We need some doctors to look at it."
The right-handed-hitting Pollock, who signed a four-year, $55-million contract last winter, entered Monday with a .223 average, .617 on-base-plus-slugging percentage, two homers and 14 RBIs. A good chunk of that production came in the first four games of the season against his former Arizona team, when Pollock had seven hits, including a home run, two doubles and six RBIs. Since then, Pollock is batting .186 with a .498 OPS in 24 games.
The left-handed-hitting Verdugo entered Monday with a .333 average, .989 OPS, four homers, four doubles and 16 RBIs. The energetic rookie also was hitting .471 with runners in scoring position and providing strong defense — with the exception of his error Sunday — in three outfield spots.
"Could I have forecast him playing as much as he is now? Probably not, and that's a reflection of how he's played," Roberts said of Verdugo. "But as we continue to manage everyone's playing time, a lot of it is contingent on performance, and as we play more baseball, we'll know more."
With Giants right-hander Jeff Samardzija starting Monday and left-handers Drew Pomeranz and Madison Bumgarner starting the final two games of the series, Roberts saw an opportunity to squeeze one more start from Verdugo, who went one for three. But Roberts declined to describe center field as a possible platoon situation.
"No, no," Roberts said. "I think with A.J., I actually see that it's coming around. I think his at-bats are getting better. I think with Alex, it's more continuing to try to find spots to get him involved."
Cannon fodder
If it appeared Verdugo took an overly aggressive approach to Melky Cabrera's leadoff single to right in the eighth inning of Sunday's 7-6 win over Pittsburgh — the ball shot under Verdugo's glove for a two-base error — there's a good reason.
"I was trying to throw him out at first base," Verdugo said Monday. "He hit it hard, I was playing in, and I got a good jump. At the very last minute, I took my eyes off it and the ball skipped on me."
Cabrera scored on a Josh Bell single to cut the Dodgers' lead to 7-6, and Julio Urias escaped a two-on, no-outs jam to prevent further damage.
"I loved the aggression, and if you look at the video from the overhead [camera], there's actually a chance there could have been a play," Roberts said. "Do I think it was the right game-management play? Probably not.
"But I think the bigger point, though, is for a young player to feel he can go out there and make a play in a game like that. That says a lot about his confidence in his defense, and for me, that's a winning play."
Sign up for our daily sports newsletter »
Had Verdugo fielded the ball cleanly and fired to first, it still might have resulted in an error.
"I can honestly say I was not in position to take the throw," said Cody Bellinger, who played first base Sunday. "But I'll be ready for it every time now. He has one of the best arms in the game, so he has a great opportunity to do that."
Short hop
The Dodgers did not deem reliever Caleb Ferguson's right oblique strain serious enough to warrant an MRI. The reliever, placed on the 10-day injured list Sunday, will undergo treatment and resume throwing in a few days.
---