Column: Dodgers' bullpen plan for Julio Urias could backfire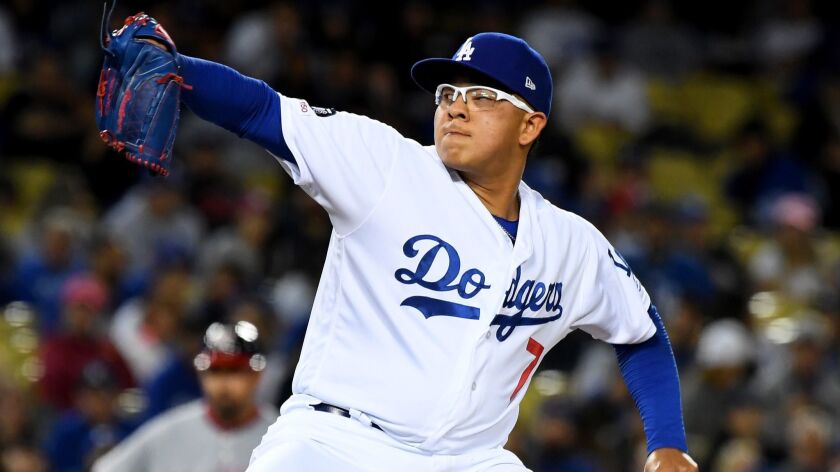 From the whispers around the stadium to what the callers are saying on the team's postgame radio show, none of this should be a surprise.
Of course there are calls for Julio Urias to be made the Dodgers' closer. Such demands were bound to be made from the moment the 22-year-old left-hander was moved out of the starting rotation and into the bullpen in the middle of last month.
The cries figure to increase in volume after Urias pitched three scoreless innings Friday night in a 5-0 victory over the Washington Nationals at Dodger Stadium. He registered his second save in five days. He touched 96 mph with his fastball. He calmly forced Anthony Rendon to ground into a forceout with two outs and the bases loaded in the eighth inning.
"You look at what his ability is and you look in the bullpen," manager Dave Roberts said, "you could argue he's our best arm."
Except that arm is attached to a shoulder that was surgically repaired less than two years ago, which is why the idea of Urias replacing the downward-trending Kenley Jansen as the team's closer exists only in the realm of fantasy.
The Dodgers can't place that kind of workload on him. The real question isn't whether Urias should pitch the ninth inning; it's whether he should be in the bullpen at all.
He shouldn't.
Urias spent the majority of last season recovering from a major shoulder operation, which is why he was limited to 23 innings between the majors and minors, including 61/3 innings in the National League Championship Series and World Series.
The Dodgers weren't about to make him pitch 150 innings this season, which presumably would have endangered his future. They were right to be mindful of how much he pitched. Where they went wrong was in wanting him to available for the entire season, or close to it, which is why they have temporarily made him a reliever.
The plan is for Urias to move back into the rotation in September, which would theoretically make him available to start in the playoffs. He is expected to rejoin the rotation on a full-time basis next season.
Sign up for our daily sports newsletter »
"This is a plan they thought of by consulting the trainers," Urias said in Spanish. "They're thinking of me. I appreciate that. They care about my health."
The thinking is the Dodgers could simultaneously protect Urias' future and their own short-term interests. But in trying to have it all, they could end up with nothing. The last time the brainiacs in their front office tried something this "creative" with Urias, he ended up on the sharp end of Dr. Neal ElAttrache's scalpel.
The Dodgers should have kept Urias in his familiar starting role and limited his innings by delaying the start of his season. They didn't. They could have kept him in the rotation and ended his season early. They won't do that, either. They instead ventured back into the unknown, crossing their fingers the unprecedented course they are taking is proven to be medically sound by future research.
This feels precarious. This feels unnecessary. Urias could be a franchise cornerstone. He should be treated as such.
The problem is that Urias offers a quick remedy for the front office's mistakes. In 2017, the team's supposed pitching depth failed to hold up through spring training, requiring Urias to go from thinking he would start the season by pitching sparingly in the minors to starting in the majors. Now, he could be asked to make up for the shortcomings of an inconsistent bullpen assembled by Andrew Friedman.
Urias' future has taken priority so far, but that's mainly because the team has continued to win without relying on him to pitch regularly. The relief appearance Urias made Friday night was only his fourth, with each one taking place three or more days after the last. The flexibility shouldn't be taken for granted. If the Arizona Diamondbacks or San Diego Padres remain within striking distance of first place longer than expected, the Dodgers might not have the luxury of spacing out Urias' appearances as they are now. Regardless, asking Urias to start again after four months of making one- or two-inning appearances looks needlessly unsafe.
"As we get into August, if you have the baseline of the two or three innings, then you can build from there," Roberts said.
Reaching that point will be a challenge, illustrated by the quandary Roberts encountered before the game Friday. Urias hadn't pitched since Sunday. In addition to being careful not to overuse Urias, Roberts also has to make sure he uses him enough to maintain his arm strength.
"You don't ever want to really force things to happen, you want to let the game dictate who you use and things like that," Roberts said. But, Roberts conceded, "Today, tomorrow are days that I hope to get him in multiple innings."
He was able to Friday. Only not every game will play out so perfectly. The less ideal the conditions, the more chances the Dodgers will be taking with Urias.
Follow Dylan Hernandez on Twitter @dylanohernandez
---
Get our Dodgers Dugout newsletter for insights, news and much more.
You may occasionally receive promotional content from the Los Angeles Times.