Dodgers' Clayton Kershaw is dealing with shoulder inflammation, will play catch Monday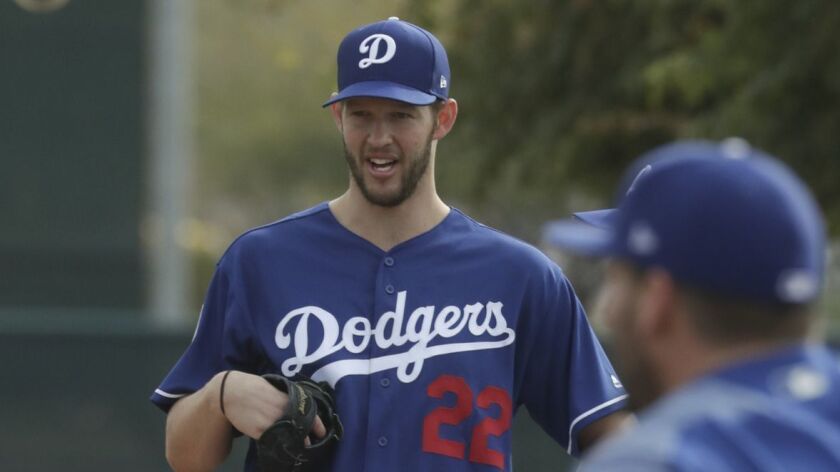 Reporting from Phoenix —
Clayton Kershaw is scheduled to play catch Monday after not throwing over the previous four days as he dealt with inflammation in his left shoulder.
Dodgers manager Dave Roberts revealed Sunday that inflammation was the reason Kershaw has not thrown a baseball since Wednesday. Roberts said Kershaw has been taking anti-inflammatory medication, but the ailment has not required an MRI exam. He said Kershaw is "encouraged" with his recent progress and remains slated to start on opening day.
"It's better now than later," Roberts said. "So we have plenty of time to address this, reset, and see where it takes us. But we're hopeful. … Just talking with Clayton and the training staff, there's no cause for concern."
Kershaw, 30, has spent time on the injured list with a shoulder injury once in his major league career, a strain early in the 2014 season. Roberts said Kershaw's desire to recoup some of the velocity he has lost in recent seasons could have helped cause the setback. Kershaw's fastball averaged 90.9 mph last season after it averaged 93.1 in 2017. His slider, which lost some depth, sat at 88.2 mph. The pitches were often too similar.
Kershaw was still, by most standards, a very good pitcher in 2018. He worked through injuries to post a 2.73 earned-run average in 161 1/3 innings. That is a career season for the majority of his peers. But he was unsatisfied. In a conference call with reporters in November, after agreeing to a three-year contract, Kershaw said he planned on working to try to retrieve velocity during the offseason and "getting back to that level that I was at."
On Sunday, Roberts explained he thinks Kershaw can remain a top-tier pitcher without his vintage fastball zip.
"I think, just speaking honestly, his repertoire, there's no reason he's not going to be an elite pitcher with his pitch mix — regardless of velocity," Roberts said. "And I think that that's something that I know I believe and the organization believes. But the most important thing is that Clayton's got to believe that because he's still as good as there is. That's the way we feel."
On Monday, Kershaw, unhappy with his live pitching session, darted to the adjacent bullpen at Camelback Ranch to throw more pitches. Roberts said that wasn't part of the script. Kershaw was trying to "work through something." Two days later, Kershaw threw a standard bullpen. He then stopped throwing. The plan is to resume Monday.
"He's in a good place," Roberts said. "He feels good. And I think that he understands that it's a process and we're all on the same page where we don't want to rush it back. If we're going to take a few days to take a step back, let's take advantage of it."
Corey Seager could play soon
Roberts said Sunday that the club has mapped out when shortstop Corey Seager will begin playing in games this spring. He estimated Seager could begin appearing in games in "a couple weeks."
Seager, 24, threw across the diamond from shortstop Saturday for the first time since undergoing elbow ligament-replacement surgery last May. He also had arthroscopic hip surgery in August.
"Everything is where it needs to be except the elbow so we're just going to continue ramping him up slowly and go through that Tommy John progression," Roberts said. "So, as a position player, it doesn't affect him swinging and we'll just keep extending him and ramping up the workload with him."
Seager also stood in during a live batting practice session Saturday, but did not take any swings. That is one of the final boxes he must check before playing in games.
Cody Bellinger's back is OK
Cody Bellinger was a full participant in workouts Sunday after he was held out Saturday because of a tight back. Roberts said Bellinger will likely make his Cactus League debut Tuesday against the Kansas City Royals.
Meeting with players' union
In a deviation from usual practice, the Dodgers had their annual MLBPA meeting with the Chicago White Sox and Texas Rangers on Sunday night. Usually, teams meet with union officials individually during spring training. The Dodgers had their scheduled meeting with the MLBPA postponed last week. The change comes as players have grown frustrated with the slow-moving free-agent markets the last two offseasons.
Sign up for our daily sports newsletter »
Twitter: @jorgecastillo
---
Get our Dodgers Dugout newsletter for insights, news and much more.
You may occasionally receive promotional content from the Los Angeles Times.