Clayton Kershaw stops throwing, but says there is no reason to worry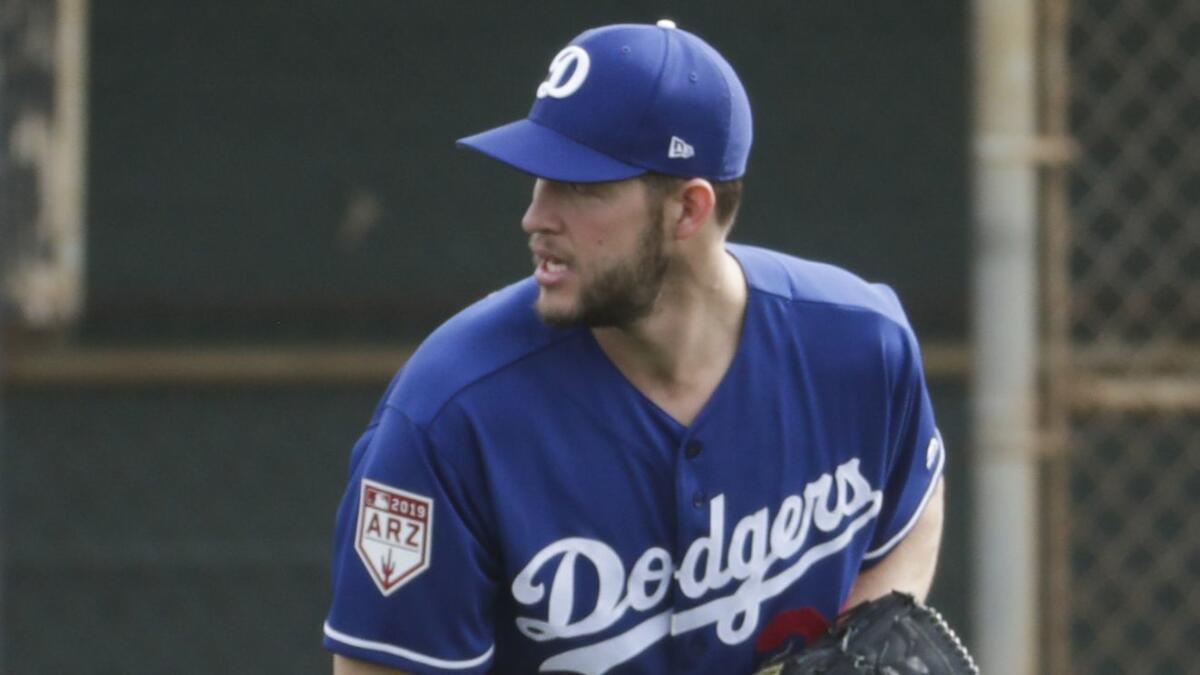 Reporting from Phoenix —
Shut down from throwing after two discouraging bullpen sessions this week, Clayton Kershaw is not ready to panic.
"Just taking a few days," Kershaw said Friday. "I'm not going to be super specific right now, but I should be playing catch here in the next few days, and [I'll] just kind of go from there. This is super early. I just want to make sure things are right."
Earlier in the day, Dodgers manager Dave Roberts said Kershaw "didn't feel right" after throwing a live bullpen session — meaning one in which he faced hitters — on Monday. Kershaw warmed up in a bullpen before throwing 22 pitches with Russell Martin and Josh Thole alternating at-bats in the batter's box. He completed his work by throwing more pitches in the bullpen.
The left-hander threw a standard bullpen two days later and did not feel better. Roberts said he became aware of Kershaw's situation after that bullpen Wednesday. He described the ailment as an "arm kind of thing." Kershaw, 31, spent more than three weeks on the injured list last season with biceps tendinitis.
"When he says he doesn't feel right, you're looking at the calendar, just to push things back is prudent and that's what we're doing right now," said Roberts, who had already named Kershaw the Dodgers' opening day starter. "So to say when he's going to throw his next 'pen, I can't say right now. And we're sort of leaving that to him and the trainers to figure out when that is. But right now, to just kind of step away, give him a couple days, I think that's what we want to do."
Kershaw returned to Camelback Ranch on Friday and completed his workouts without throwing a baseball. He said the decision to stop throwing was "a group effort." Asked if Kershaw could be experiencing "dead arm," a problem that occasionally arises for pitchers later in spring training, Roberts said it's a possibility.
"I know when I listen to Clayton and the training staff," Roberts said, "this is the right way to go about it."
A three-time National League Cy Young Award winner and the 2014 NL MVP, Kershaw compiled a 2.73 earned-run average in 161 1/3 innings last season. The ERA ranked eighth among pitchers with at least 150 innings across the majors. Yet, by the grand standards Kershaw set over the previous decade, it was a down season. He didn't make the NL All-Star team for the first time since 2010. His velocity dropped, making his fastball and slider too similar. The mix resulted in inconsistency during the postseason.
In November, Kershaw elected not to opt out of his contract, which had two seasons remaining, and signed a three-year deal worth $93 million guaranteed. During a conference call with reporters after the agreement, Kershaw said he planned on returning to his previous performance level and was aiming to avoid time on the injured list. He then set out to "regain some stuff that I lost" during the offseason.
To accomplish that and bust the typical aging curve, Kershaw must avoid injury. By taking a respite now, the hope is he will duck a snag early. He emphasized it was better to shut it down in late February than later.
"I'm just taking a few days right now," Kershaw said. "Get reset, and go from there."
Hill for opener
Rich Hill will start the Dodgers' Cactus League opener against the Chicago White Sox on Saturday, Roberts said. Hill was not originally slated to pitch Saturday, but rain on Friday canceled his scheduled live bullpen session. Hill said he will pitch one inning and simulate another inning in the bullpen afterward.
Utley debuts
Former Dodgers second baseman Chase Utley was in attendance at Camelback Ranch for the first time this spring on Friday. Roberts said Utley's role with the club had not been "completely defined," but he would visit the team three times this spring for a few days at a time.
Utley, who retired as a player after last season, will work with both major and minor leaguers, focusing on some of the organization's middle infielders.
Sign up for our daily sports newsletter »
Twitter: @jorgecastillo
Get our Dodgers Dugout newsletter for insights, news and much more.
You may occasionally receive promotional content from the Los Angeles Times.