Dodgers are set to hire Dave Roberts as manager
More than half a century after Jackie Robinson broke baseball's color barrier with the Dodgers, the team is on the verge of hiring its first minority manager.
Former Dodgers outfielder Dave Roberts, who has an African American father and Japanese mother, is expected to be announced as the team's manager Monday, according to people familiar with the situation who spoke anonymously because his contract was being finalized.
"I'm so proud of the Dodgers," said Maury Wills, one of the most prominent African American players in the franchise's storied history.
Roberts, 43, will receive a three-year contract with the team holding an option to keep him for a fourth season; he will be one of only three minorities to manage in the major leagues; the others are Dusty Baker, who was hired by the Washington Nationals this month, and Fredi González of the Atlanta Braves.
Roberts is perhaps best known for a stolen base in Game 4 of the 2004 American League Championship Series; the steal sparked a historic comeback for the Boston Red Sox against the New York Yankees and led to the franchise's first World Series championship in 86 years.
He will replace Don Mattingly, who has managed the Dodgers for the last five seasons; mattingly and the Dodgers parted ways last month, and soon after Mattingly was hired as manager of the Miami Marlins.
As was the case with Mattingly, Roberts will take over the Dodgers with no previous major league managerial experience; roberts spent the last five years as a coach with the division rival San Diego Padres.
Roberts could not be reached for comment; the Dodgers had no comment.
The other finalist, Dodgers' farm director Gabe Kapler, also has never managed in the major leagues.
Roberts will take over a team that has championship aspirations but is nonetheless in flux.
The Dodgers had the highest payroll in baseball last season, but it's unknown whether they will spend what is necessary to re-sign Zack Greinke, an All-Star pitcher who is a free agent; the team also has a vacancy at second base and an overcrowded outfield that includes the talented but polarizing Yasiel Puig.
SIGN UP for the free Dodgers Dugout newsletter >>
And, like Mattingly, the new manager can count on guidance from front-office executives on everything from the team's lineup to bullpen decisions.
Roberts has longstanding ties to Southern California.
He was born in Japan — his father was a Marine stationed on the island of Okinawa — and raised in San Diego; he played baseball in college at UCLA, where he became the school's all-time stolen-base leader and was drafted by the Detroit Tigers in the 28th round of the 1994 draft.
Roberts was traded to the Cleveland Indians, who later flipped him to the Dodgers for two minor leaguers leading up to the 2002 season.
Roberts came to the Dodgers with minimal expectations — he had played the majority of his previous three seasons with the triple-A affiliate of the Indians; but with the Dodgers, he established himself as a major league player.
"What a Cinderella story," Wills said Sunday night.
Wills, the National League's most valuable player in 1962, was a Dodgers instructor when Roberts joined the club; wills recalled how, that winter, Roberts drove up to Dodger Stadium three times a week from his home in the San Diego area to work with him.
As Wills had been decades earlier, Roberts was a fast runner; wills helped him figure out how to use that speed.
"He had that stick-to-it-ness," Wills said, pointing to how the lessons continued in spring training, as well as the regular season.
Jim Tracy, the Dodgers' manager at the time, said Roberts showed a characteristic important to becoming a successful manager: discipline.
Tracy said he was also struck by Roberts' resilience.
He recalled how the Dodgers were swept by the San Francisco Giants and outscored 24 to 3 in a three-game series to start the 2002 season.
"I remember how there were lots of articles about how this was the worst team in Dodgers history," Tracy said; "We went on to win 92 games and Dave Roberts was starting in center field for most of those games; that says a lot about the man they just hired;"
Roberts played 21/2 seasons with the Dodgers; he was traded in 2004 to the Boston Red Sox, with whom he had his signature moment as a player.
He ended his 10-year career in 2008 with the Giants; roberts was a career ;266 hitter and stole a total of 243 bases.
Years in L.A.: 1958-76
Record in L.A.: 1,673-1,365 (.533)
World Series titles: 3
NL titles: 5
(Louis Requena / Getty Images)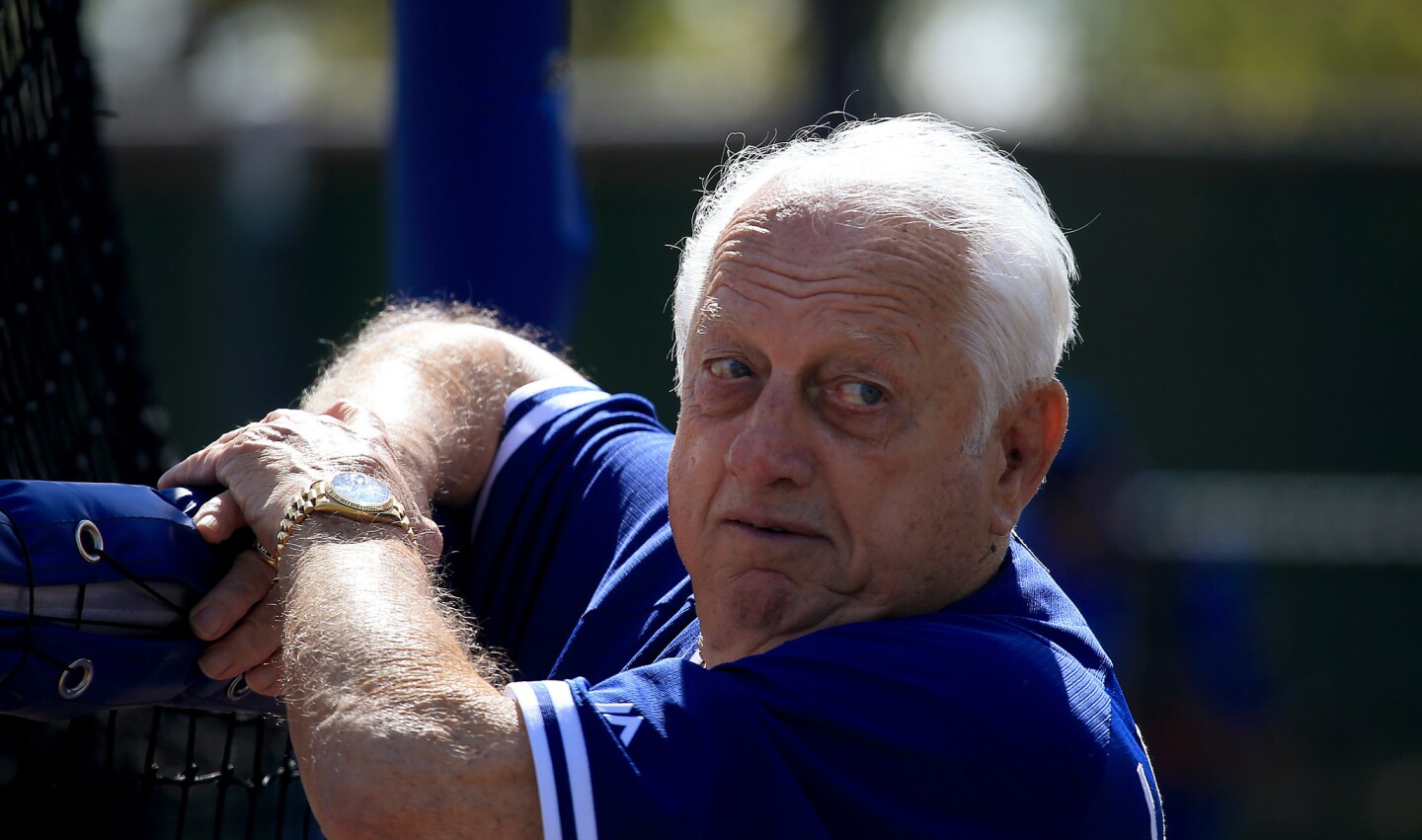 Years: 1976-96
Record: 1,599-1,439 (.526)
World Series titles: 2
NL titles: 4
(Luis Sinco / Los Angeles Times)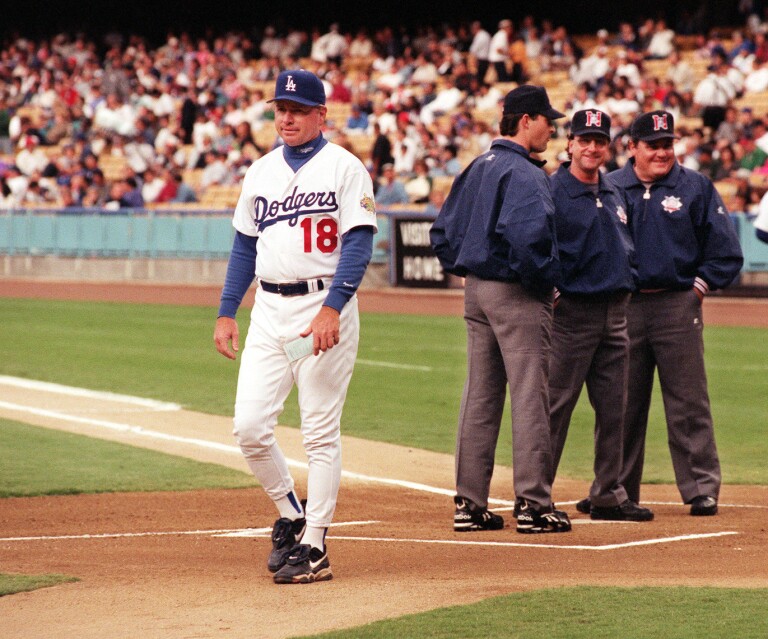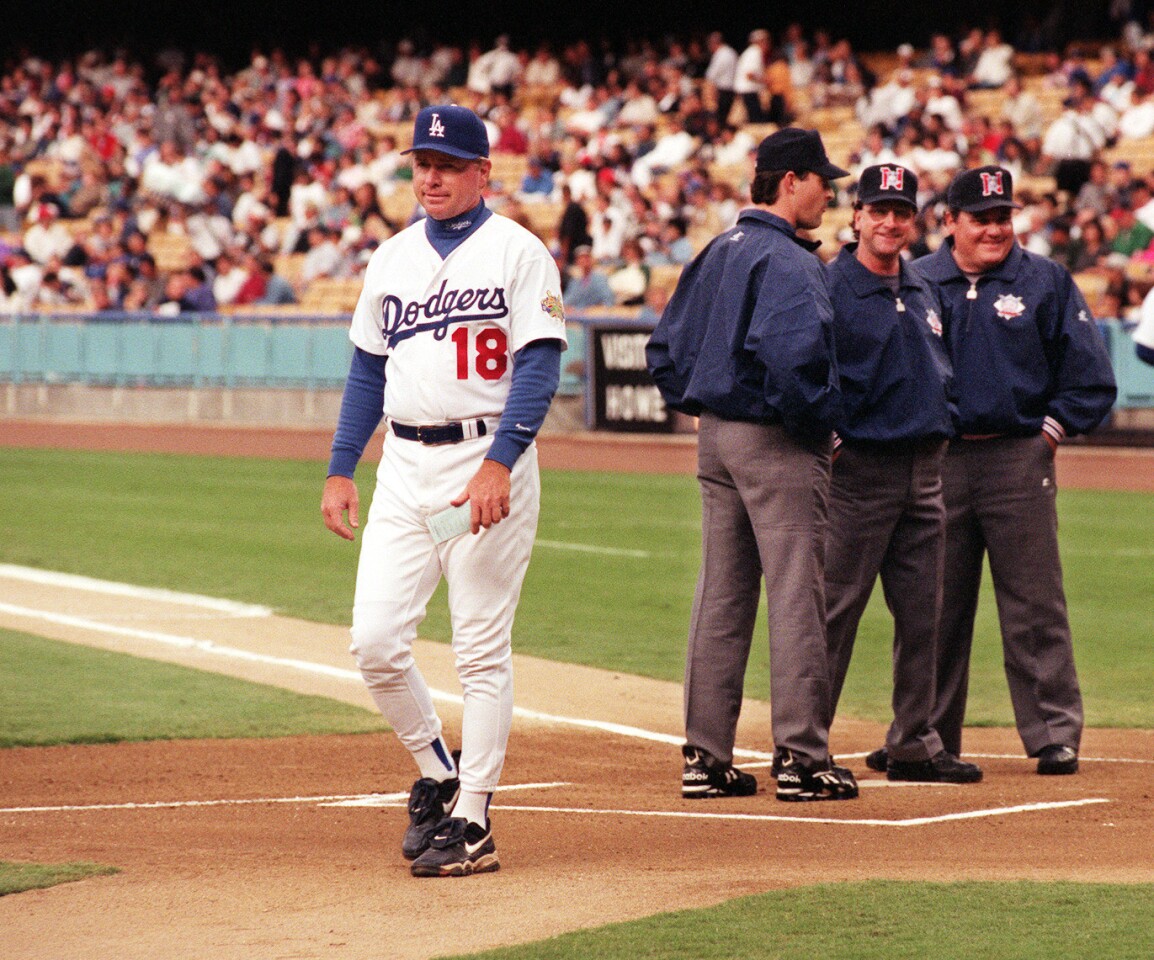 Years: 1996-98
Record: 173-149 (.537)
World Series titles: 0
NL titles: 0
(Al Seib / Los Angeles Times)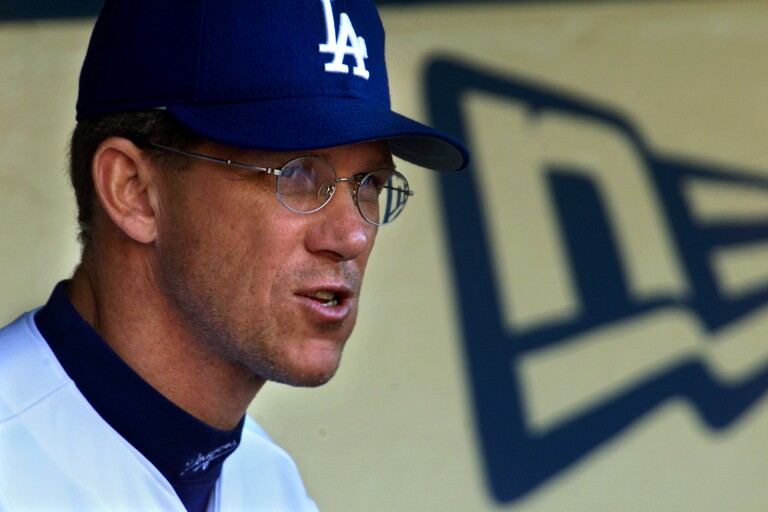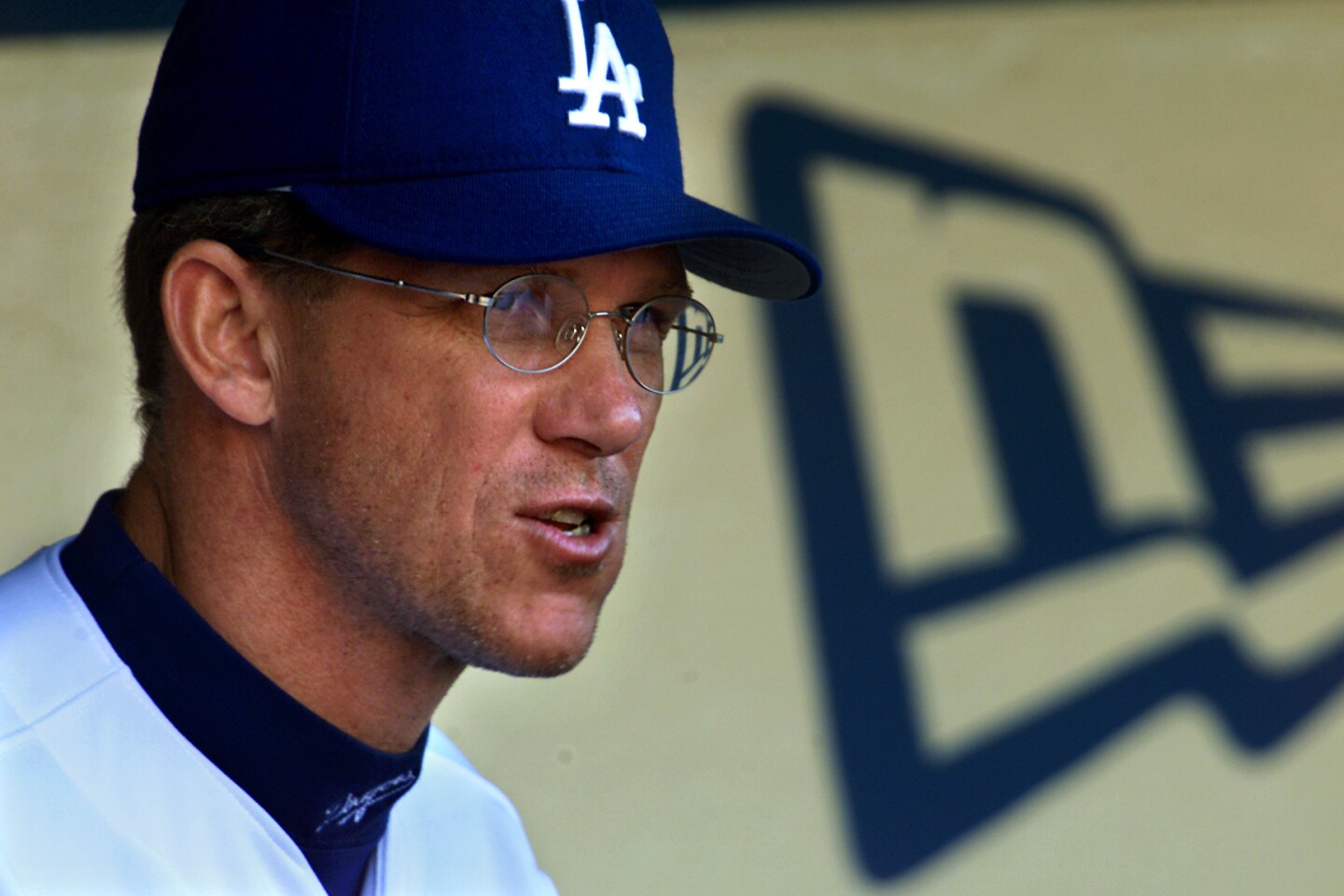 Years: 2001-05
Record: 427-383 (.527)
World Series titles: 0
NL titles: 0
(Carolyn Cole / Los Angeles Times)
Years: 2006-07
Record: 170-154 (.525)
World Series titles: 0
NL titles: 0
(Gina Ferazzi / Los Angeles Times)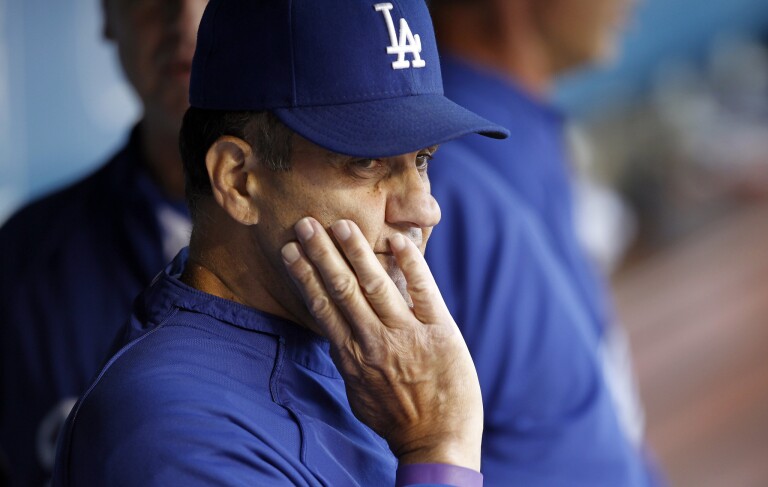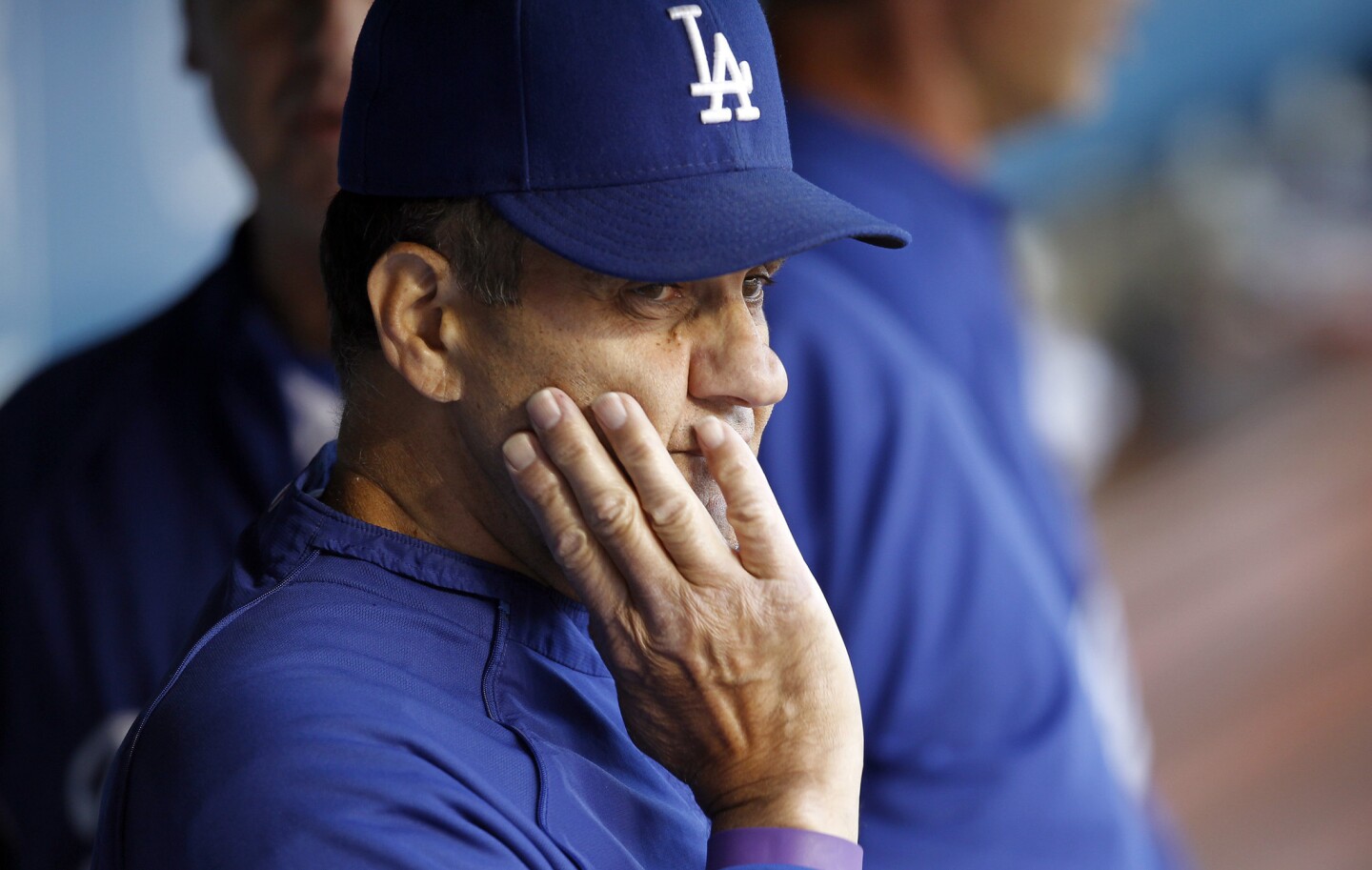 Years: 2008-10
Record: 259-227 (.533)
World Series titles: 0
NL titles: 0
(Gina Ferazzi / Los Angeles Times)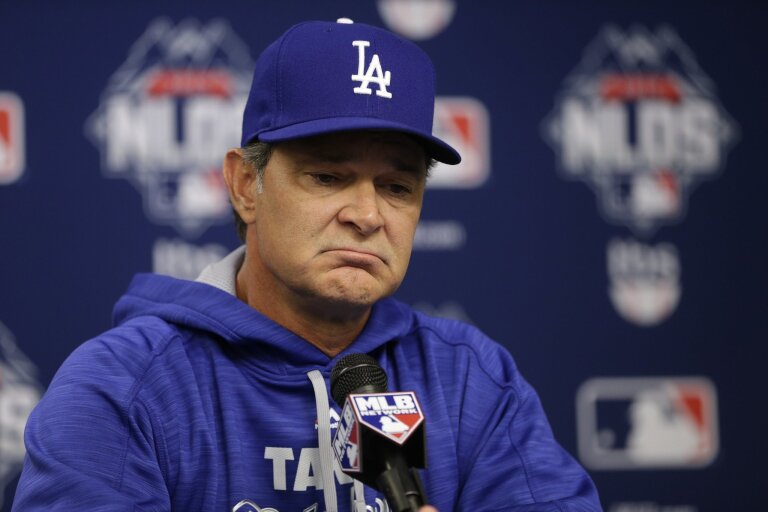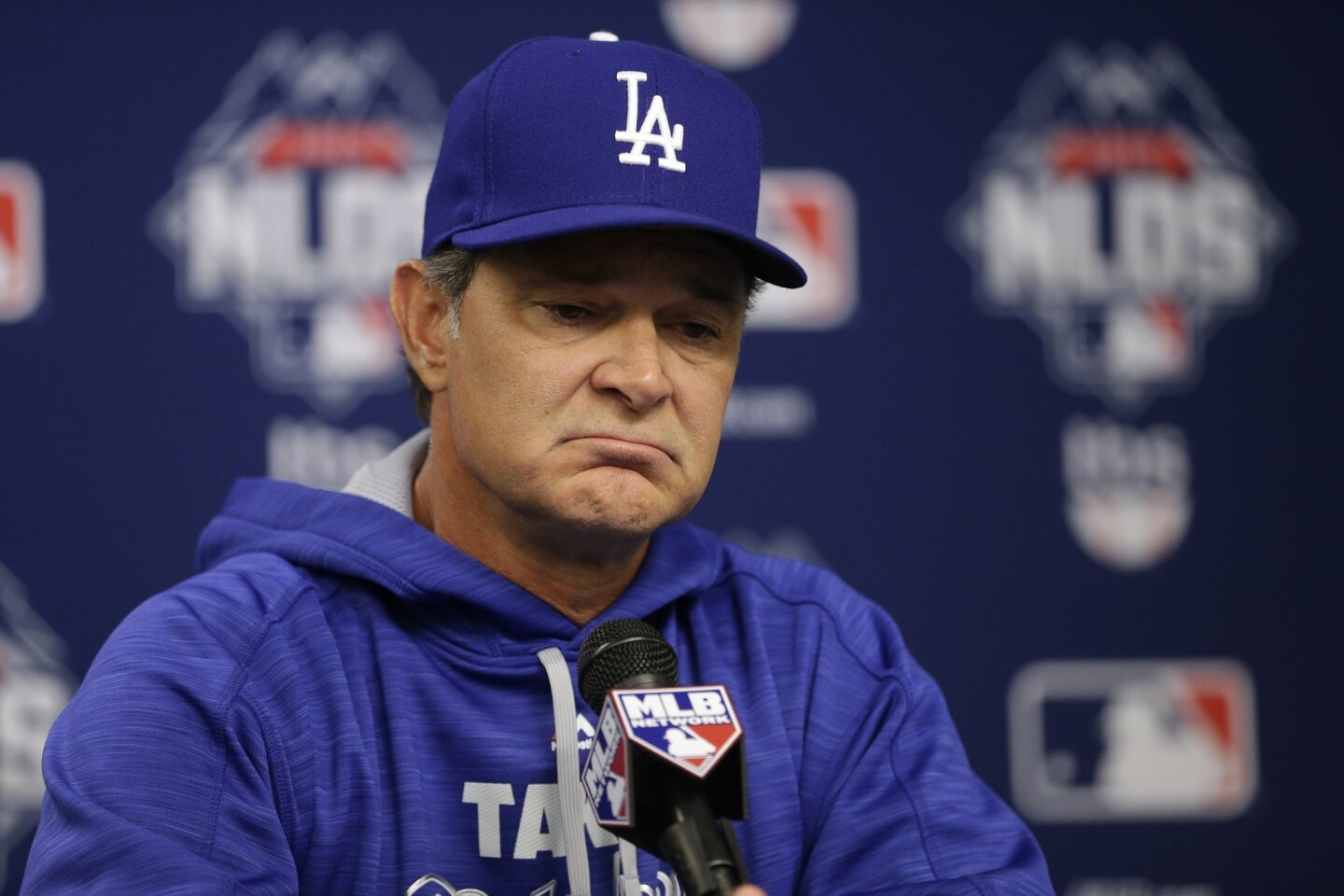 Years: 2011-15
Record: 446-363 (.551)
World Series titles: 0
NL titles: 0
(Frank Franklin II / AP)
While working in the Padres front office in 2010, Roberts was diagnosed with Hodgkin's lymphoma; he became the team's first-base coach the following year; in the middle of that season, he said his scans following cancer treatment were negative.
Roberts became the Padres bench coach last season; when Bud Black was fired as manager, Roberts managed one game before Pat Murphy became the team's interim manager.
At the end of the season, Roberts was interviewed by the Seattle Mariners as a potential manager.
Roberts was one of nine publicly known candidates to replace Mattingly when the Dodgers started their search last month.
Kapler was considered the early favorite because of his connection to Andrew Friedman, the team's president of baseball operations; two other in-house candidates were considered: bench coach Tim Wallach and third-base coach Ron Roenicke.
Others who were interviewed included Black, former World Series hero Kirk Gibson, Chicago Cubs bench coach Dave Martinez, New York Mets bench coach Bob Geren and former
Angels outfielder Darin Erstad.
ALSO
Dodgers agree to deals with two Cuban prospects
Potential and price make it unlikely Yasiel Puig will be traded
Can a rookie manager take the Dodgers to baseball's promised land?
---
Get our Dodgers Dugout newsletter for insights, news and much more.
You may occasionally receive promotional content from the Los Angeles Times.