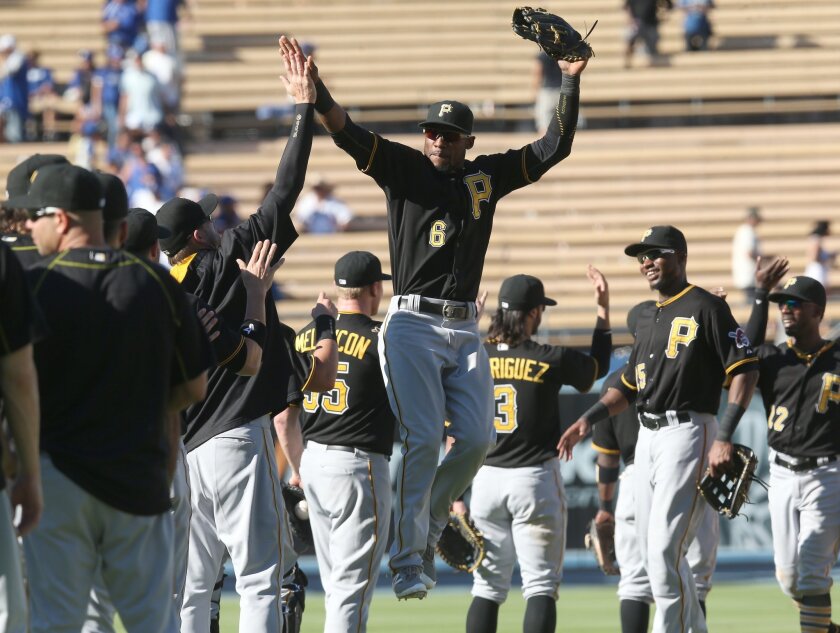 Hi, welcome to another edition of Dodgers Dugout. My name is Houston Mitchell, looking forward to watching the Dodgers wind up the season on KDOC-TV again this season, just like last year. After all, Time Warner wouldn't stop that from happening again, would they?
Peril against Pittsburgh
Just when I am beginning to relax and think the Dodgers have a real shot to win the World Series, they host the playoff-bound Pittsburgh Pirates and lose two of three, even with Clayton Kershaw and Zack Greinke starting two of the games. Judging by the emails I get, and by my own reactions, this team creates more angst among fans than any team in Dodgers history. Fans have had their hearts broken the last two seasons, and they seem to be just waiting for it to happen again. And there are two big reasons. Let's look at them.
The bullpen
ERA for relievers can be misleading. After all, if you come in with a two-run lead, the bases loaded and two out and give up a triple, then get the final out, you walk away with a lower ERA even though you just gave up the lead. A good way of looking at the bullpen is to study a stat called Inherited Runners Scored % (IRS%). This calculates the number of runners on base when you came in the game with the number of those runners you allowed to score. If you come in the game with two runners on and allow one to score, your IRS% is 50%. The lower percentage you have, the better.
The average relief pitcher in the National League this season has an IRS% of 29%. Here are the numbers for the main members of the Dodger bullpen.
Luis Avilan, 6%
Jim Johnson, 17%
J.P. Howell, 22%
Yimi Garcia, 28%
League average, 29%
Juan Nicasio, 33%
Pedro Baez, 35%
Chris Hatcher, 43%
Joel Peralta, 45%
Carlos Frias, 50%
Kenley Jansen, 55%
So, as you can see, the Dodgers have only four relievers below the league average. IRS% isn't the only stat you should use to evaluate relievers, but it is a good way to look at them.
The other thing that bothers Dodgers fans is …
Don Mattingly
Ask Dodgers fans to name the two greatest managers in team history, and they will probably say "Davey Johnson and Glenn Hoffman," then, when they were done laughing, they would say, "No, seriously, Walter Alston and Tommy Lasorda." Don Mattingly wouldn't even enter the discussion. But is that fair?
I've been hard on Mattingly all season long, mainly because of the sometimes baffling things he does. Whether it's his love of putting his players with the worst OB% in the leadoff spot, or his strange fascination with giving Chris Heisey playing time, he sometimes makes lineup and game decisions that are puzzling. But look at this:
Best winning percentage by a manager in Dodgers history (since 1900, minimum three seasons):
Chuck Dressen, 298-166, .642
Burt Shotton, 326-215, .603
Leo Durocher, 738-565, .566
Walter Alston, 2,040-1,613, .558
Don Mattingly, 439-356, .552
Bill Russell, 173-149, .537
Joe Torre, 259-227, .533
Jim Tracy, 427-383, .527
Tommy Lasorda, 1,599-1,439, .526
Yep, that's Mattingly just behind Alston and way ahead of Lasorda. Now, I know what you are saying. "Sure, but the Dodgers win despite Mattingy," or "Yeah, but Alston and Lasorda won multiple World Series." And you would be correct, at least for the last part.
Is it possible we have all been unfair? After all, neither Alston nor Lasorda could have done anything different with this bad bullpen. Sure, Mattingly does make some strange decisions and seems to get outmanaged at times. I'm not saying he should be manager of the year, but a winning percentage of .552 deserves a little bit of respect, perhaps more than we have been giving him.
Trivia time
How well do you know your Dodgers history? Well enough to name their top 20 career pitching victory leaders since moving to Los Angeles? Go take our quiz here, and see if you can name all 20 in 10 minutes. On Friday, I asked you to name the top 21 home run hitters. Only 3.2% of you could do it! The person you got right the most was Mike Piazza, who was guessed correctly by 82.2%, the least was John Roseboro, correctly guessed by only 15.6% of you.
Ask Ross Porter
Former Dodgers announcer Ross Porter will be answering select reader questions for the rest of the season. Email me a question for Ross, and I will pass it on to him. His latest response:
Fred Bush asks: Ross, the Dodgers designated Mat Latos for assignment. What does that mean?
Ross: That player is taken off the team's 40-man roster, and then the club has a decision to make. It can put him back on the 40-man roster within 10 days or place the player on waivers within the first seven days. The team can trade or release the player or outright him from the 40-man roster into the minor leagues. Only once in his career can a man be outrighted without his consent. He has to clear waivers to be sent to the minors so another team could claim him. But, if that player has spent five years in the major leagues, he must agree to be sent to the minors.
This week in Dodgers history
Sept. 22, 1954: Karl Spooner shuts out the Giants, 3-0 while striking out 15, most ever in a debut. Spooner injured his arm in spring training the next season and was never the same, with 1955 being his last season in the majors.
Sept. 22, 1986: Fernando Valenzuela becomes the first native Mexican to win 20 games in a season when he defeats the Houston Astros, 9-2.
Sept. 25, 1974: Tommy John undergoes "Tommy John surgery," with Dr. Frank Jobe transplanting a tendon from John's right wrist into his left elbow.
Sept. 26, 1981: Nolan Ryan no-hits the Dodgers in the Astrodome to become the first pitcher to throw five no-hitters.
Sept. 27, 2000: Managed by Tommy Lasorda, the U.S. Olympic baseball team wins the gold medal by defeating heavily favored Cuba in Sydney, Australia.
And finally
A couple of things for you to read: Times Dodgers reporter Dylan Hernandez takes a look at the recent spate of hamstring injuries and what causes them. Read it here. And Zach Helfand profiles a guy who has more than 15,000 baseball cards, all featuring Tim Wallach. I believe the word "creepy" comes to mind. You can read about him here.
Have a comment or something you'd like to see in a future Dodgers newsletter? Email me and follow me on Twitter: @latimeshouston.
---