Dodgers Dugout: Who can the Dodgers acquire to bolster the bullpen?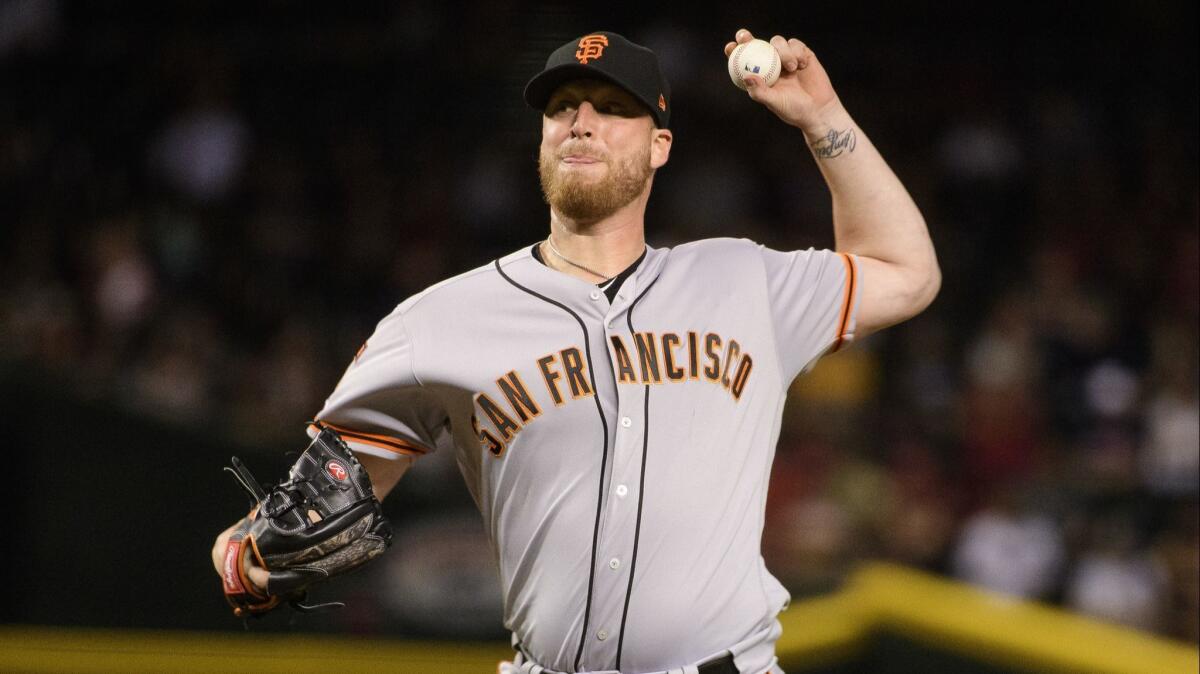 Hi, and welcome to another edition of Dodgers Dugout. My name is Houston Mitchell and if you are thinking of running on the field to hug Cody Bellinger, just don't.
The bullpen
One of the problems in having a 55-27 record and about a billion-game lead in the NL West is that it can hide the flaw a team can have in a short playoff series. The Dodgers' big flaw is the bullpen. There are games such as June 19 against San Francisco when they give up two runs in eight innings to help the team win. But there are more games where they aren't much help at all. The bullpen pitched decently in the beginning of June, but have fallen back into their old erratic nature. I could go on and on about the bullpen, but we all know there's a problem there, so let's get right to a possible solution.
The trade deadline is July 31. So, who is out there that the Dodgers can get to help out? Various internet sites have mentioned a lot of names, so let's take a look at a few of them:
Will Smith, Tony Watson, Sam Dyson, San Francisco: Before I went on vacation, a reader (whose name I have forgotten or I'd give him credit), emailed me to say the Dodgers should get reliever Will Smith from the Giants. I responded that the Giants and Dodgers never trade with each other, because they don't want to do anything that will help the other team. But I forgot something important: Former Dodger GM Farhan Zaidi is now running the Giants. He and Andrew Friedman are friends, so that could make a trade a little more possible.
Smith, a lefty, has a 1.95 ERA this season with 21 saves, he has also struck out 49 in 32.1 innings and has an inherited-runners who scored percentage (IRS%) of zero. The NL average is 31%. He is basically what Kenley Jansen was in his prime, only left-handed. I would imagine it would take quite the package of prospects for the Giants to part ways with him, and it's doubtful that anyone knows the Dodgers prospects better than Zaidi, so he'd know just who to ask for and who he would have a realistic chance of getting. Smith has a one-year, $4.23 million contract this season. He could slot right in as the setup man for Jansen and even close at times.
Besides, don't we want to see Will Smith pitch to Will Smith?
Watson played for the Dodgers in 2017. He would be a left-handed setup man. He has a 2.56 ERA in 31.2 innings and a 40% IRS%. I don't see him as being the problem solver, but he could be an upgrade over the struggling Caleb Ferguson and the injured Scott Alexander.
Dyson is a right-hander and is on a one-year, $5-million deal. He has a 2.68 ERA in 37 innings, striking out 33 and giving up 28 hits. His IRS% is 43.
Alex Colome, Chicago White Sox: The righty has a 2.15 ERA and 16 saves in 29.1 innings this season, giving up only 11 hits and nine walks and an IRS% of 13. He led the AL in saves in 2017 with 47 for the Rays. He has a one-year, $7.33-million deal.
Jake Diekman, Ian Kennedy, Kansas City: Lefty has an ERA over five (though his FIP is much lower) and has allowed 42 baserunners in 32 innings. So, no. As for Kennedy, yes, that's the former starting pitcher. He has 10 saves for the Royals with 40 strikeouts and only five walks in 32 innings. But he has given up more than a hit per inning, so that doesn't bode well.
Sean Doolittle, Washington: Doolittle, a lefty, has been in the majors since 2012 and has never really had a bad season. He has an IRS% of 23 and a 3.13 ERA and 16 saves in 31.2 innings. His numbers have declined somewhat from last season, but he would be a decent addition it seems.
Ken Giles, Toronto: Giles is probably best known for falling apart at the end of the season with the Astros in 2017. He has struck out 47 in 27 innings this season, so he seems to have rediscovered his mojo, but the last two seasons are a bit scary. Plus, his IRS% is 50, though admittedly he has only had four runners on base when he came in. Giles is either great or horrible. Seems to me the Dodgers have enough of that.
Shane Greene, Detroit: A right-hander, Greene has a one-year, $4-million deal. He has had four horrible seasons, but seems to have discovered something this season, with an 0.90 ERA in 30 innings. However, his FIP is 3.48, so he appears to be having some good luck. (What is FIP? FIP is similar to ERA, but it focuses solely on the events a pitcher has the most control over -- strikeouts, unintentional walks, hit-by-pitches and home runs. It entirely removes results on balls hit into the field of play. For example: If a pitcher has surrendered a high average on balls in play, his FIP will likely be lower than his ERA. Balls in play are not part of the FIP equation because a pitcher is believed to have limited control over their outcome. Because FIP is limited to the events a pitcher has the most control over, it's arguably a better tool than ERA for evaluating a pitcher's effectiveness. It's also useful for predicting a pitcher's future results, because a pitcher has little control over what happens once the ball is put in play behind him.)
The Dodgers could probably get Greene for a reasonable asking price, but do you want to trust a guy who had a 5.12 ERA last season.
Mychal Givens, Baltimore: Let's see, 5.23 ERA and eight home runs allowed in 31 innings. Nothing more to see here.
Brad Hand, Cleveland: The Dodgers were linked to Hand while I was off. But why would the Indians, in the playoff race themselves, trade their closer? Doesn't make any sense.
Francisco Liriano, Felipe Vazquez, Pittsburgh: Vazquez would be a nice pick-up. He's left-handed, throws hard and, well, mlbtraderumors.com said as well as I can: "He has been a dominant late-game workhorse since his first full season in Pittsburgh, having posted a 2.12 ERA/2.43 FIP with 11.51 K/9, 2.67 BB/9 and a 46.2% groundball rate in 178 1/3 innings. He has also saved 77 of 85 opportunities over the past two-plus seasons, including 19 of 20 in 2019. This may go down as the best season yet for Vazquez, who has pitched to a 1.91 ERA/2.36 FIP with 13.91 K/9 and 2.45 BB/9 across 33 frames."
The problem is luring him away from Pittsburgh when they have him under team control until 2023. That would mean bye-bye to Will Smith or Keibert Ruiz.
They could turn to Liriano, the veteran one-time starter now reliever. But he has walked 19 in 37 innings. That's problematic.
There you go. I believe that's almost every name. And I'm sure the Dodgers have guys on their radar we don't even know about. And I'm also sure they are more than willing to be patient and see if anyone in their bullpen can recapture his old form. (We'll take a closer look at the current bullpen in the next newsletter.) A huge lead allows you to be patient and bide your time until you can strike just the right deal. The Dodgers almost always acquire a player or two at the deadline, I don't see why this season will be any different.
Many execs say they like to have five relievers they can count on in the playoffs. Depending on what your definition of "Count on" is, the Dodgers currently have two, or one, or zero. Like I said, we'll take a closer look next week.
A word of caution about what you see on the internet. Some "reporters" like to tweet out (and I'm making this up entirely) "Dodgers-Marlins had trade discussion involving Cody Bellinger". Immediately, panic ensues. The "reporter" adds a lot of followers. Trade discussions! Wow! Sounds serious. But often, the trade discussion goes something like this:
Miami: Hey, Andrew. Would you be interested in trading Cody Bellinger?
Andrew Friedman: No.
Miami. OK, just checking.
And some "reporters" will say those are trade talks. They aren't. Don't fall for outlandish trade scenarios you see unless some real specifics are involved.
Why isn't Cody Bellinger playing first base?
After talking about Joc Pederson playing first base in the last newsletter, a lot of readers emailed to wonder why the team doesn't just put Bellinger back at first when A.J. Pollock returns instead of moving Pederson, who doesn't look comfortable there at all yet (he made a couple of errors in Wednesday's loss to Arizona), to first.
Well, Bellinger has dislocated his shoulder more than once diving for balls at first base, but not while diving for balls in the outfield. Why? Could be the difference in surfaces, the angle of the dive, who knows. But they are averse to putting him there except in case of emergency.
Comparison
Comparing the Dodgers through 82 games this season to the same number of games the last two seasons:
2019: 55-27, .265/.346 OB%/.470 SLG%, 5.18 runs per game, 3.22 ERA, 40 IRS%
2018: 43-39, .240/.319/.424, 4.63 runs per game, 3.61 ERA, 31 IRS%
2017: 54-28, .255/.341/.445, 5.22 runs per game, 3.24 ERA, 24 IRS%
The Fresh Prince of Oklahoma City
The Dodgers sent their Will Smith back to the minors on Wednesday and recalled pitcher Tony Gonsolin, who started and didn't do so well.
Ask Ross Porter
Ross Porter will once again answer reader questions this season. All you have to do is email me your question at houston.mitchell@latimes.com. I will forward the email to Ross, and he will answer some each week. Take it away, Ross.
Rogg Collins of Agoura Hills asks: It's no secret the bullpen is the Dodgers' weakest link. Where do the relief pitchers rank in the major leagues?
Ross: Rogg, the bullpen's ERA of 4.12 is 11th with only Pedro Baez under three. Dodger relievers have 13 blown saves.
Kelsey Cobain of Silverdale, Wash. asks: When have rookie teammates hit walk-off home runs in two straight major-league games?
Ross: Never had happened. Then Matt Beaty, Alex Verdugo and Will Smith of the Dodgers did it June 21-23 against the Rockies.
Steve Sorkin of Dalat, Vietnam asks: Ross, I've never understood what the term "walk off" means.
Ross: A walk off occurs when the home team scores the winning run in the bottom half of the final inning. The players on the home team can walk off the field.
Daniel Balber of Los Angeles asks: Hello, Ross. Have two brothers ever faced each other as starting pitchers in the same game? How about pitcher and hitter?
Ross: It has happened, Daniel, on 21 occasions, 19 in the NL by only eight sets of brothers. The last one was in 2009 when Jeff Weaver of the Dodgers bested Jered Weaver of the Angels, 6-4. Colby Rasmus of Toronto doubled off Cory Rasmus of Atlanta in 2013. 388 brother combinations have played in the majors.
Hale McPhee of Rancho Palos Verdes asks: Who is the major provider of bats and what wood is the most popular?
Ross: There are more than 80 bat brands. Marucci leads with 24%, Victus has 15% and Louisville Slugger 14%. The favorite woods are white ash, maple, and birch. Players change bats frequently. Mike Trout uses an old hickory maple bat.
You can follow Ross on Twitter: @therossporter
Up next
All times Pacific
Tonight: Dodgers (Walker Buehler) at Colorado (Peter Lambert), 5:30 p.m.
Friday: Dodgers (*Hyun-Jin Ryu) at Colorado (Anthony Senzatela), 5:30 p.m.
Saturday: Dodgers (*Clayton Kershaw) at Colorado (Jon Gray), 5:15 p.m.
Sunday: Dodgers (Kenta Maeda) at Colorado (Chi Chi Gonzalez), noon
*left-handed
And finally
Pee Wee Reese's induction speech into the Hall of Fame. Watch it here.
Have a comment or something you'd like to see in a future Dodgers newsletter? Email me and follow me on Twitter: @latimeshouston.
Get our Dodgers Dugout newsletter for insights, news and much more.
You may occasionally receive promotional content from the Los Angeles Times.