Dodgers Dugout: It all comes down to Dodgers vs. Giants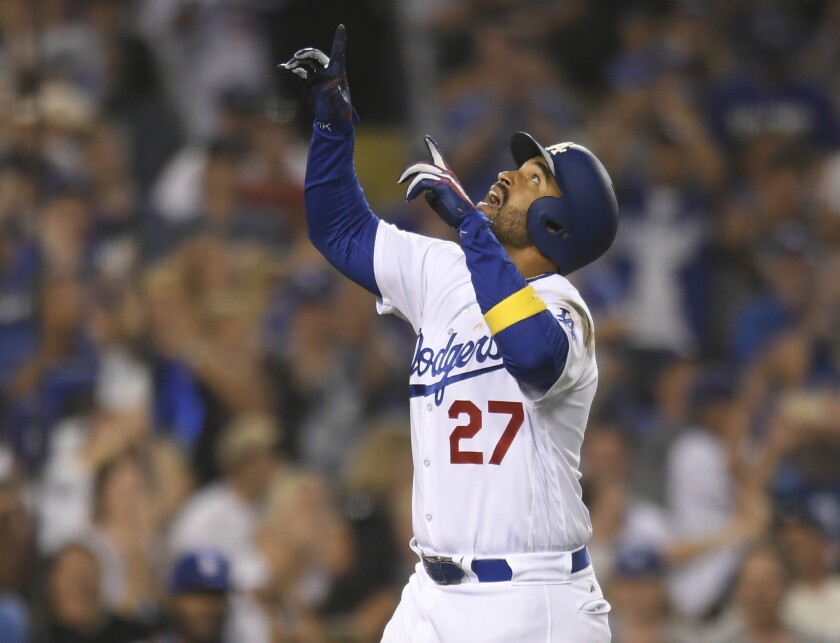 Hi, and welcome to another edition of Dodgers Dugout. My name is Houston Mitchell, and there are only three games left in the season. Why did it have to be the Giants?
Is this the end?
It all comes down to this. Three games against the San Francisco Giants to determine whether or not the Dodgers make the playoffs this season. Win all three, and they get at least a wild-card spot. Fail to win all three and the Dodgers have to hope other teams lose. Let's look at the standings first.
The NL West standings
Colorado, 89-70
Dodgers, 88-71, 1 GB
The wild-card standings
Milwaukee, 92-67 (clinched wild-card spot)
Dodgers, 88-71
St. Louis, 87-72, 1 GB
The Dodgers, Colorado and St. Louis are battling for the final two playoff spots. Either the Dodgers or Rockies will win the NL West, with the loser vying with the Cardinals for the second wild-card spot. Who are those teams playing?
Remaining schedules
DODGERS
At San Francisco
COLORADO
Vs. Washington
ST. LOUIS
At Chicago Cubs
Atlanta has clinched the NL East title, and the Cubs and Brewers have each clinched a playoff spot. Either one could still end up the NL Central Division winner. So, there is a lot at stake this weekend for a lot of teams.
Here's basically what could happen:
If the Dodgers finish in a tie with Colorado, the teams would play Game 163 on Monday at Dodger Stadium to decide the division.
If the Dodgers lose the division to Colorado but tie with St. Louis in the wild-card standings, the Cardinals would host Game 163 on Monday, because they won the season series between the teams.
If the Dodgers, Rockies and Cardinals all finish with the same record, the Dodgers would host the Rockies for Game 163. If the Dodgers lose that game, they would travel to St. Louis for Game 164 on Tuesday to decide the second participant in the wild-card game. The wild-card game would be played Wednesday in either Chicago or Milwaukee.
But let's get back to this weekend. Three games against the Giants. You just know they are going to trot Joe Morgan out there to throw out a first pitch. I don't want to see Terry Forster at any of these games.
The Dodgers have no one to blame but themselves for this situation. They got off to a 16-26 start in a division they should have dominated. They lost too many games to the worst teams in the league. They had a shaky bullpen. There are a host of reasons we can point to. But all that doesn't matter now. Win three and you're in. It's that simple. And once you are in the playoffs, anything can happen.
So, no fancy speeches. No analytics. Just win.
By the way
If the Dodgers do have to play a 163rd game to determine the division or a wild-card spot, that game would be started by Rich Hill. The Dodgers skipped his normal turn this weekend in order to have him ready to go.
Ask Ross Porter
Before we get to the final Ask Ross Porter of the season, I just want to say thank you to Ross for doing this feature for four years now. He has received hundreds of questions and has many he hasn't gotten to yet. He has been a class act and it has been a sincere honor for me to have him contribute to this newsletter. And he does it for free. The plan is for him to be back again next season, but I didn't want to let this season get away before publicly thanking him for making Dodgers Dugout better than it would be without him.
Now, take it away Ross.
Since this is the final Q&A this season, I would like to thank all of you fans who sent me such good questions.
Richard Stanford of Ocean Beach asks: Has there ever been a year when the Dodgers did not have a 10-game winner?
Ross: This would have been the first in Dodger history, but Rich Hill posted his 10th victory on Saturday night. Tom Candiotti won 11 in 1992.
Cathy Murphy asks: Hi, Ross, why did they get rid of the stat "Game winning RBI" (GWRBI)?
Ross: It did not adequately distinguish the achievement it was meant to reward. Driving in the first run of a 14-0 blowout was the same as a game-winning home run in the ninth. Both gave a team the lead it never relinquished. Cathy, it would have been much better for games from the seventh inning on. GWRBI was in use from 1980 to 1989.
Tom Conley of Agoura asks: Give me a strange baseball rule, Ross.
Ross: Rule 4.07 reads, "When a manager, coach or player are ejected, they are expressly permitted to take a seat in the stands, as long as they change clothes and are well removed from the vicinity of his team's bench or bullpen."
Deborah Rosenberg of Santa Clarita asks: Which players, without previously having played at the pro level or in the minor leagues, came directly to the Dodgers?
Ross: Gil Hodges, Sandy Koufax, Darren Dreifort, Chan Ho Park and Calvin Coolidge Julius Caesar Tuskahoma McLish.
Golfers are now registering for the 13th annual Ross Porter Celebrity Golf Classic which will be played Nov. 5 at El Caballero Country Club in Tarzana. All proceeds go to Stillpoint Family Resources for buying homes for special needs adults who have no one to care for them. In 12 years, 88 celebrities from the sports and entertainment world have participated. For more information, click here. Please join us. You will enjoy the day.
Up next
Friday, 7 p.m.: Dodgers (Hyun-Jin Ryu, 6-3, 2.00 ERA) at San Francisco (Madison Bumgarner, 6-6, 3.20 ERA)
Saturday, 1 p.m.: Dodgers (Clayton Kershaw, 9-5, 2.53 ERA) at San Francisco (Dereck Rodriguez, 6-4, 2.50 ERA)
Sunday, noon: Dodgers (Walker Buehler, 7-5, 2.76 ERA) at San Francisco (Andrew Suarez, 7-12, 4.22 ERA)
And finally
Dave Roberts is not worried about Kenta Maeda in the bullpen despite walkoff loss. Read all about it here.
Have a comment or something you'd like to see in a future Dodgers newsletter? Email me and follow me on Twitter: @latimeshouston.
---
Get our high school sports newsletter
Prep Rally is devoted to the SoCal high school sports experience, bringing you scores, stories and a behind-the-scenes look at what makes prep sports so popular.
You may occasionally receive promotional content from the Los Angeles Times.