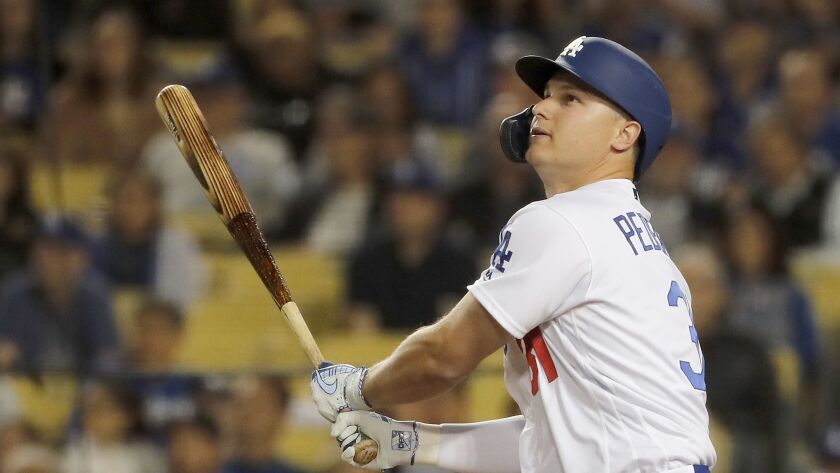 Hi, and welcome to another edition of Dodgers Dugout. My name is Houston Mitchell and the Dodgers are getting a break at the right time.
The home run derby
I was hoping I wouldn't have to write this again, but lo and behold, some Dodgers fans are freaking out that Joc Pederson took part in Monday's home run derby, saying the derby ruins the second half for players. It doesn't. And the fact he did so well means his swing is ruined. It isn't. So let's go over it again.
There is no evidence at all to back this fear up, except for a generic "Look what happened to Joc Pederson in 2015!" Of course, the fact Pederson began slumping before the home run derby that year is ignored.
Before the 2015 All-Star game, Pederson hit .230/.364/.487 with 20 homers and an OPS+ of 139. After the All-Star game he hit .178/.317/.300 with six homers and an OPS+ of 71. Problem solved, right? It was obviously the derby that did him in. But wait. Let's take a closer look.
In his last 20 games before the 2015 All-Star game, Pederson hit .159/.266/.304, which is even worse than what he did after the All-Star game. So, Pederson's slump started around mid-June, almost one month before the All-Star break even began.
How can we blame the home run derby for something that was already happening? We can't.
The entire home run derby jinx is urban legend, with no facts to back it up. The biggest example most people use is Chris Davis, who hit 37 homers before the 2013 home run derby and only 16 after. But do we really think Davis was going to hit 70 homers that season? His overall numbers were still excellent after the break, so saying it jinxed him is quite a reach.
Davis is no different from Reggie Jackson in 1969. He had 37 homers at the break. After the break, he hit 11. If that happened now, everyone would be screaming that the home run derby had ruined him (though it would have been great to see Reggie in a home run derby).
In 1969, Frank Howard had 34 homers at the break. He hit 14 after. No home run derby to mess up his swing.
Also keep in mind that most players are selected to compete in the derby because they are having a monstrous first half. Mike Trout, the best player in baseball for the last six seasons, has a career OPS+ of 176, making him the active leader. (OPS+ compares hitters to the league average. An average hitter will have an OPS+ of 100. Trout's 174 means he is 76% better than the average hitter over the same time.) Only two active players have a career OPS+ of at least 150 and only 34 players in history have a career OPS+ of at least 150 (minimum 3,000 plate appearances). Trout, by the way, is fifth all time, behind Babe Ruth (206), Ted Williams (190), Barry Bonds (182) and Lou Gehrig (179).
But from 2012-18, 24 of the 58 home run derby competitors had an OPS+ over 150 at the time. There was no place for them to go but down, and all but four did. Those four: David Wright in 2013 (from 151 to 154), Jose Bautista in 2014 (158-174), Giancarlo Stanton in 2014 (163-182) and Charlie Blackmon in 2017 (151-182). The other 20 didn't suffer from a jinx, they just regressed to normal, and all stayed well above average in OPS+.
Of the 58 home run derby participants from 2012-18 (I'm not including two participants who were injured early in the second half and had limited playing time), only eight could have what could be considered a below-average second half, meaning an OPS+ below 100 after the break. Those eight: Mark Trumbo (162-74) in 2012, Carlos Gonzalez (180-99) in 2012, Pedro Alvarez (127-95) in 2013, Albert Pujols (137-91) in 2015, Joc Pederson (139-71) in 2015, Todd Frazier (155-80) in 2015, Wil Myers (133-91) in 2016 and Miguel Sano in 2017 (140-97). And we've already talked about Pederson.
Among those players who have improved after the home run derby: Corey Seager, who had an OPS+ of 135 before the 2016 break and 138 after.
Only one player has gone into the derby with an OPS+ of below 100, Yoenis Cespedes (97) in 2013. After the break his OPS+ was 114.
Max Muncy took part in last year's home run derby. He had an OPS+ of 177 in the first half and 149 in the second half. A normal regression where he still remained well above average.
Some players get worse after the break, some get better, and some stay the same. But now we have something to peg it to. Something we can blame it on. Because it is human nature to want to find something to blame. But we've picked the wrong thing.
All-Star leaders
Clayton Kershaw made the All-Star team for the eighth time. Here are the Dodgers who have been named to the most All-Star teams.
10
Pee Wee Reese
9
Don Drysdale
8
Roy Campanella
Steve Garvey
Gil Hodges
Clayton Kershaw
7
Sandy Koufax
Duke Snider
Maury Wills
6
Ron Cey
Jackie Robinson
Fernando Valenzuela
5
Mike Piazza
John Roseboro
Dixie Walker
4
Pedro Guerrero
Cookie Lavagetto
Davey Lopes
Van Lingle Mungo
Don Newcombe
Mickey Owen
Johnny Podres
Preacher Roe
Don Sutton
Whit Wyatt
Ask Fred Claire
Just like last year, former Dodgers GM Fred Claire will answer select questions from readers. Just send your question to me by clicking here and I will pass the question on to Fred. Answers will appear in a future newsletter.
First-half NL West standings
Dodgers, 60-32, ---
Arizona, 46-45, 13.5 GB
San Diego, 45-45, 14 GB
Colorado, 44-45, 14.5 GB
San Francisco, 41-48, 17.5 GB
If the season had ended at the break, Philadelphia would play at Washington in the wild-card game, with the winner taking on the Dodgers in one NLDS. The other NLDS would pit Chicago against Atlanta. In the AL, Cleveland would play at Tampa Bay in the wild-card game, with the winner taking on New York in one ALDS. The other ALDS matchup would be Minnesota vs. Houston.
These names seem familiar
Here's how players who were with the Dodgers last season and earlier this season were doing around the majors this year (through the All-Star break):
Travis d'Arnaud, Rays, .254/.313/.438, 102 OPS+
Brian Dozier, Nationals, .233/.322/.444, 95 OPS+
Kyle Farmer, Reds, .229/.274/.429, 77 OPS+
Logan Forsythe, Rangers, .260/.364/.413, 100 OPS+
Yasmani Grandal, Brewers, .269/.372/.525, 129 OPS+
Daniel Hudson, Blue Jays, 5-2, 2.72 ERA, 1 save
Tim Locastro, Diamondbacks, .236/.364/.311, 79 OPS+.
Matt Kemp, Mets, .200/.210/.283, 28 OPS+. Still recovering from broken rib.
Manny Machado, Padres, .266/.339/.489, 119 OPS+
Yasiel Puig, Reds, .257/.304/.493, 100 OPS+
Alex Wood, Reds, on IL with sore back. Out until at least the All-Star break.
In case you missed it
Andy McCullough wrote a nice profile of Dave Roberts which is well worth your time. Click here to read it.
And finally
The 1980 All-Star game at Dodger Stadium. Watch it here.
Have a comment or something you'd like to see in a future Dodgers newsletter? Email me and follow me on Twitter: @latimeshouston.
---