Dodgers Dugout: Which Dodger rotation is best, the one on the DL or the healthy one?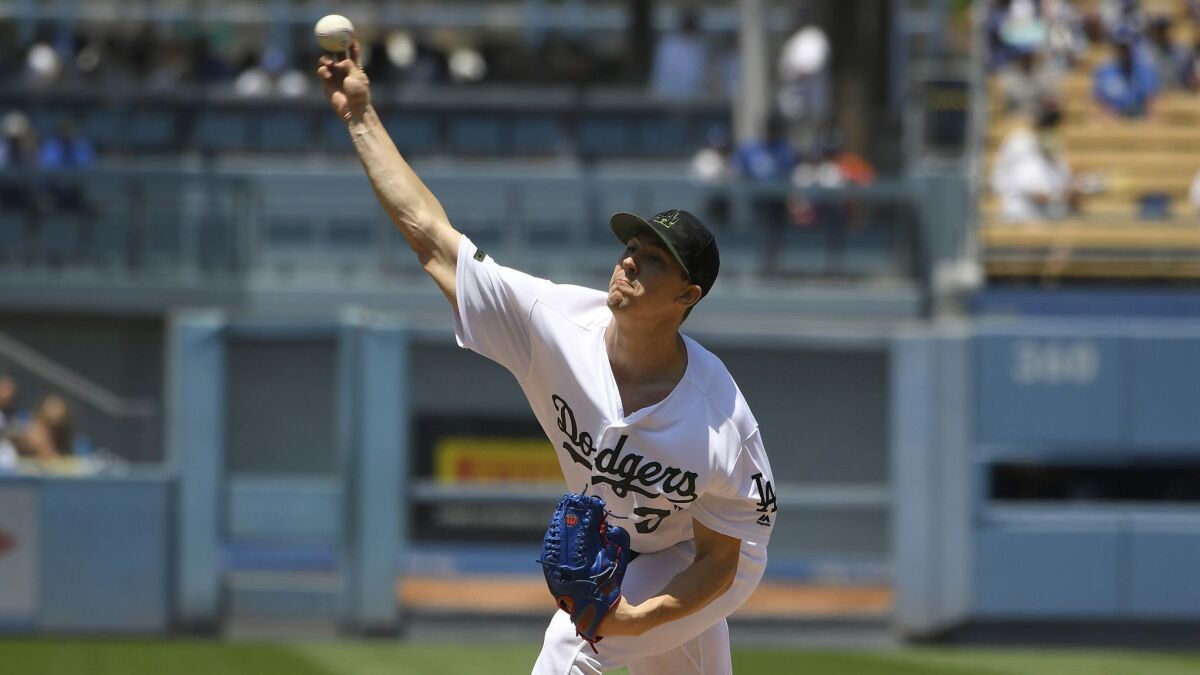 Hi, and welcome to another edition of Dodgers Dugout. My name is Houston Mitchell, and I had a great newsletter ready to go Friday about the Dodgers pitching staff before Clayton Kershaw got hurt.
Who goes next?
The Dodgers' starting pitchers have the fifth-best (3.49) ERA in the NL this season, trailing only Washington (2.90), St. Louis (2.94), Atlanta (3.38) and Philadelphia (3.40). This is quite amazing when you consider the Dodgers have two starting rotations:
On the DL
Hyun-Jin Ryu, 2.12 ERA
Clayton Kershaw, 2.76
Kenta Maeda, 3.68
Rich Hill, 6.20
Julio Urias, has not pitched
Not on DL
Ross Stripling, 2.18
Walker Buehler, 2.74
Alex Wood, 4.48
Brock Stewart, 5.63
And what is the status of those on the DL?
Maeda, who has a strained hip, could be back by the weekend.
Ryu, with a torn groin muscle, won't be back until after the All-Star break.
Kershaw, with a strained back, will be out at least a month.
Hill, with a blister on his middle pitching finger, will require at least one rehab start to return, so he is two weeks away if all goes well.
Urias, returning from shoulder surgery, could return to pitching in late July, but will need to build up his arm strength, so if he is on the major league roster before September, it would be a miracle.
The Dodgers will probably go with Stewart and Dennis Santana to pitch two of the games this week against Pittsburgh. Santana picked up a win against Colorado last week, giving up five runs in 3.2 innings of relief. He made 10 starts in the minors this season and gave up only 26 hits and 14 walks in 38.2 innings, striking out 51 with a 2.56 ERA.
The Kershaw injury makes the question of whether he will be a Dodger next season even more interesting. Kershaw has a choice after the season ends. He can opt out of his contract and test the free-agent market, or he can not opt out and play out the remainder of his contract with the Dodgers, a deal that calls for him to be paid about $35 million each of the next two seasons.
Here's what it comes down to. If he is out only a month, comes back at the beginning of July and pitches great the rest of the season, the chances are he will opt out. If he can't come back in July and his back continues to bother him, or if he does come back on schedule and pitches mediocre (for him), then the odds are he doesn't opt out and stays.
Which would you be rooting for? I'd root for him to pitch well, because I don't like to see any player injured. Especially one who works as hard as Kershaw does. I believed all along that if he pitched well this season and opted out that he would sign with Texas if they gave him an offer anywhere close to what others might offer. Now, who knows? Even if he comes back in July and pitches great, will other teams want to take a chance on a player with a history of back problems?
There are a lot of ways this could play out. My dream scenario is that he returns in July and pitches the Dodgers to a World Series title in a season where few are now predicting the Dodgers to even make the playoffs. It would seem fitting that he leads them to a title in a season when no one expected it. That would be a great counterpoint to all the seasons where he was expected to pitch them to a title and didn't (and I'm not putting the full blame on not winning on him).
So it will be interesting to see what happens.
Weird
The Dodgers are 29-30 this season and have used 23 pitchers. Seventeen of those pitchers have at least one win.
Four wins
Kenta Maeda
Three wins
Walker Buehler, Hyun-Jin Ryu, Ross Stripling
Two wins
Pedro Baez, J.T. Chargois, Josh Fields
One win
Scott Alexander, Tony Cingrani, Yimi Garcia, Erik Goeddel, Rich Hill, Daniel Hudson, Clayton Kershaw, Adam Liberatore, Dennis Santana, Alex Wood.
No wins
Wilmer Font, Kenley Jansen, Zach Neal, Eddie Paredes, Brock Stewart, Pat Venditte.
Ask Ross Porter
Hi, fans! It's good to be back with you to answer your questions during this baseball season. Please send your questions to Houston, and he will pass them on to me. List the city in which you live.
Bob Labita of West Milford, N.J., asks: Who do you think the Dodgers would pick in free agency, Manny Machado or Bryce Harper?
Ross: Since both men reportedly will ask for $400-$450 million in a multiyear contract, it would not surprise me if the Dodgers passed on both. One turns 26 in July and the other 26 in October. Harper is the 27th highest paid player in the big leagues ($21,625,000) and Machado the 65th ($16,000,000). When Corey Seager returns next season, would Machado move to second base or Seager? How important is it to the Dodgers to remain below the luxury tax? They have paid $150 million in taxes the last five years. By lowering their tax rate from 50% to 20%, they would increase the chances of signing a big-name free agent.
Catherine Bankston of Tyler, Texas, asks: Ross, which star players may change teams through free agency after this season?
Ross: This could be the best free agent class in baseball history, Catherine. Players named Kershaw, Harper, Machado, [Josh] Donaldson, [Charlie] Blackmon, [Dallas] Keuchel and [Craig] Kimbrel are possibilities.
Donald Neitz asks: The Dodgers have had 18 players named Rookie of the Year. Who had the best following season and who had the worst?
Ross: Best: Mike Piazza in 1993: .318, 35 homers, 112 RBIs. In 1994: .319, 24 homers, 92 RBIs.
Worst: Rick Sutcliffe in 1979:17-10, 3.46 ERA, 242 innings. In 1980: 3-9, 5.56 ERA, 110 innings.
In 1984 with the Cubs, Rick was 16-1.
Edward Jimenez of Whittier asks: Ross, since when did the old-timers' game become the alumni game?
Ross: Probably when the old-timers complained about being called old-timers.
Bonus newsletter
We'll be back with another Dodgers Dugout on Tuesday, looking at Cody Bellinger, and also including a Q&A with Dodgers in-game host Emily Haydel.
And finally
You can read Bill Plaschke's take on Clayton Kershaw by clicking here.
Have a comment or something you'd like to see in a future Dodgers newsletter? Email me and follow me on Twitter: @latimeshouston.
Get our Dodgers Dugout newsletter for insights, news and much more.
You may occasionally receive promotional content from the Los Angeles Times.