Dodgers Dugout: Reflecting on an incredible season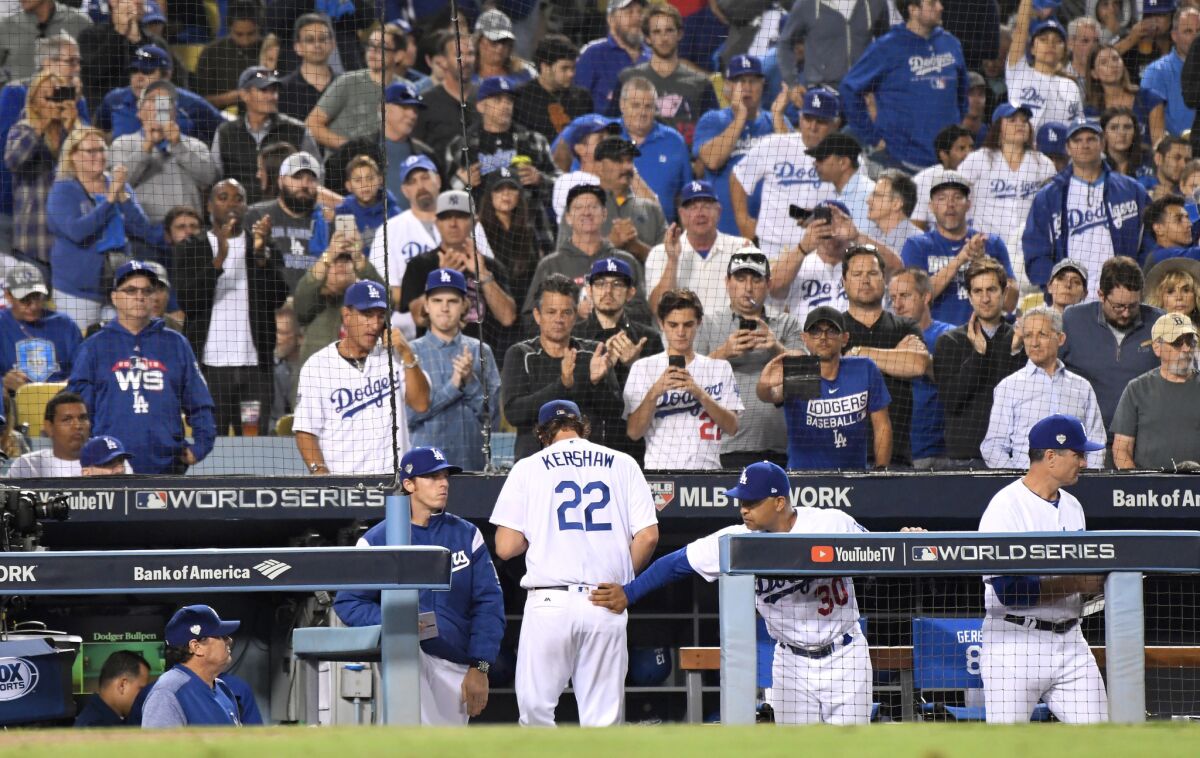 Hi, and welcome to another edition of Dodgers Dugout. My name is Houston Mitchell. Wait 'til next year.
The World Series
Well, if you are expecting another rant after the Game 5 loss, look elsewhere. Yes, I am disappointed, and there will be future newsletters to analyze what this team needs to do to win it all, but today my heart is filled with gratitude.
I am grateful that the Dodgers gave us another season of thrills. It was a lot different from last season, which was a total joyride throughout almost the entire season. This season had more ups and down than a group of 5-year-olds in a bounce house. There were moments of frustration and moments of elation. There were moments of joy and moments of "Oh, boy." There were moments when I wanted to throw something at the TV and moments of goose bumps.
So, while I understand we are all sad and disappointed today, don't let it eclipse the fact that this team did what only two teams could do: Reach the World Series.
This team gave all it had until it ran up against a team that was, frankly, better than them. It's easy for me to sit here and be snarky all season, to snipe at players who fail, but while I try to entertain all of you, I also think that these players should be respected for what they do almost every day for almost nine months, from the start of spring training to the end of the playoffs.
So, don't forget to be thankful for the effort. Be thankful for a group of 25 players who go out there every night and take our mind off whatever troubles we are having.
Players who get to bask in our cheers but also have to be surrounded by guys like me who rip them when they lose.
You may dismiss this all as sentimental tripe. And maybe you are right. But I think back to the days when I was a kid, and I'd listen to the team on the radio. If Jim Wynn struck out, I still loved him. If the team lost in the World Series (1974, 1977, 1978), I was sad but I still loved the Dodgers and wanted to be a Dodger. So, while you are sad and disappointed and maybe even angry today, think back to when you first became a fan, maybe when you were a kid, and remember the joy you got from watching amazing athletes doing things you hoped you could do. Hang onto that along with your sadness.
But I think it is my wife, who has had to sit and watch all these Dodgers games at home alone while I worked and who is probably a bigger Dodger fan than I am, who summed it up best. When the Dodgers lost Game 5, she sent a text to our family that said:
"I am thankful to the Dodgers team, even though they lost they gave us something to hope for in these crazy times. They brought families together. People who never wear Dodger shirts were wearing them, strangers out and about were nice to each other again and were happy to see each other supporting the guys in blue. We had all our family involved like they have never been before. I loved it. We will win next year. Go Dodgers."
I can't top that. I can't think of a better way to sum it all up.
What's next?
People have asked me a lot of questions during the playoffs about the off-season, which I didn't want to answer until this season ended. I will be devoting full newsletters to most of these topics, but here are some quick opinions by me:
Will Clayton Kershaw opt out? Yes. He has three days to decide, so we will know quickly. Don't fall into the "No one else will offer him $30 million a year." You're right. But which would you rather have, $70 million over two years or $120 million over five years? If Kershaw thinks this may be his last chance at a $100-million contract, he'll opt out. And there's nothing wrong with that.
Will Manny Machado be back? No.
Will Dave Roberts be back? Yes.
Will Hyun-Jin Ryu be back? Depends on if another team offers him a monster contract or not.
Will the TV situation be resolved? No.
Will the Dodgers build a better bullpen? Doubtful. They've used the same "Buy cheap and ride the hot hand" strategy for more than one season now, and I see no reason they will change.
But like I said, we'll take a look at all this in the upcoming weeks.
Thank you all
This concludes my fourth season writing this newsletter, and none of it would be possible without you. I am always amazed by the number of emails I get after each edition. It has gotten to the point where I can't possibly respond to all of them, and I do apologize for that. But I do read every email you send. Some of you have been corresponding with me for four years now, and I especially appreciate all of you. I started out with 50 subscribers, and now, well, I'm not supposed to talk about subscriber numbers, but it's safe to say that you would fill every seat in Dodger Stadium, with people outside trying to get in. I am incredibly lucky to have you all along for the ride as we watch what the Dodgers do next.
I also want to thank some people instrumental in this: My old boss, John Cherwa, for asking me to write this newsletter. My new boss, Angel Rodriguez, for giving me the freedom to write what I want, even when it means an angry phone call from the Dodgers to him (usually when I bring up the TV situation. They hate that). If you feel the notion, please feel free to email Angel and thank him for letting me do this. Heck, you can tell him to make me stop if you want. Just click here to email him.
I also thank our Times newsletter chiefs past and present, Claire Noland and Scott Sandell, for all their support. And our crew of Dodgers reporters for putting up with me. We have the best baseball reporters in the business, and if you aren't reading all of their work on our website, you are truly missing out.
I also want to thank Ross Porter for bringing an extra dimension to this newsletter with his Ask Ross Porter segment. He does it for free, and I am very happy that he has been able to see that Dodgers fans never forgot him and still remember the great work he did as an announcer with the team.
But this isn't a farewell. I'll probably be taking a little break, but I'll be here whenever big Dodgers news breaks, and I am coming up with something similar to the "25 greatest Dodgers of all-time" voting for you to do, because I want you to feel as much a part of this as I do.
And finally
The Dodgers win the 1981 World Series. Watch it here.
Listen to the latest edition of our new sports podcast "Arrive Early, Leave Late," with insights on the World Series, LeBron James and the NFL.
Have a comment or something you'd like to see in a future Dodgers newsletter? Email me and follow me on Twitter: @latimeshouston.
Get our Dodgers Dugout newsletter for insights, news and much more.
You may occasionally receive promotional content from the Los Angeles Times.