Dodgers' Kenley Jansen hopeful heart issue won't recur at Coors Field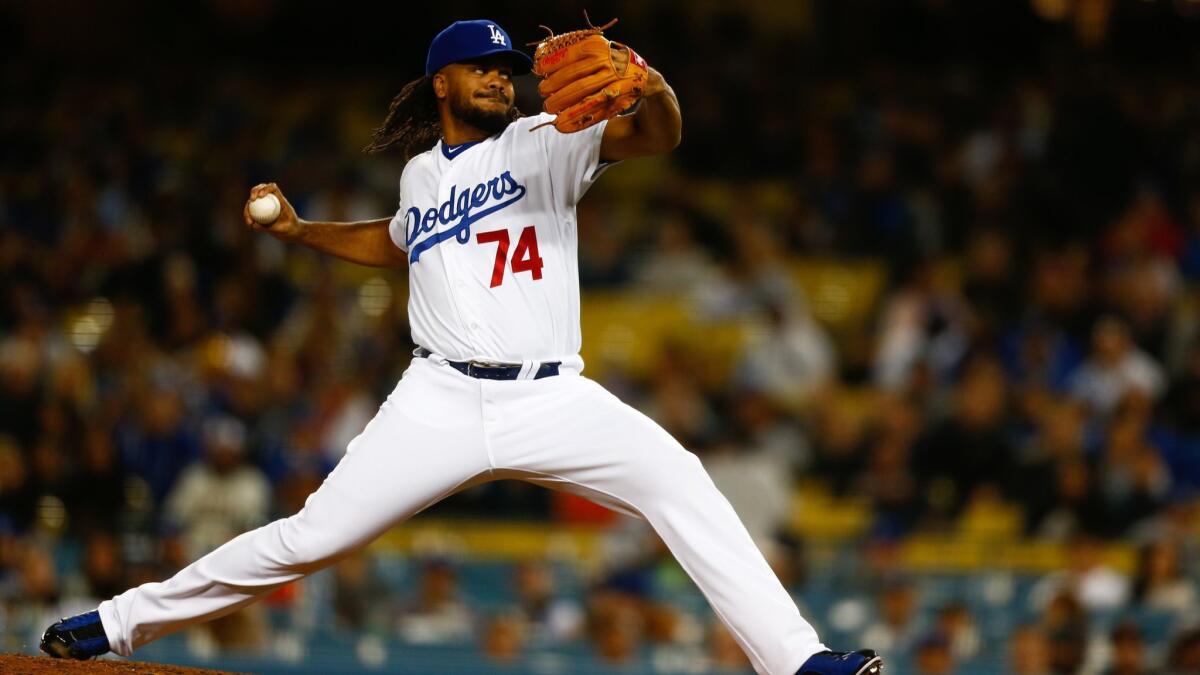 It is with a heaping portion of confidence and a dash of trepidation that Kenley Jansen will return to Coors Field on Friday for the first time since his heart started racing at high altitude in Denver last August, a condition that led to a second heart ablation procedure for the Dodgers closer in November.
"You're still human, and it's nerve-wracking because it's still in the back of your mind somewhere, but you just have to go there and stay positive," Jansen said. "These doctors are great here, and they have great doctors there. I'm just going to put my trust in them, put my trust in God, and it's going to be a good trip."
Jansen had recovered from a brutal start to 2018 — hampered by a hamstring injury, he had a 5.59 ERA with three blown saves in April — to fashion a 1.41 ERA and convert 29 of 30 save opportunities in 41 games from May 1 to Aug. 7 before he was hospitalized in Denver.
He sat out two weeks and pitched the rest of an uneven season — his 3.01 ERA was more than twice his ERA of 1.32 in 2017 — while doctors tinkered with his heart medication, which often made him feel sluggish.
The key to avoiding a recurrence of his irregular heartbeat, Jansen said, will be "to stay hydrated, stay on a low-sodium diet and make sure I keep my blood pressure down."
The 31-year-old right-hander plans to drink five to six liters of fluids a day — a combination of water and Pedialyte — and monitor his blood pressure in advance of the Rockies' home opener against the Dodgers on Friday.
Though Jansen still takes blood-pressure medication that he's been on for several years, he no longer takes heart medication. At the advice of his doctors, he also lost about 25 pounds over the winter with more cardio work and a better diet.
Jansen plans to do a cardio workout to get his heart rate elevated Friday morning to see how his body and heart respond. He is not expecting any problems.
"It's good that we're going there early so I can get that out of my head and not have to think about it," Jansen said. "I'm gonna go out there, and when my name gets called to pitch, I'm gonna have fun."
Wooed by Ryu
Somewhat lost amid another Cody Bellinger homer and bullpen meltdown in Tuesday night's 6-5 Dodgers win over the Giants was another gem by Hyun-Jin Ryu, who faced the minimum 16 batters through 5 1/3 innings and allowed two runs and six hits in seven innings to earn the win.
The left-hander is 2-0 with a 2.08 ERA with 13 strikeouts and no walks in 13 innings over two starts and is 7-2 with a 1.33 ERA in his last 11 starts in Dodger Stadium, striking out 73 and walking six in 67 2/3 innings.
"He's just so easy to catch," catcher Russell Martin said. "He rarely misses his spot. He mixes his pitches really well. Up, down, in, out, back-door cutter, changeup, curveball. … He really has good feel out there."
Sign up for our daily sports newsletter »
Short hops
Clayton Kershaw, slowed since late February by shoulder inflammation, will probably need at least one more minor league start after he pitches for triple-A Oklahoma City on Thursday, a game in which the left-hander is scheduled to throw four innings and about 60 pitches. "I think we're more leaning toward him making two rehab starts," manager Dave Roberts said. "That's where we're at right now, but the world changes every day." Barring setback, Kershaw could return to the Dodgers rotation Sunday, April 14, against Milwaukee. . . . Left-hander Rich Hill (sprained medial collateral ligament in left knee) threw off flat ground again Wednesday, this time incorporating a slide-step, and is on track to throw off a mound for the first time since suffering his injury Saturday.
Get our Dodgers Dugout newsletter for insights, news and much more.
You may occasionally receive promotional content from the Los Angeles Times.