Could Adrian Gonzalez's return push Joc Pederson out of center field?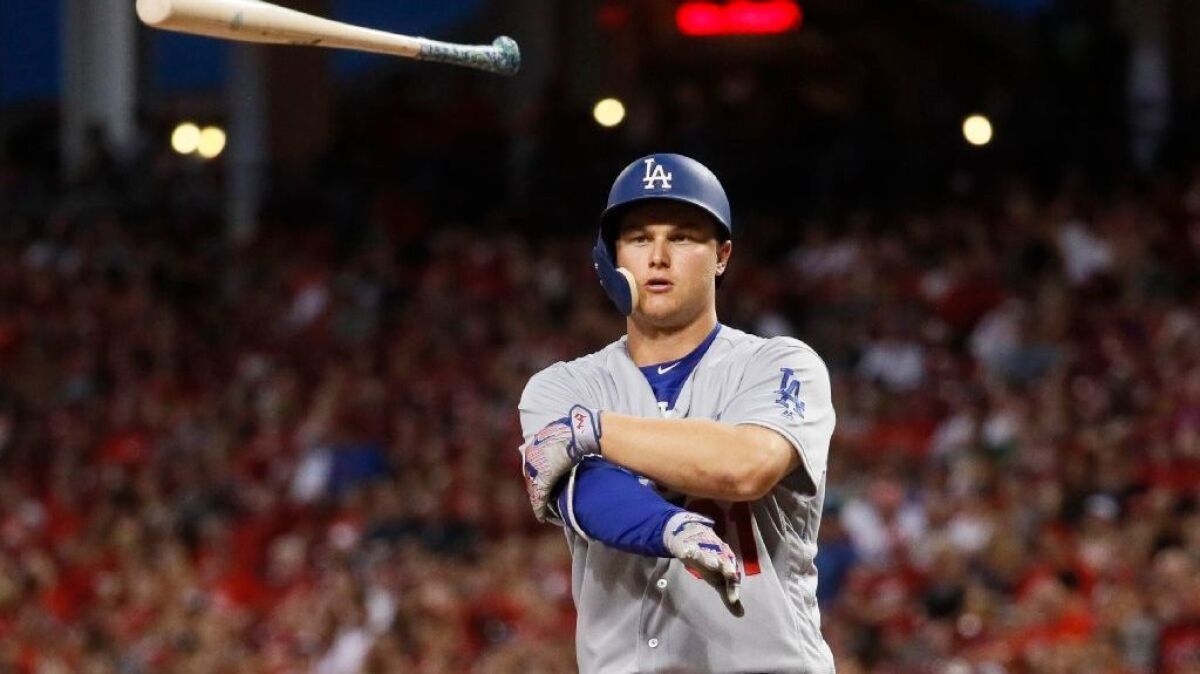 Adrian Gonzalez is expected to rejoin the Dodgers this week. The domino effect of his return could lead to reduced playing time for center fielder Joc Pederson.
Pederson has one hit in his last 35 at-bats. He is batting .216, and the only lower batting averages among National League players with as many plate appearances belong to Dansby Swanson of the Atlanta Braves and Kyle Schwarber of the Chicago Cubs, each of whom has been demoted to the minor leagues this season.
Pederson has started every game against a right-handed starter this season, excepting the games during his two stints on the disabled list. Manager Dave Roberts said last week that Gonzalez, a first baseman, would be "playing his share against right-handed pitching" upon his return.
That would move Cody Bellinger from first base to left field. Chris Taylor could move to second base against right-handers, but the Dodgers could opt to use him in center field as well, or in a super-utility role that would include some days in center field. Roberts said only that Taylor could give Pederson some days off.
Pederson generally does not start against left-handers.
Although the Dodgers' front office does not place significant emphasis on batting average as a tool for evaluation, other statistics illustrate Pederson's struggles this season.
Fangraphs ranks Pederson next-to-last in value among the 21 National League center fielders with at least 250 plate appearances, better only than Gorkys Hernandez of the San Francisco Giants. The Dodgers long have cited Pederson's ability on defense, but Fangraphs ranks Pederson as below average on defense this season.
Roberts said Pederson needs to be "swinging at strikes" and using the whole field rather than pulling and focusing on home runs.
"Success breeds confidence," Roberts said. "When you're struggling a little bit, you start to question a little bit. Joc works as hard as anyone. There's no doubt we know he is going to come out of it."
Center fielder Alex Verdugo, the Dodgers' top prospect among position players, homered, doubled and drove in three runs at triple-A Oklahoma City on Monday. Verdugo, 21, whom the Dodgers considered all but untouchable at the trade deadline, batted .346 in the first half but is batting .226 since then.
Twitter: @BillShaikin
Get our Dodgers Dugout newsletter for insights, news and much more.
You may occasionally receive promotional content from the Los Angeles Times.