Dodgers first baseman Adrian Gonzalez is set to return, but he won't be an everyday player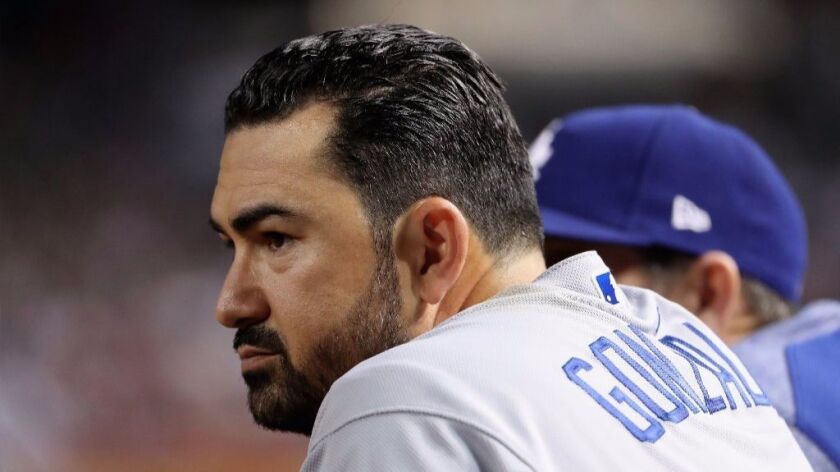 Adrian Gonzalez was 23 when the San Diego Padres made him their everyday first baseman. That was in 2006, and he never missed more than six games in a season from that season until this one.
He is 35 now. This season included his first career trip to the disabled list, and then his second. He is about to return, but the Dodgers will not use him as an everyday player.
"Where he's at in his career, he understands that," Dodgers manager Dave Roberts said Saturday.
Gonzalez has spent the past nine weeks on the disabled list, primarily to strengthen the muscles surrounding the herniated disk in his back. Roberts said Gonzalez is expected to complete a minor league rehabilitation assignment Wednesday, fly with the Dodgers to Detroit on Thursday, and be activated at some point on the seven-game trip.
Roberts said Gonzalez would be "playing his share against right-handed pitching." In that scenario, Gonzalez could play first base, moving Cody Bellinger to left field and Chris Taylor to second base.
Roberts said Taylor could play center field to give Joc Pederson a day off. Roberts also said Taylor (previously a utility player) and Bellinger (a rookie) could benefit from time off during these dog days of the season.
Gonzalez, a five-time All-Star, is batting .255 with one home run. He is batting .237 off left-handers, with one extra-base hit — a double — in 38 at-bats. Roberts said he has discussed the reduced role with Gonzalez.
"All that he's accomplished as an individual is incredible," Roberts said, "but the one thing he wants to do is win a championship. … Any competitor wants to be in there every day. I would expect that from him as well. But the unselfishness that he has as a person and a player will allow me to make the decision that's best for our ballclub."
Hill checks out fine
Rich Hill said he was sore but otherwise fine Saturday, one day after being hit in the neck with a pitch while batting. He remained in Friday's game after athletic trainers confirmed that he still could breathe and speak comfortably, and precautionary postgame testing at a hospital did not reveal any injury.
"It's obviously scary when a ball comes up in that area," Hill said. "I'm just thankful that everything was fine."
Hill completed his usual workout Saturday and said he expected to take his next turn in the Dodgers' rotation. He said he had no trepidation about watching the replay a couple times.
"Guys get hit all the time," he said. "The way I look at it is, I've hit guys. Getting in the box, you have to understand that there is an amount of risk that you take."
Hatcher back
Roberts said the Dodgers would activate reliever Chris Hatcher on Sunday. The Dodgers have six right-handed relievers — Kenley Jansen, Pedro Baez, Brandon Morrow, Josh Fields, Ross Stripling and Brock Stewart — who have pitched at least 20 innings and performed significantly better than the league average. The Dodgers ran out of room for Stewart and sent him back to the minor leagues on Friday.
So why activate Hatcher, who has a 4.66 earned-run average this season and has not pitched better than league average since 2015?
"Chris has been there from the beginning," Roberts said. "He's a part of what we're doing. As he is healthy, we believe that you've got to give him an opportunity. For us, it's day to day. We've got to assess each day and see where it takes us."
Song of you
Justin Turner said he was delighted to turn on his phone after Friday's game and get a blizzard of messages informing him that Ed Sheeran had worn Turner's jersey while playing "Shape of You" at Staples Center.
After using "Turn Down for What" as his walk-up song last season, Turner picked "Shape of You" this season.
"I listen to new stuff and find one that catches your attention," Turner said. "I've always liked Ed Sheeran and his music. It's a different genre than I've used the last couple years."
And, Turner said, he liked one more thing about Sheeran.
"He's a ginger," Turner said, smiling.
Follow Bill Shaikin on Twitter @BillShaikin
---
Get our high school sports newsletter
Prep Rally is devoted to the SoCal high school sports experience, bringing you scores, stories and a behind-the-scenes look at what makes prep sports so popular.
You may occasionally receive promotional content from the Los Angeles Times.