Rich Hill flirts with perfection and ends up with heartache in Dodgers' 1-0 loss to Pirates in 10 innings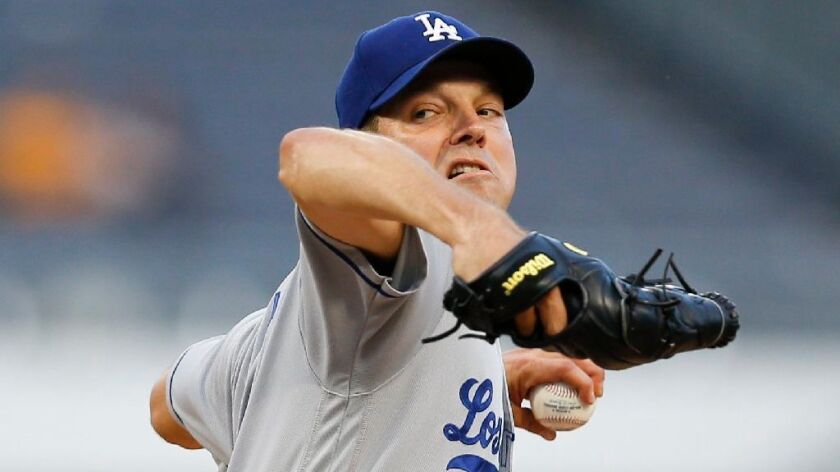 Reporting from Pittsburgh —
Inside his office at PNC Park, Dodgers manager Dave Roberts nursed a beer and commiserated with his coaches. His team has only lost on a few dozen occasions this season, but none stung like the 1-0 defeat Wednesday to the Pittsburgh Pirates.
Losses don't come crueler than this one, in which Rich Hill threw nine no-hit innings, prevented from collecting the 23rd no-hitter in franchise history by the imperfections of his teammates, then undone by a mistake in extra innings.
"Sad for Rich," Roberts said.
Hill's pursuit of a perfect game ended when third baseman Logan Forsythe fumbled a grounder in the ninth. Hill recorded 27 outs without allowing a hit, but could not receive credit for a no-hitter because his offense failed to score a run. And in the 10th, his pursuit of a measly victory, something that has come so easy for this enchanted team in 2017, disappeared when Pirates second baseman Josh Harrison hit a home run.
Never before had a no-hit bid ended on a walkoff homer, according to the Elias Sports Bureau. The outcome was difficult to process. This team prides itself on its tenacity, its ability to string together inexplicable victories. On Wednesday, they found a way to lose in heart-rending fashion, giving Hill a connection with Harvey Haddix, who threw 12 perfect innings for Pittsburgh in 1959, only to lose in the 13th.
Standing at his locker, Dodgers catcher Austin Barnes was stone-faced as he thought about the ending.
"He threw a hell of game," Barnes said. "It hurts."
A few lockers down, All-Star shortstop Corey Seager sounded disgusted as he considered the 11 runners left on base by his offense.
"I really don't have the words for that," Seager said. "It just sucks that we couldn't do that for him."
Across the room, wearing an ice pack on his left shoulder, Hill found a serene tone. He went through a similar situation last September, when Roberts removed him after seven perfect innings in Miami to keep Hill from aggravating blisters on his pitching hand. Hill did not try to draw a connection between that night and Wednesday. Hill declined to wallow in self-pity.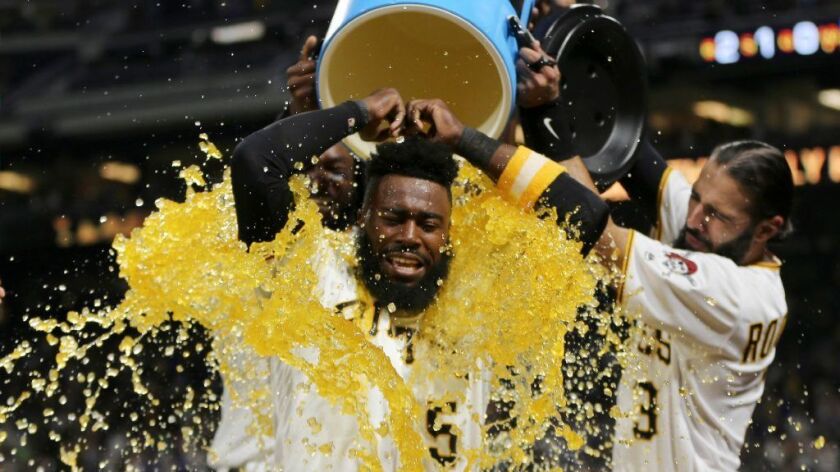 "I don't really think of luck," Hill said. "Tomorrow, you put in the work, and it's a new day. You just keep moving forward. That's all there is. Sometimes, luck is disguised as that."
His perspective is hard-earned at 37, and he considers it vital to his success. His career nearly ended after a decade lost to injuries and ineffectiveness. He mourned the passing of an infant son. He has emerged from those ravages as a man fixated on living within each moment, refusing to dwell on the past. He spent some of his postgame interview Wednesday expressing his excitement about working out on Thursday afternoon.
Hill credited those who kept his no-hit bid alive. He mentioned a sliding catch by first baseman Adrian Gonzalez in the fourth and a Superman-esque dive from second baseman Chase Utley in the eighth. He praised Barnes for their rapport. He blamed himself for his 99th and final offering of the night, an 88-mph fastball that bisected the plate before Harrison made it disappear.
"It falls on me, on this one," Hill said. "One bad pitch."
Informed that he seemed to be missing the point, Hill laughed.
"No," he said. "It was a bad pitch. Late in a game like that, you have to make better pitches."
It still barely cleared the left-field fence. Curtis Granderson sprinted to the wall, rising to keep the game alive. He estimated he arrived half a second late, and the ball was a foot beyond his reach. His own frustrations concerned the offense earlier in the night.
After battering Pirates starters Gerrit Cole and James Taillon on Monday and Tuesday, the Dodgers could not break through against Trevor Williams on Wednesday. Williams gave up seven hits and walked four batters, but the Dodgers went hitless in nine at-bats with runners in scoring position during his eight innings.
Hill did not need much support. He looked imposing from the start. He struck out four batters in the first three innings, freezing the Pirates with his fastball and overpowering them with his curveball. A replay challenge in the second inning on a groundout kept Hill's chances alive. In the fourth, Gonzalez slid across the grass to secure a popup bunt off Harrison's bat.
Williams kept wobbling but avoiding disaster. In the eighth, he issued a walk and hit a batter. With two outs, Forsythe hung around for 10 pitches before lining out to shortstop Jordy Mercer.
"I thought that was going to get by Mercer's glove," Roberts said. "Unfortunately we just couldn't push that one across."
In the bottom of the inning, Utley sold out to keep Hill's perfect game alive, diving across the infield dirt to snag a line drive off the bat of Pirates first baseman Josh Bell. Hill raised both his arms in the sky. Utley nodded in response.
The perfect game ended after the first pitch in the ninth. Mercer chopped a grounder to third base. Starting in place of Justin Turner, Forsythe booted it. The mistake meant Sandy Koufax still owned the only perfect game in Dodgers history. Hill took the error in stride, telling Forsythe not to worry before retiring the next three batters.
Hill had done it. He had gone nine innings without allowing a hit. It was a no-hitter in everything but the name. There was no celebration with Barnes, no mob near the mound. Instead, Hill trotted into the dugout and watched his teammates come up empty again in the top of the 10th.
Hill had thrown 95 pitches. If he could pitch a quick 10th, Roberts figured, he might consider sending him back out for the 11th. Harrison rendered that thought a fantasy.
As the ball took flight, Hill spun around to watch. He saw Granderson crash into the wall and land on the warning track. His glove was empty. The night was over. Hill wiped his mouth with his jersey and walked off the diamond.
He had pitched one of the greatest games in Dodgers history — and lost. Yet Hill refused to dwell on what might have been.
"I try to keep everything as simple as possible, and don't think of it as anything bigger than what actually is going on," Hill said. "We lost a ball game. That's it."
Follow Andy McCullough on Twitter @McCulloughTimes
---
Get our high school sports newsletter
Prep Rally is devoted to the SoCal high school sports experience, bringing you scores, stories and a behind-the-scenes look at what makes prep sports so popular.
You may occasionally receive promotional content from the Los Angeles Times.